All of us know that modern day 'smart' phones don't come cheap. And the more we 'upgrade' the costlier the mobile gets. Lest we say, the more we stand to lose in case of any damage to, or loss of the asset. This in-turn comes as a wakeup call to buyers today who are realizing the importance of mobile insurance.
So, after all, what could go wrong with your mobile you may ask?
Well, if we had to list the entire lot, we would have to turn this blog into a novel!
So, let's make it simple and quick like our insurance claims. By and large the damages your mobile is most prone to is:  Screen & Display, due to an accident!
Just how easy it is to break your beloved mobile screen, it is not that easy to get it fixed. Let's not even go into the expenses of it.  The grief of breaking the screen isn't the end of it. Repairing the screen or getting your mobile insurance claimed seems like another looming burden. And here's where Digit Mobile Insurance comes in. Our 'superfast' and 'ultra-smart' claims can put the smartest mobiles to shame :)  Let our simple graph cut the long story short.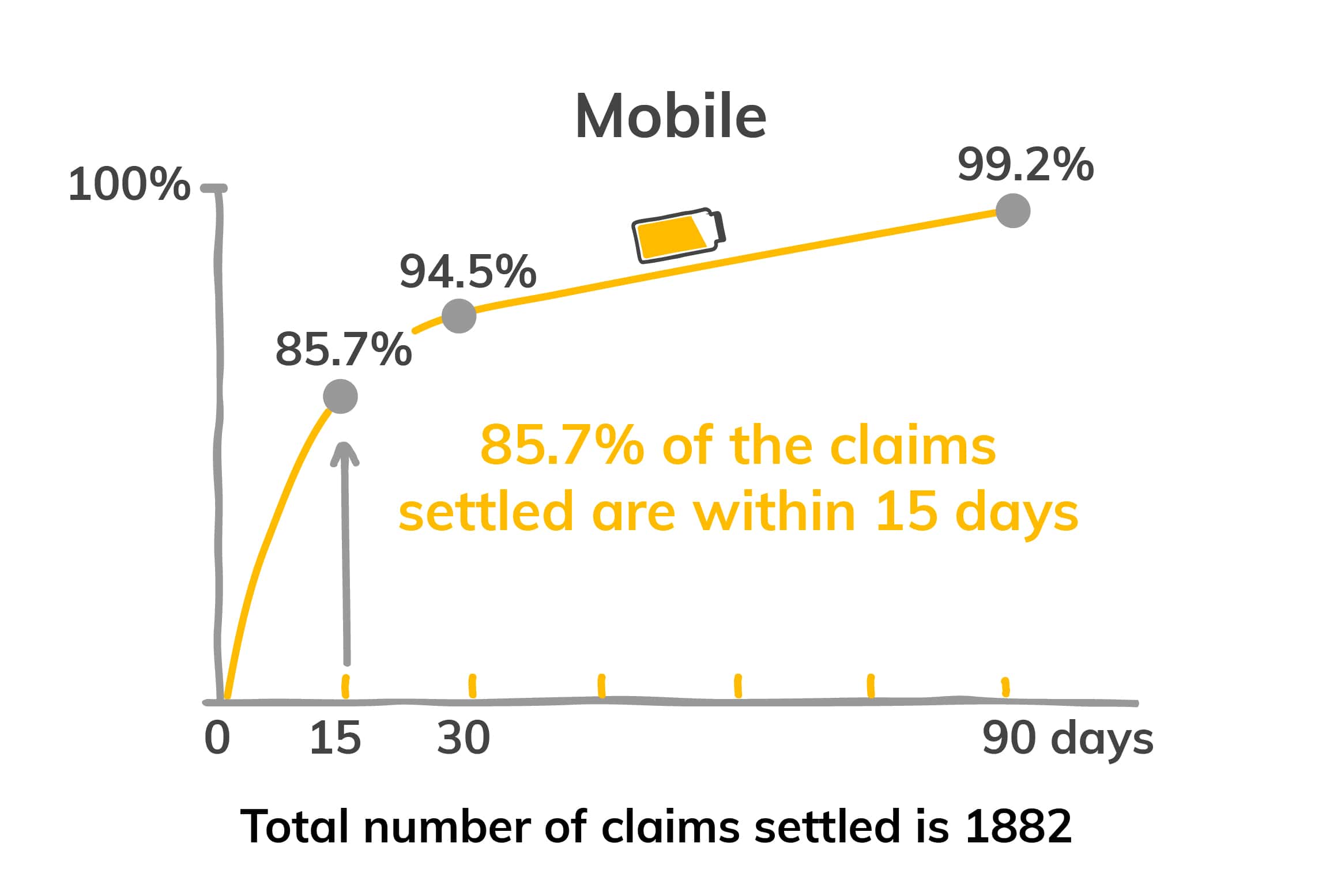 So why go with us? The answer is simple. Our claims are superfast!
From that teeny-weeny scratch on your mobile screen post an accident, we've got your phone covered from the minute you buy it, sans any lengthy processes for activating the policy. Your phone is covered, no matter who uses it and where you use it- from Bihar to Berlin, our insurance cover is valid worldwide!
In a nutshell we offer:
·   Smartphone enabled inspection: You don't have to take your phone to a service centre just to get it assessed. We share a link with you and help you assess the damage threough your smartphone! This has really helped us increase the claim settlement time for mobile claims.
·   Upfront cash for repairs: We give you cash upfront so you can choose to get your phone repaired whenever, wherever, in turn clsoing claims at the earliest.   
-  Worldwide coverage incase something goes wrong, so you don't have to wait to come back to India to get your mobile fixed. 
So, let's look at our Superfast claims simplified 
STEP 1- Tell us about your heartbreak: Give us a call at 1800‑103-4448.
STEP 2- Help us, Help you: We will assess your phone using an app. Don't worry we will make it as easy as possible.
STEP 3- Your Phone, Your Choice: We give you cash up front, so that you can repair your mobile phone at your preferred service centre
See how we settled 85.7% of the claims in 15 days? And we will aim in making that number go higher!
Also if you want to know about any other data point, you can simply drop in a mail to us at hey@godigit.com.
Source: Graph based on internal data computed from Oct 2017 to 31 Oct, 2018.