The name says it all😊!
As the name suggests, Third Party 2-wheeler Insurance covers only the 'Third Party' or in simple words, 'the stranger' involved in case of any mishap.
When you buy a new two-wheeler, you feel like you are on the top of the world! And that you will conquer the world riding your beast. However, in that excitement, what if there is an accident? God forbid! Now instead of conquering the world, you are in the middle of a fight! Well not a very good picture to imagine right? So, you should always be ready on the road with a Third Party 2-Wheeler insurance that is handy.
You have the option to choose between Comprehensive Insurance policy or a Third Party Liability Insurance. A Comprehensive Insurance covers your own damages while a third party only insurance covers expenses only for the third party.
So, when does taking a third-party insurance actually makes sense?
Well it makes sense, if you
1)      Are a first-time two-wheeler buyer who has a limited budget.
2)      Want to upgrade your existing bike but still want your old bike to be covered with a basic cover.
So if decide to go in for Third Party Insurance for your two-wheeler, there are certain points to be noted:
·       The supreme court has released a mandate where Third Party Insurance can be bought only on a multi year basis i.e. for a time period of 5 years. There is no longer an option to buy a single year policy.
·       As far as coverage is concerned, apart from covering the expenses incurred by the third party during a mishap, it also protects you against legal obligations arising out of damage to third party.
·       The biggest advantage of Third Party Insurance is that it comes at a much lesser premium when compared to Comprehensive Insurance. This is because the price is fixed by the Government to make it affordable for everyone.
Now let's see what is covered in a Third Party Only 2-Wheeler Insurance Cover?
- Personal Damage to Third Party
If a person is injured in an accident, all his or her medical costs till recovery is taken care of by third party insurance. In unfortunate case of loss of life, a compensation amount is given too.
-  Property Damage Compensation
In case a damage occurs to someone's motor vehicle, house or any property, the owner is covered for the loss, up to Rs. 7,50,000
And what is not covered?
·       If the driver doesn't have a valid driver's license
·       If you are under the influence of alcohol or drugs
·       Damage to own vehicle
·       If the vehicle was being used for purposes like Hire & Reward, racing, pace making, reliability or speed testing
How to make a two-wheeler insurance claim under the Digit's Third Party Insurance?
- The third-party has to file an FIR and obtain a charge sheet. Give us a call at 1800-103-4448.
- If there's a compensation, we take care of it on your behalf
- And if there's no violation of terms, we will try for a non-monetary settlement on your behalf. If the situation arises, we will represent you in court.
- Most importantly, if you've been a good citizen and have admitted your fault for any kind of negligence, your Digit Third Party cover will still hold good.
Now, the most important question, which is better: A Comprehensive or a Third Party Only policy? Well, decide it for yourself!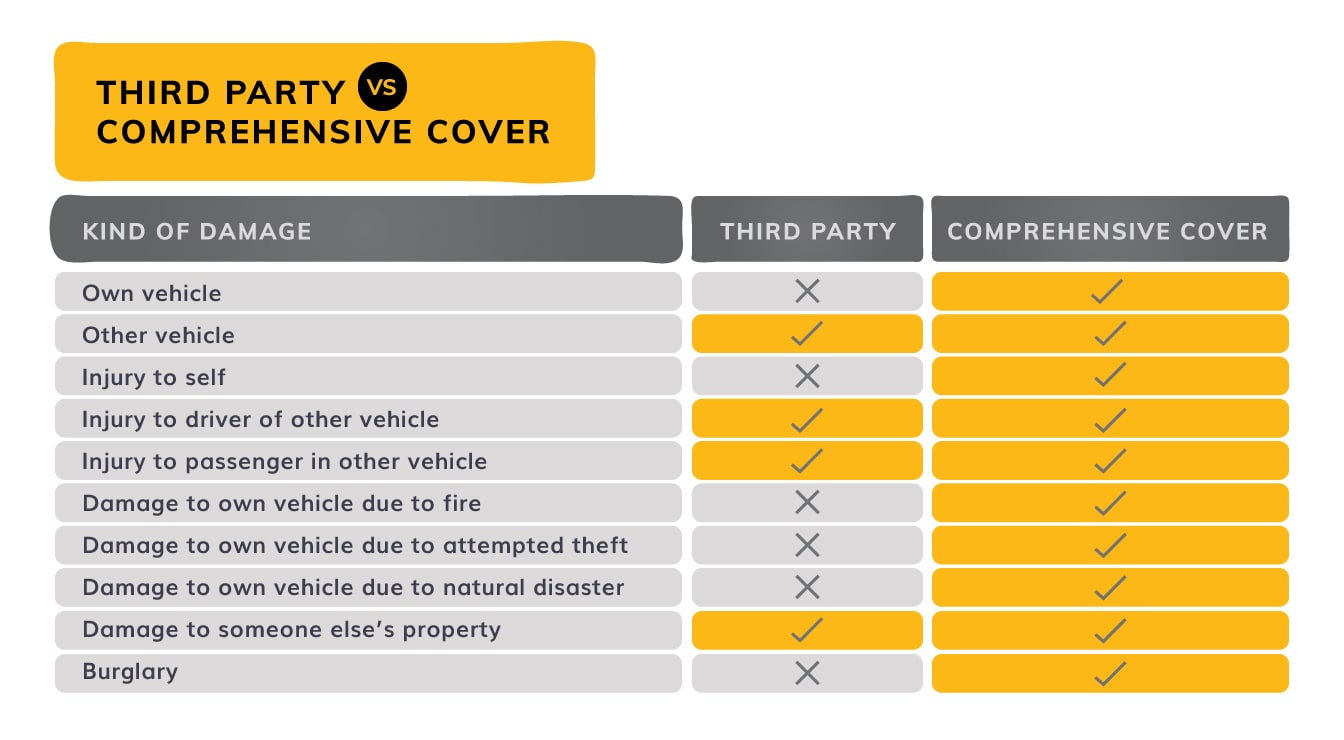 We strongly suggest that you go in for Comprehensive Insurance though, since Third Party Insurance is included under Comprehensive Insurance! Besides covering the third party, this 'premium insurance package' covers you, your two-wheeler and comes with numerous add on covers that ensure total protection in case of a mishap! After all, why go for partial coverage when you get the full package! 
So, whichever insurance plan you opt for, don't hit the road without a bike insurance cover. Better safe than sorry right😊!
To know more about the benefits of sticking to comprehensive insurance you might want to read this.