Driving to office in a good mood, it is Friday, yeahh!
Like a good driver, you stopped at a red light.
BOOM! Someone just hurt your back, bad.
Now, you can keep fighting whose fault it was but the damage is done. All you can do is drag back your fallen bumper back home.
One may think that one's car insurance policy, a comprehensive one, will cover for all damages.
But recheck, if you don't have a Zero-dep add-on, that bumper loss will not be paid in full. Your insurance provider, under a normal cover, will account for the depreciation of your bumper (a plastic part, usually depreciating at 50% a year) and then pay you. But the rest is for you to pay, which can be almost around INR 6,000 (If say you bought a car for 10 lacs and your bumper cost is 12,000). Want to know more about depreciation, you can read our blog!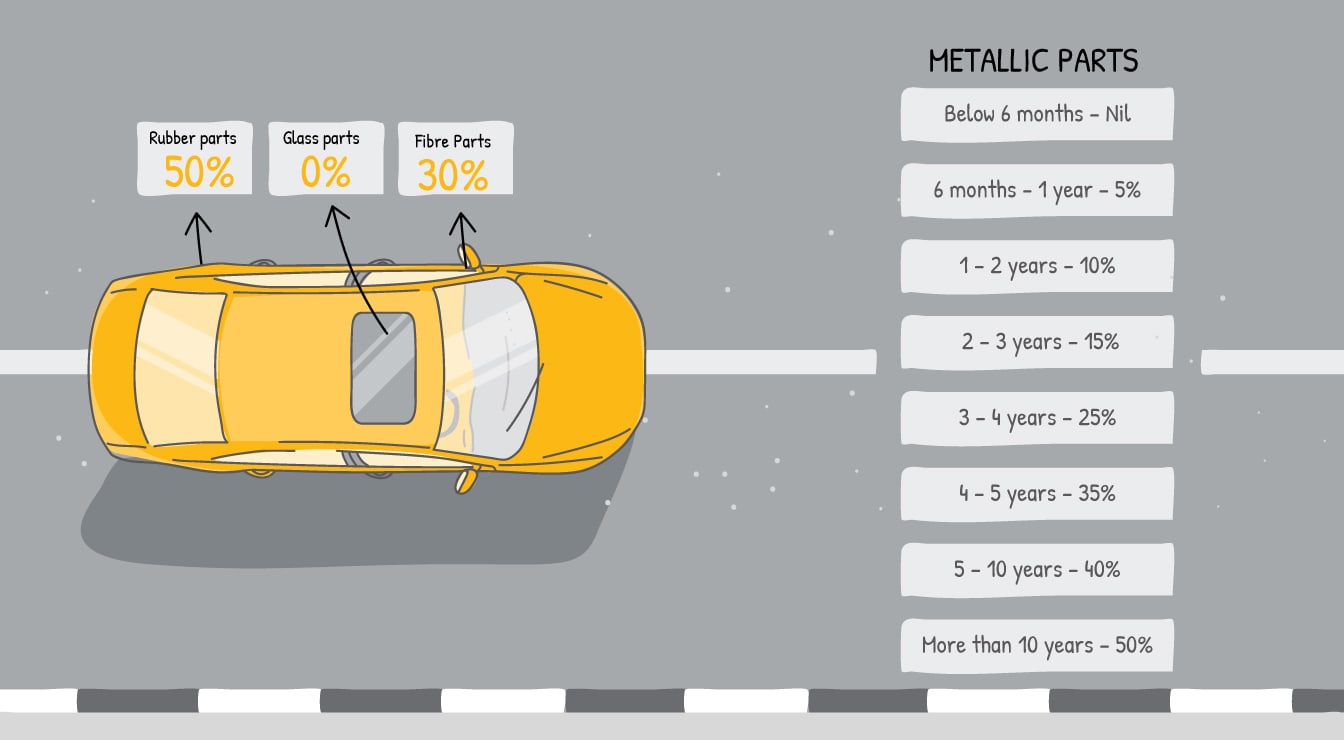 This is when a Zero-Depreciation add-on of just INR 3000, could have come to your rescue, completely ignoring your bumper's depreciation and making the insurance provider pay the full INR 12,000.
So then what is a Zero Depreciation car insurance?
A Zero Depreciation cover is nothing but an addon with your car insurance that can be availed by paying a little extra premium. This addon cover lets you leave depreciation behind, and in times when you need to claim your car insurance, you get a payment without accounting for any depreciation. 
And the bumper is just one depreciating part, there are many in your car, that windscreen, those rubber parts, wooden parts, so many of them, all adding to the bill in case of massive damage or say Total Loss. Want to know how depreciation is calculated? Well, the Insurance Regulatory and Development Authority of India (IRDA) has ordained that
·       On rubber, nylon, and plastic parts, and batteries – 50% depreciation be deducted,
·       On fibre glass components – 30% depreciation be deducted, and
·       On wooden parts – depreciation be deducted as per the age of car (such as 5% in the first year, 10% in the second year, and so on.)
Now some may argue that the probability is low, for Total Loss. Well, yes, you could by all means have a touch-free year, not a single scratch on the back. But have we heard of something called peace of mind?
Now that we are already talking about Zero Depreciation Addon, let us also talk about situations where this cover might not come handy
- If you do not have a valid driver's license
-If you are claiming for your car tyres or battery
So how much will a Zero Depreciation addon cover cost you? Is it worth?
For a ~15%   of additional premium, you are buying protection for something that you prize in your life, your car. And also when one works out the maths in case of an accident, a Zero-depreciation add-on is totally worth it.
So all you drivers out there, do give Zero-dep a thought next time you renew your policy.