If life was a movie, we would have been in a garage, pumping push-ups with a hair-raising music piece, maybe of Eye of the Tiger? We'd be a ZERO without anyone believing that one day we'd be in the ring , fighting big-timers. 🤩💪💪 Sounding brutal?
Well, not brutal but we're definitely brutally honest! Which is why a few months back we released our 1st Transparency Report. We told you all about our Claim Settlement Turn Around Times and more. 
Also, we asked you to brutally :) ask us for any more honest details you wanted us to reveal. 
And you did, indeed ask for many! Which is why we got it all for you in this Transparency Report 2.0. 
So, here are the BIG ONES!
# 2.8 Million Customers 
We started with a nobody but with a strong & clear mission, To Make Insurance Simple. And we are glad that people appreciated this. That's how we got the trust of 2. 8 million customers in the last financial year. And this wouldn't have been possible without the relentless support of our partners. If you are reading this, we thank you with all our heart! :)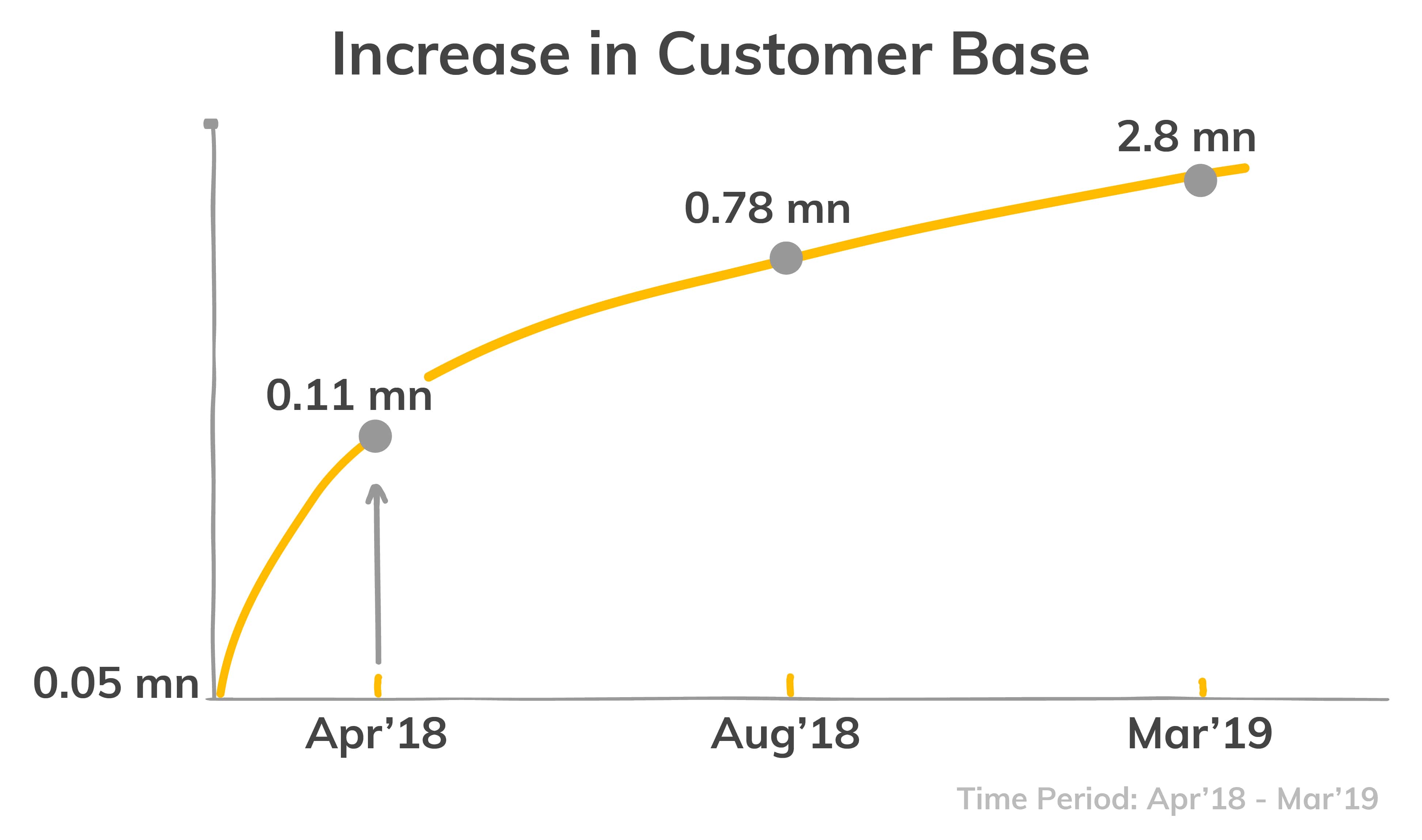 #  35,130 Claims Closed
We are serious when we say We Love Claims! Which is why we closed 35,130 claims with healthy Claim Settlement numbers. Take a peek: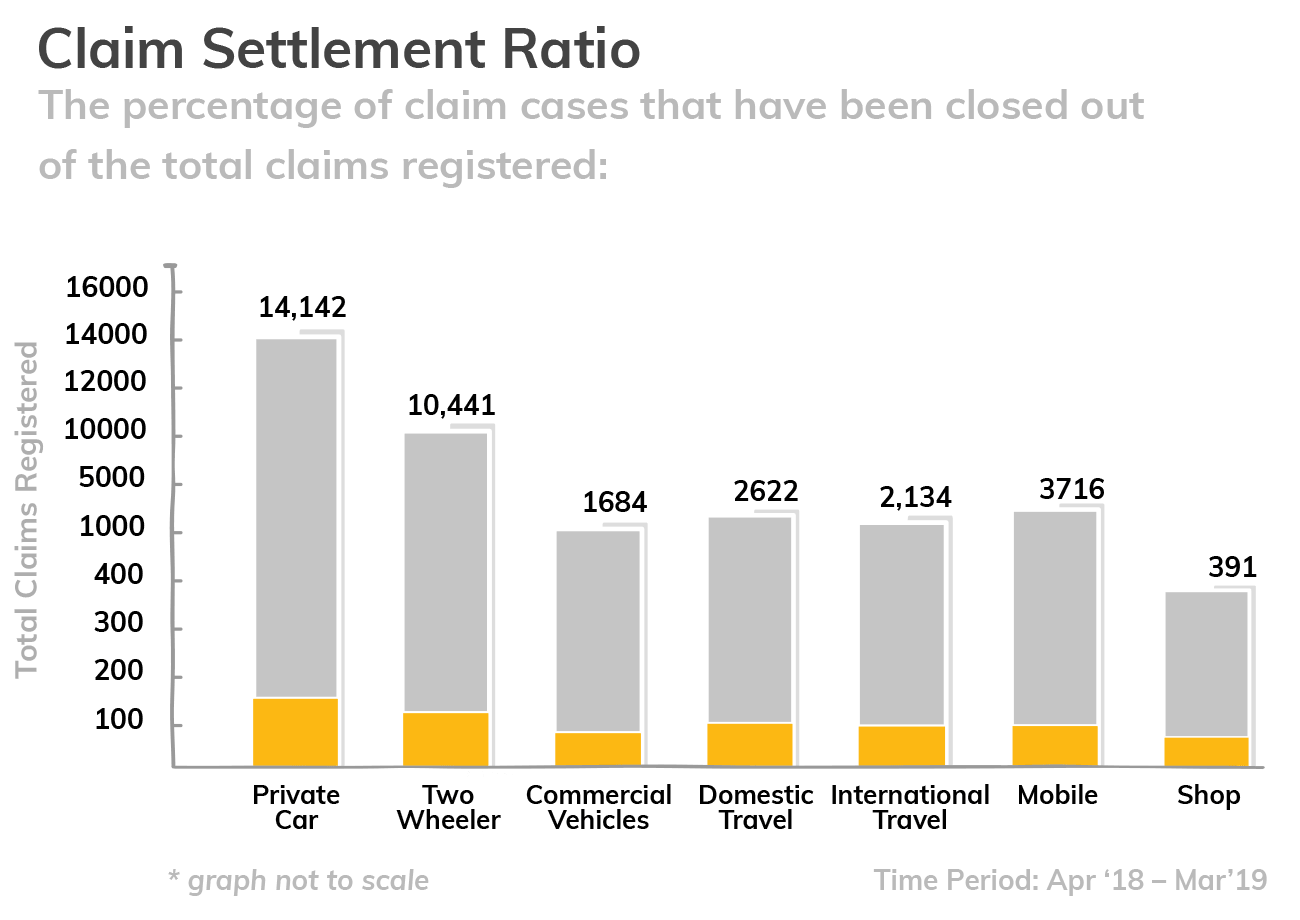 We know what you are going to ask next. How long do we take to settle the claims?
Well with our digitalized processes and seamless flow of information, we closed the claims at our fastest best! Take a look at our Turn Around Times. Nothing to hide :)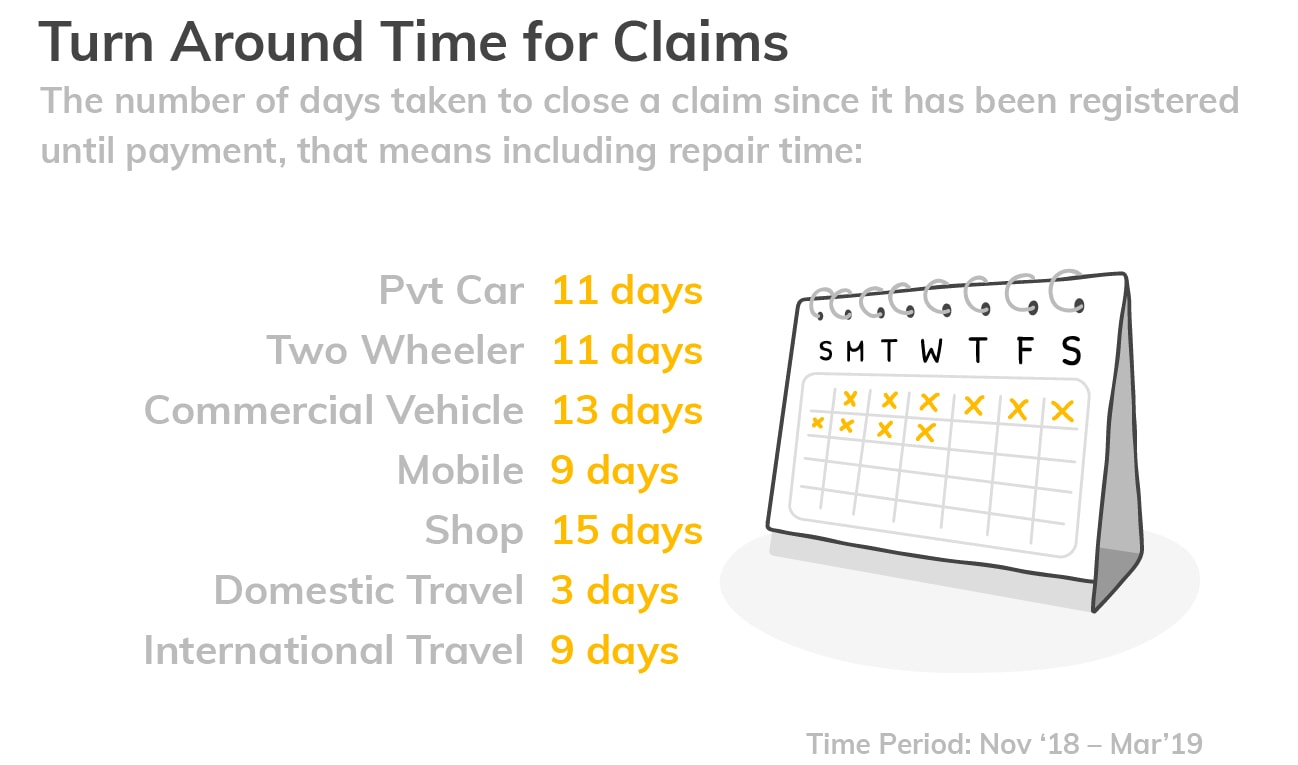 Also one of our customers had asked us, how many domestic travel claims are settled on the same day, given we have a 100% Automated Claim Settlement process for flight delays. So we have pulled out that number for you: 58% of the domestic travel claims are settled on the same day! Usually, most of the time taken to settle these claims, goes in getting the bank details from the customer and hence some cases extend to more than 1 day to be closed. However, we are looking at alternate ways to reduce the time here.
# Payment processed in less than 24 hours, after invoice is received
To fasten our claim process , we have also started tracking a stage-wise Turn Around Time (TAT) across departments involved in Claim Settlement. This is also shared with our partners, so that they are always informed about their customer's claim status.
After our last Transparency report, a customer asked us to share this with them as well. So under our vow of transparency, sharing it with you too.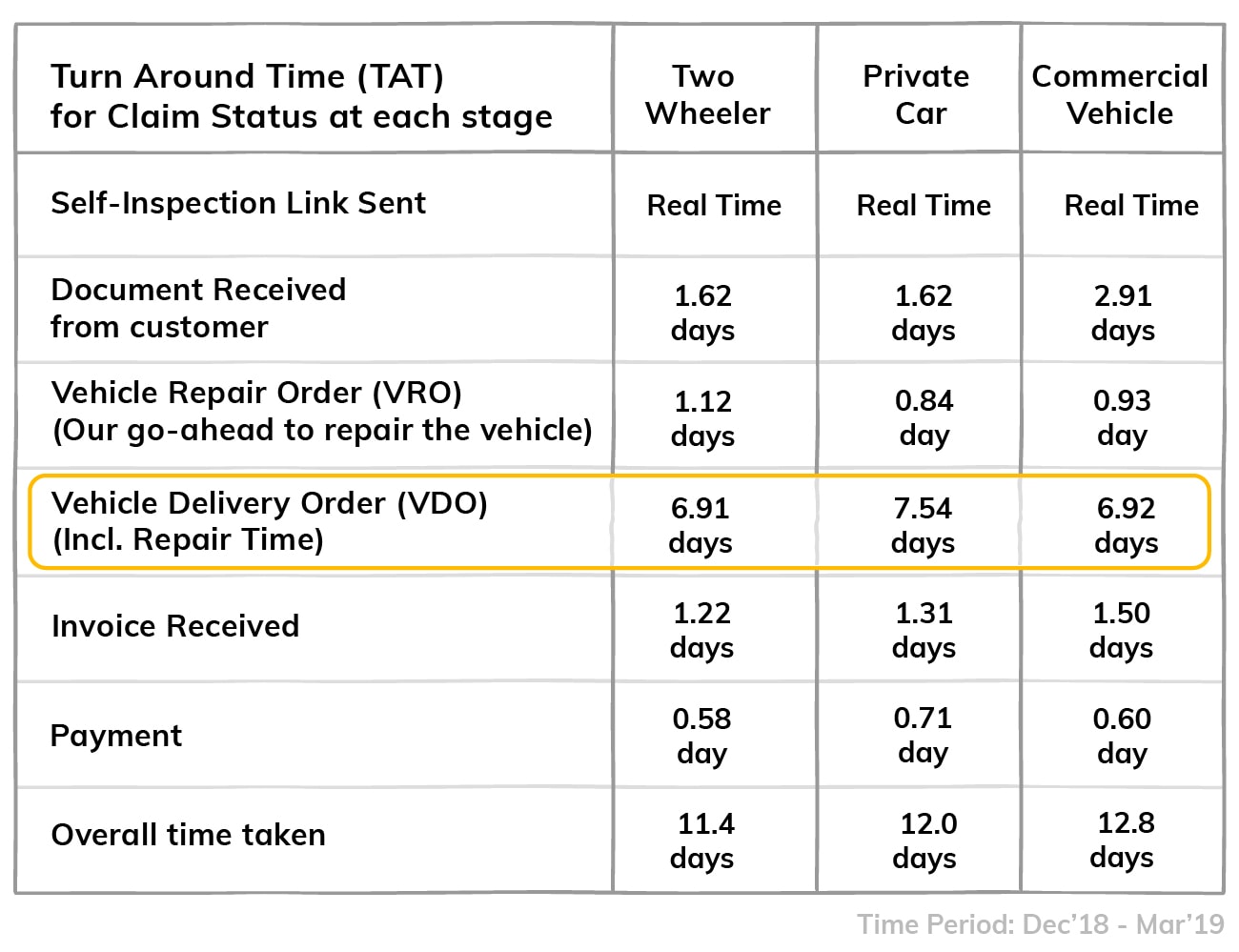 What you see here is that apart from the repair time taken for the vehicle, rest of the processes are completed in less than 48 hours. And we are hoping to improve this further. 
# 2% Market Share in Motor Insurance
Let's face it, we're young and people sometimes doubt newcomers. We've had people who wanted to be customers but had doubts on how a new insurance company will help them in case there is a large claim. But we're glad that we're standing in the same room as the giants in the industry, trying to make our mark gradually: For Q4 FY 2018-19, our exit market share for motor insurance was 2.0%!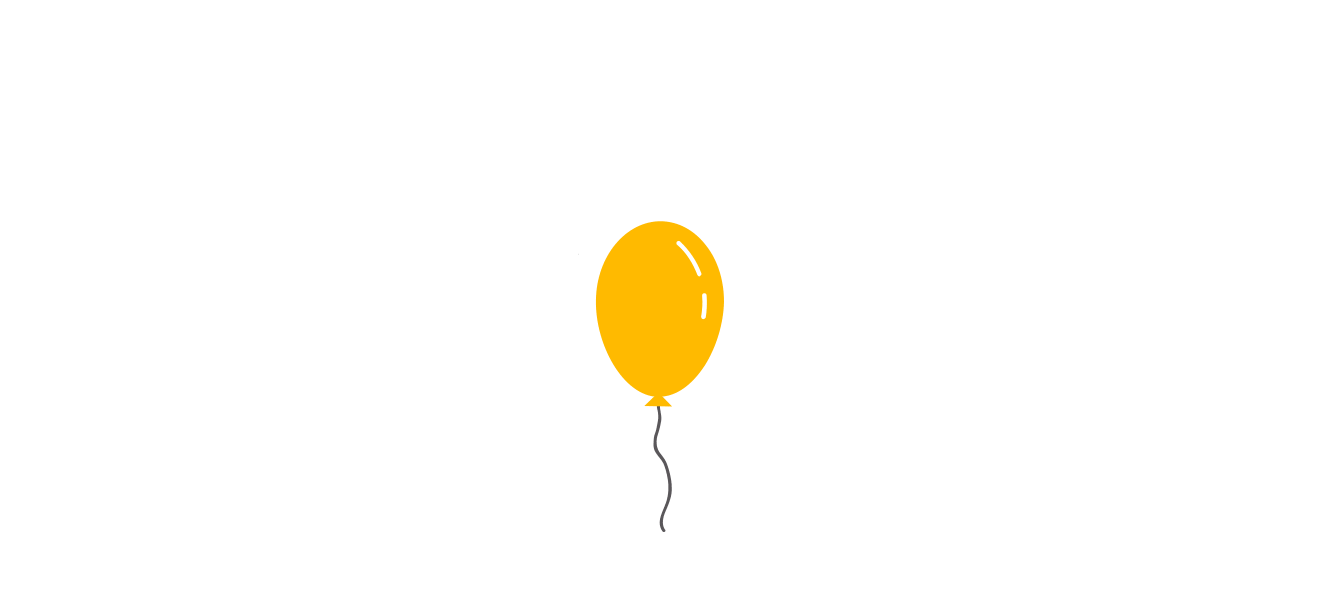 # 2500 garages, 260 cities across India
For a good service, it is important for an insurance company to have a solid presence with garages near the customers. Which is why we spread our wings and fortified our network.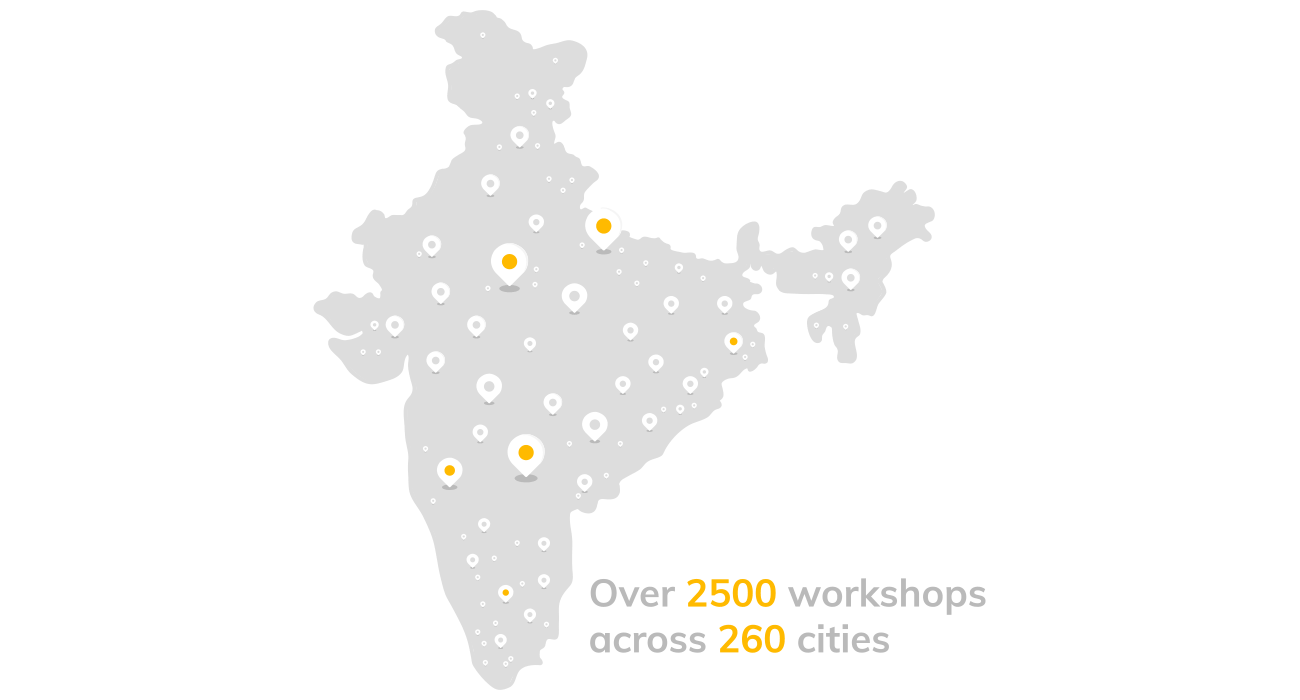 # 7 day inspection brought down to 7 minutes
We believe, just creating a fancy process is not enough. It needs to be simple enough for people to use it. Which is why we created a DIY inspection process which people could do with their smartphones alone. 
To test how simple it really is, we went through a torture-test and made kids test it. And we ourselves were amazed that the kids took just 7 minutes to complete the self-inspection process with their smartphones.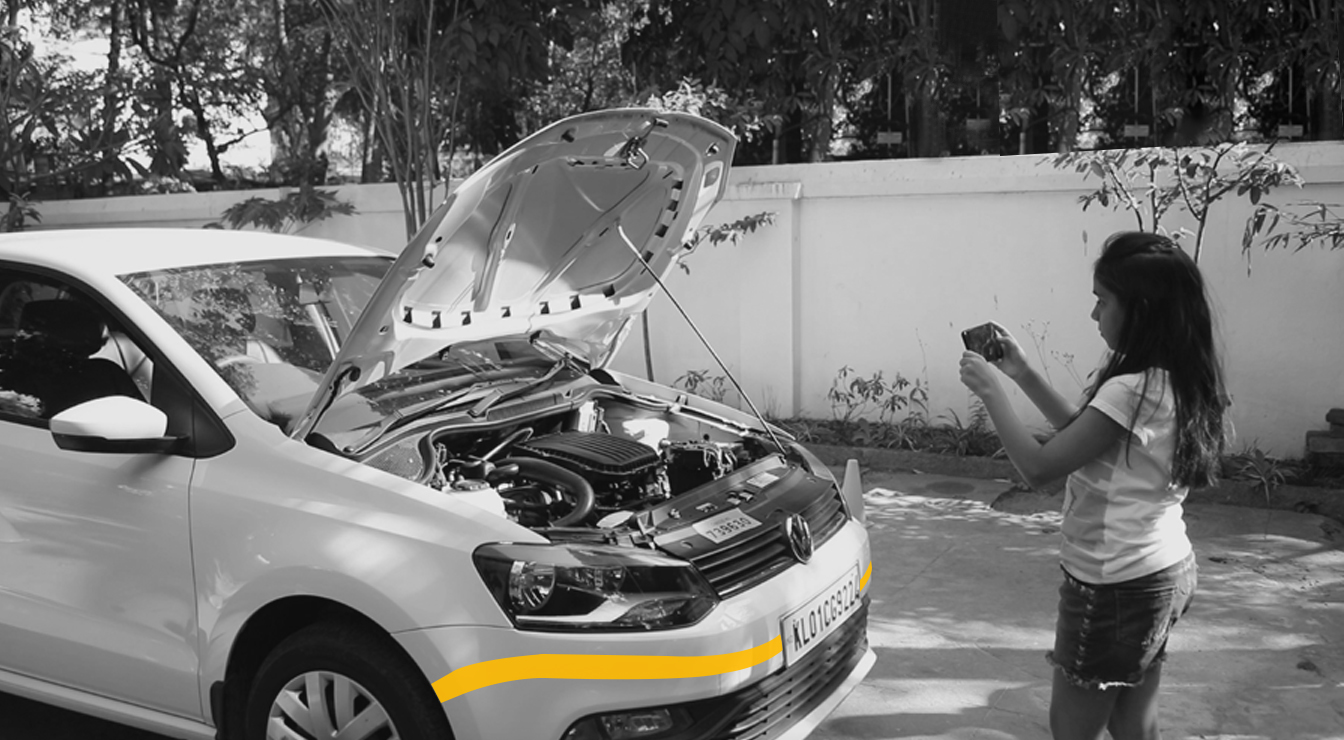 Given this simplicity and speed, no wonder, 7o% of our customers opted for self-inspection over a manual inspection.

And after the inspection, our minions in-house i.e. our operations team makes sure that the rest of the process is as fast. Therefore, 85% of our Inspection Cases are checked within 10 minutes only. Did someone say, 'Need for Speed?'!
# 91% Calls answered in 20 secs
One thing people hate about calling the customer care is the long wait, interacting with IVR options (The usual, 'Please press 9 to talk to our customer care executive'). 😃
This is something we wanted to change, especially when someone is calling us in distress. Therefore, not only do we pick our calls quickly, we also give enough time to resolve the customer's issue which is why our average talk time is 5 minutes 19 seconds. And for non-claim cases 89% of tickets are closed in just 1 day.
Source Period: May'18 - March'19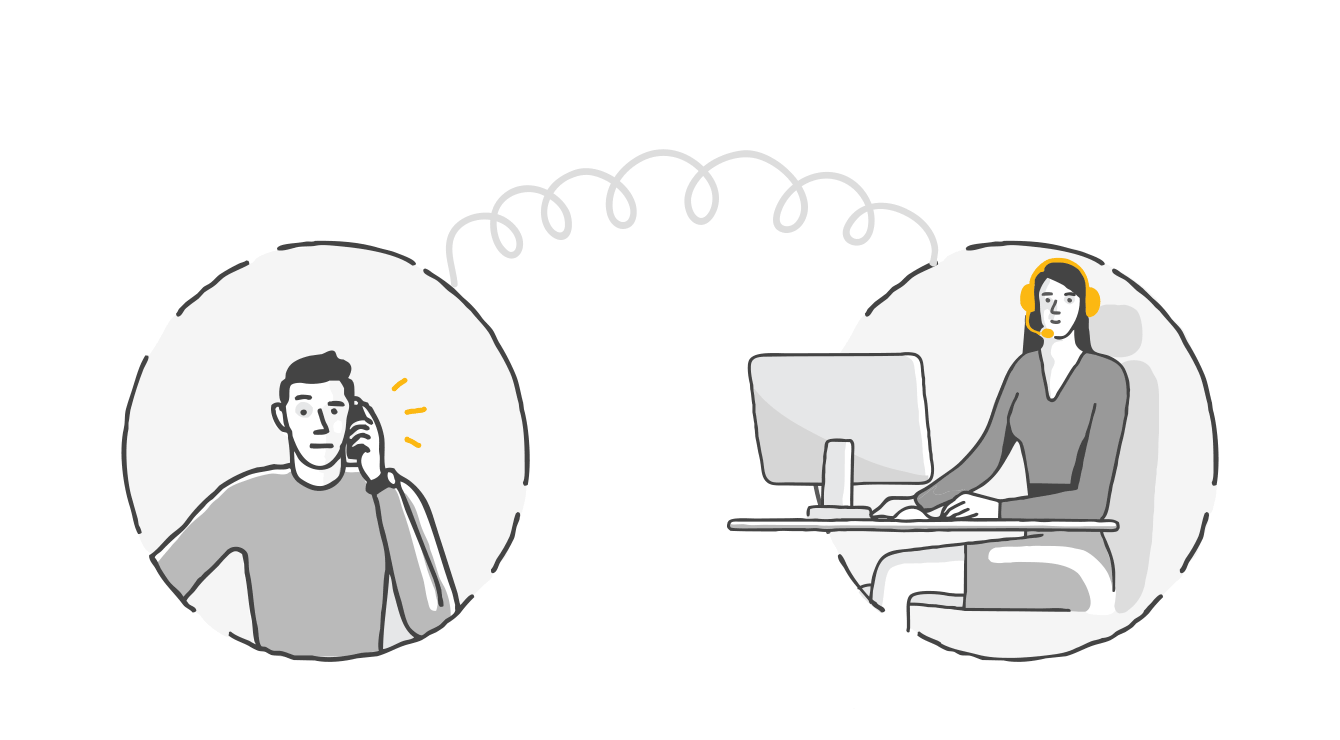 # HODs calling customers
We also try to continuously keep our ears to close to our customers to improve the overall experience for them. And to do so, our Head of Departments including Kamesh has spoken to almost 150 customers, asking them about their experience with us and what can be improved. The response we got was overwhelming where some customers were really happy with us, while others gave us insightful suggestions on improvement. We will keep doing this every quarter, as we believe no one better than our customers can help us in building the perfect experience!

But the road to simplicity is not simple.
In our journey to simplify, there were times when our ideas boomeranged. 
For example,  to buy our car insurance,  only the car's Registration number was required as an identification and not the Engine number or Chassis number. But  this did not go well with the customers. they wanted their policy to have these details. 
Or in case of mobile insurance, we wanted to keep the process simple and not have any activation process. But this left some customers wondering what they need to do to start their policy. While in reality, their policy was activated since the moment their mobile was delivered to them.
So,  we always keep our ears close to the customers and keep iterating our processes to make sure we create simplicity that really matters. And this my friend is a journey.
Finally, our real win, a happy customer
Every win we mentioned above cannot happen without our customers being happy. 
And we're glad to have so many people share their love with us on our social channels, so much so that our Facebook rating is 4.5/5.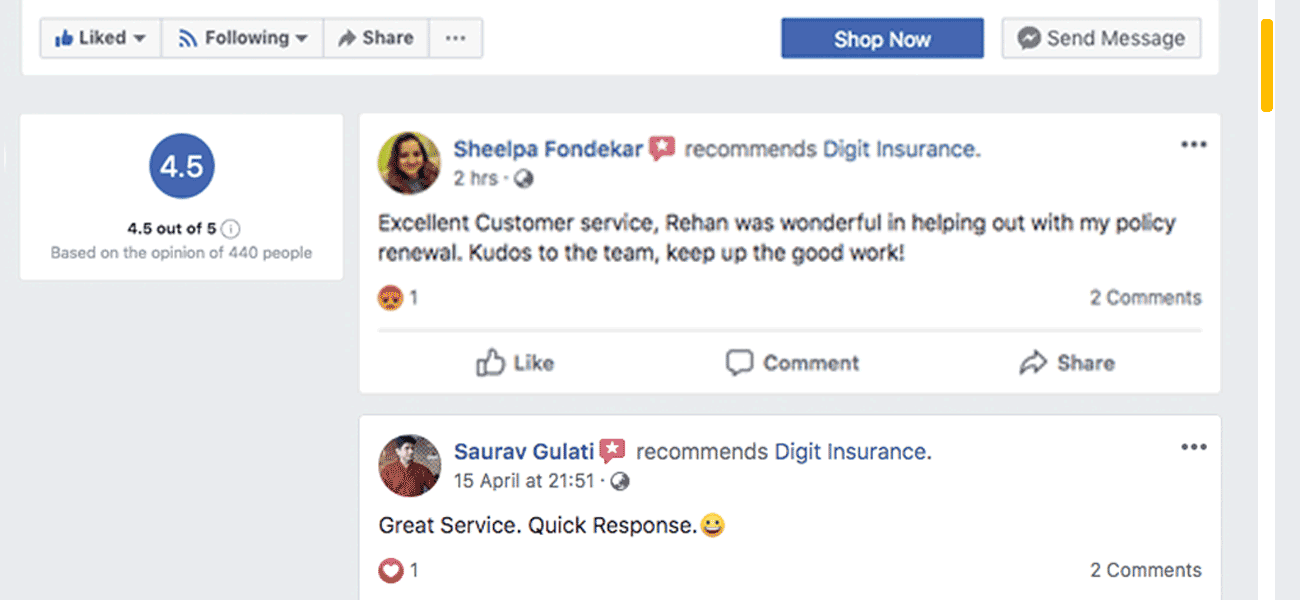 Not just that we have an Net Promoter Score of 73% and 92% people rate us more than 4 stars after speaking to our customer care. This is truly heartening.
Source Period: Oct'18 - March'19
Apna time aa gaya!
Translation: Our time has come! 
Gully boy, a Bollywood flick, that recently drove people crazy has this song which is titled, 'Apna time aayega' (translation: Our time will come). It brews in the passion of the underdog, the challenger who is changing the face of Indian rap songs! It's not about the lyrics or the tune of the song, it is this passion which has driven people into crazy fanhood.
And we can feel that passion, that 'jazba'. It indeed feels wonderful to be a challenger in an industry with so many legacy players, players whom we respect and learn from each day.
End credits
The year gone by wouldn't have been special without our old and new employees, people from across industries, flown into our various departments, enriching the Digit pool by the day!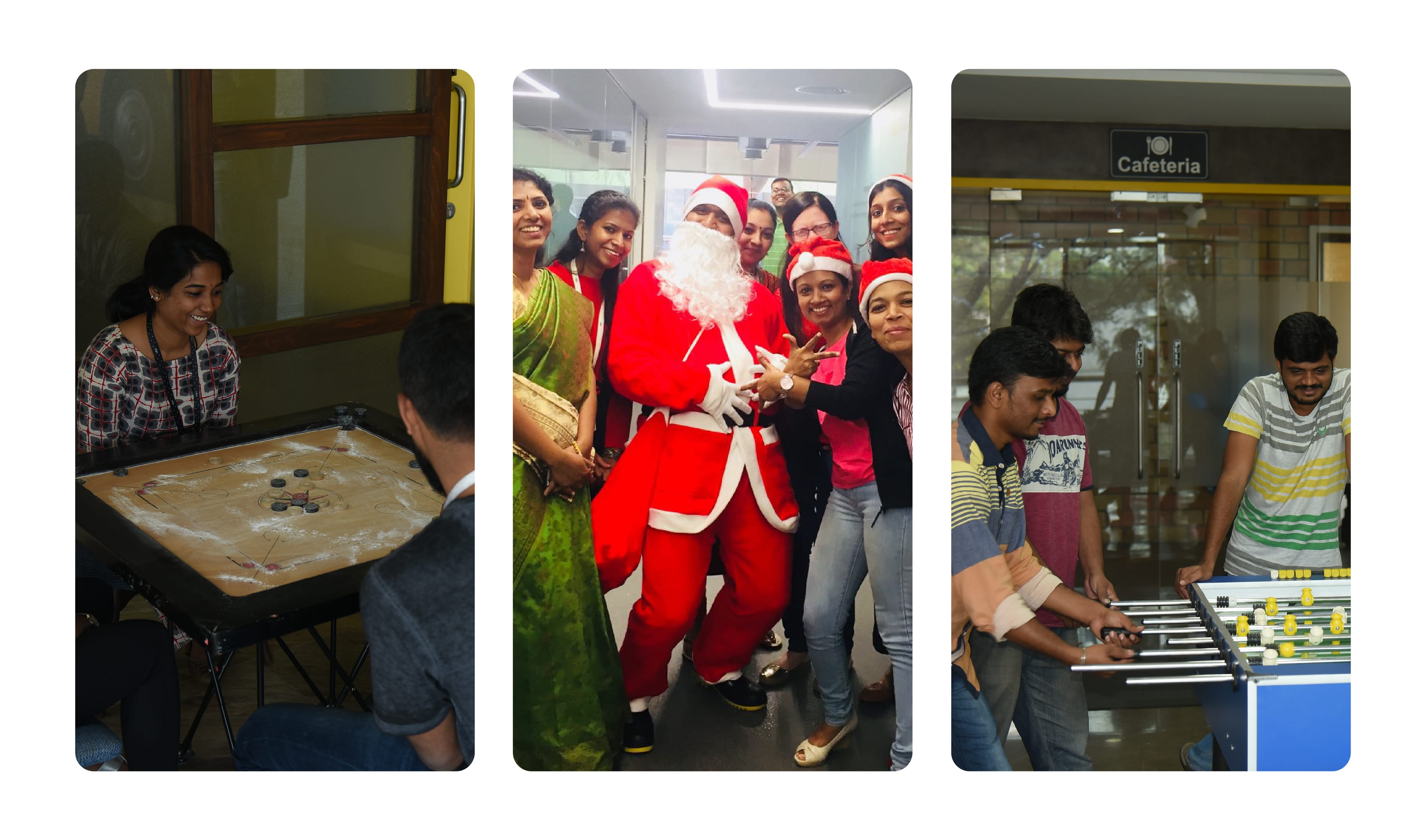 Big applause to our partners, who btw voted us in first percentile (Top 75%) in the category "Broker's vote on an overall basis" in the Insurance Brokers Association of India (IBAI) Awards. And for our institutional partners who took us to newer heights.
A special thanks to Mr. Prem Watsa for his belief and support. We hope you're happy with the numbers😊
And the biggest thank you to 'You', our customers, who are reading this Transparency Report 2.0. We hope you would continue to place your trust in us and also tell us what more we could include in our next Transparency Report 3.0. You can simply drop in a mail  with your questions and recommendations to us at hey@godigit.com.
2019-20, let's meet you in the ring, with more brutal honesty in our muscles. 
Source: Graphs are based on internal data. Time period mentioned under respective graphs