"Focus on 3-5 years down the line. Most people don't realize that the life they live right now is solely based on the decisions they made 3-5 years ago."  
- Elon Musk
Well, insurance IS long-term and, 'Digit' was born just four years ago. If we hadn't crafted our values of simplicity, being transparent and, questioning the status quo back then – we probably wouldn't have been here today, unfolding our 8th transparency report.
You may fathom why four years is such a milestone? A lot can happen in four years. To give you some context, it takes four years for every World Cup season to come back with a new edition ;-) And it took a little less than that (3.5 years, to be exact) for Digit to reach $400mn in premium (in one financial year*), faster than any other private insurance company to do so! As of today, we have reached a Gross Written Premium of $1212 mn**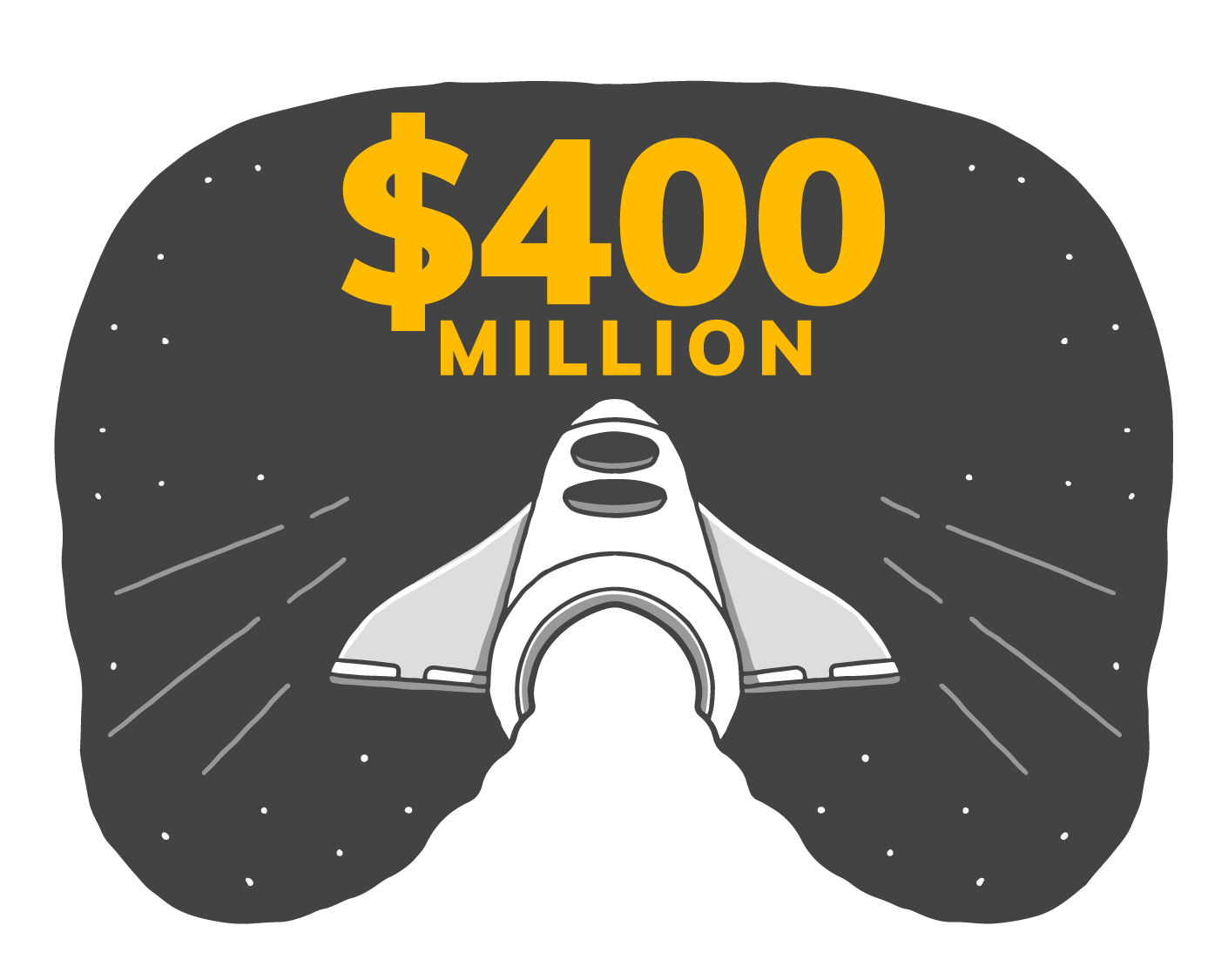 *FY2020-21 
** From inception to September 2021 

Are you wondering, what's with the space theme? Well, there are two reasons – one that in the last six months – not only us, but the world has gone above and beyond the normal. Imagine, people are now traveling to space too! Who knows, in due time- we might just cover space journeys too!
;) After all, the first policy we ever sold was also a travel insurance policy.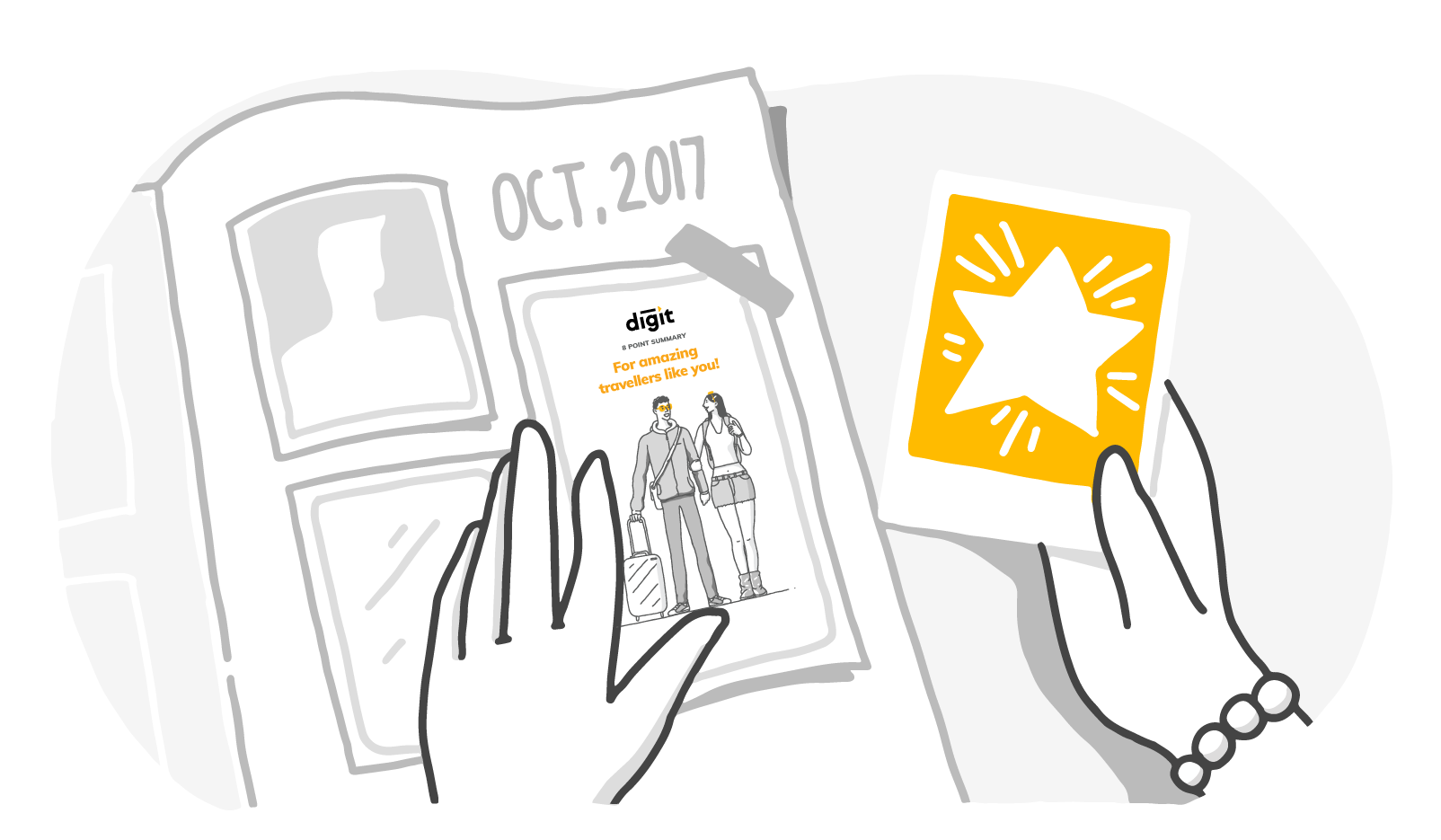 Our Big Bang Theory; the origin of Digit  
According to Google's Year in Search, people in 2017 searched for "how" more than anything else. Although we may have not googled our way through this, we too asked...how?  How to make insurance simple? And that one question led to a whole new galaxy of possibilities!  For those who are invested in our journey so far, but currently don't have the time to read through it all, here's what our business galaxy looks like.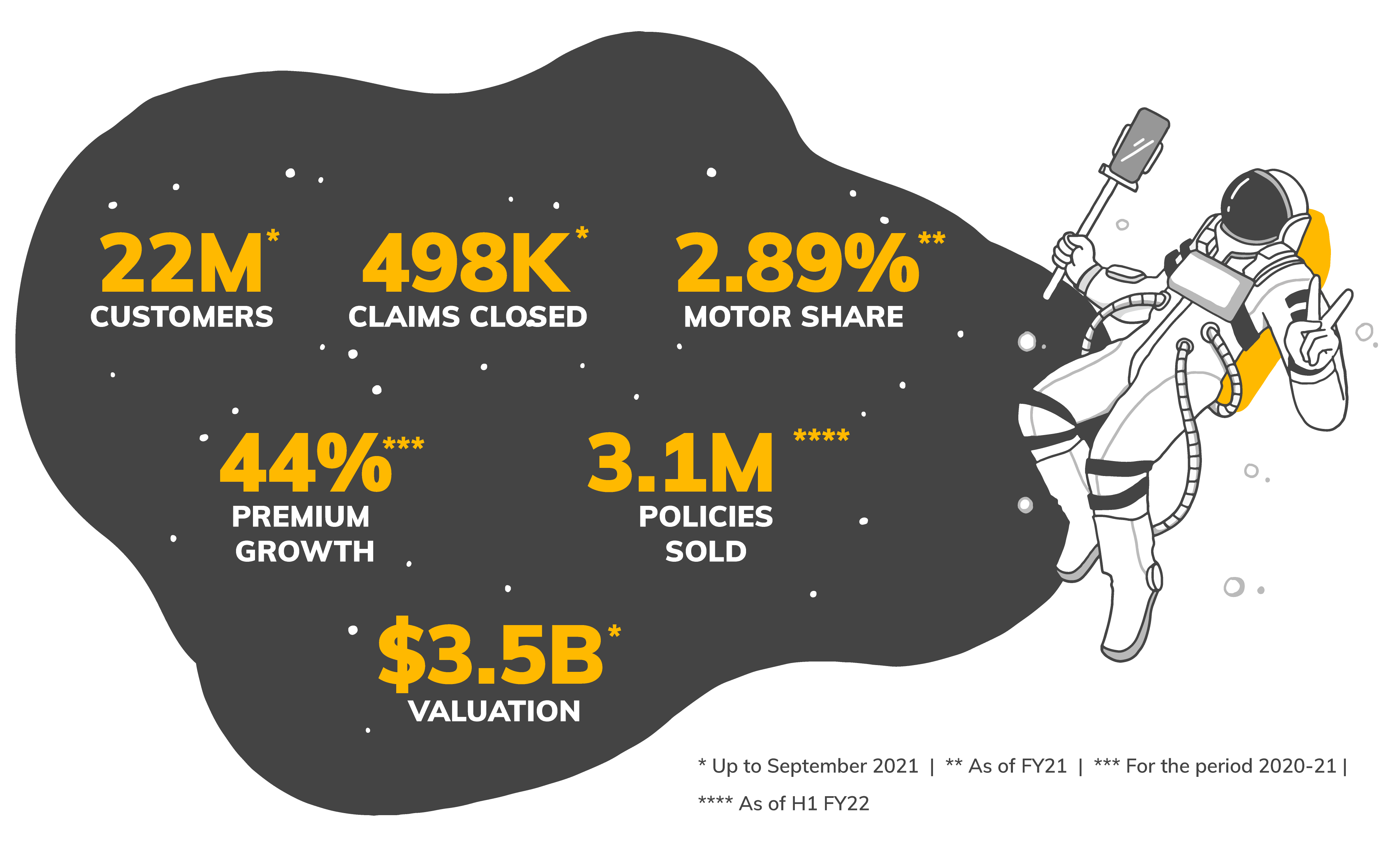 4 Significant Milestones in 4 years:
One of the first insurance companies to be 100% on cloud
Turned profitable in FY2020-21, within three years of operations as per IRFS Framework
Launched an industry-first COVID specific Insurance cover in late Feb 2020
Became India's first Unicorn of 2021!
Along this journey, we've learned a lot about the people on earth, reached a few stars (quite literally 😉), and diversified our portfolio in a way that has helped us fly through the good times and bad. Sure, the journey has only just begun, but the lessons we've learned so far, are going to be our pole star to guide our journey ahead. 
Tackling COVID claims – a real spacewalk
Our product-in-focus has been our health portfolio. This is not only because people have started thinking about their health and finances a lot more seriously, but because claims came shooting at a time when even our employees were dealing with personal grief that came with the second wave. 
Although a challenging time, this led us to underwrite new products, and improve our existing processes to make things simple for both our customers and employees.
A crucial aspect we started working on, was to improve our TAT, which led to changing the way we measure our Health TAT, i.e. now in hours instead of days. We have successfully brought down our TAT, especially for COVID-related claims –with an average of 44 minutes for pre-authorization of cashless COVID claims (April 2021-September 2021).
Through this experience, and with the burden on health claims – we reflected that our health claims journey still required a lot of improvement. To solve this, we spoke to customers who have made a claim with us, and mined insights based on the feedback collected. Through this exercise, we started improving our claims process and will continue to do so in the coming months.
Apart from managing a large volume of claims, another challenge was that fraud with excess billings had increased during the second wave. Unfortunately, some hospitals were even known for this. To tackle this, we conducted an awareness drive to ensure customers approach us directly before hospitalization, so we could help them choose the right hospital, provide a rough estimate which would reduce the likelihood of being charged excessively, and improve overall customer experience.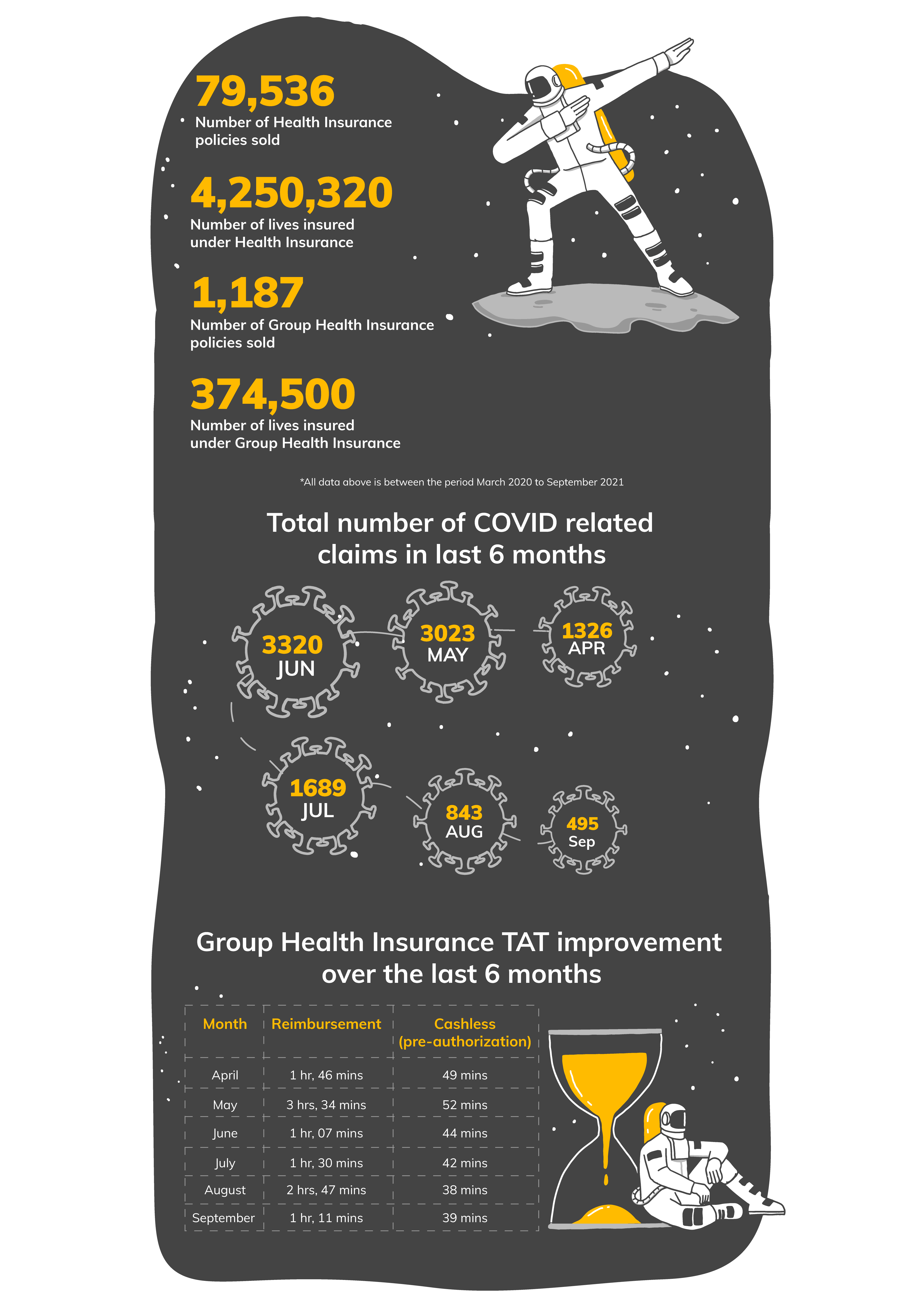 An overview of what our health numbers look like for the last 6-months (April 2021 to September 2021)
On our launchpad- Group Health Insurance
Although we had already launched our Group Medical Cover pre-pandemic, it is this year that the demand for it shot up, as companies became more proactive about protecting their employees' health and wellbeing. This pushed us to improve our product, processes and provide benefits that would be meaningful to employees amid skyrocketing cases, lockdowns, and deteriorating mental health. Some primary improvements include: 
a. For any business, cost is a crucial factor. Meet Aria, our in-house AI-powered bot who helps our partners generate quotes for business products (including for our Group Health Insurance policies) quickly, in real-time.
b. To speed up both the buying and claim process-we introduced an HR portal recently (August 2021) to make it easier for our GMC customers to buy and manage policies and, a QuickDesk to handle claims at lightspeed!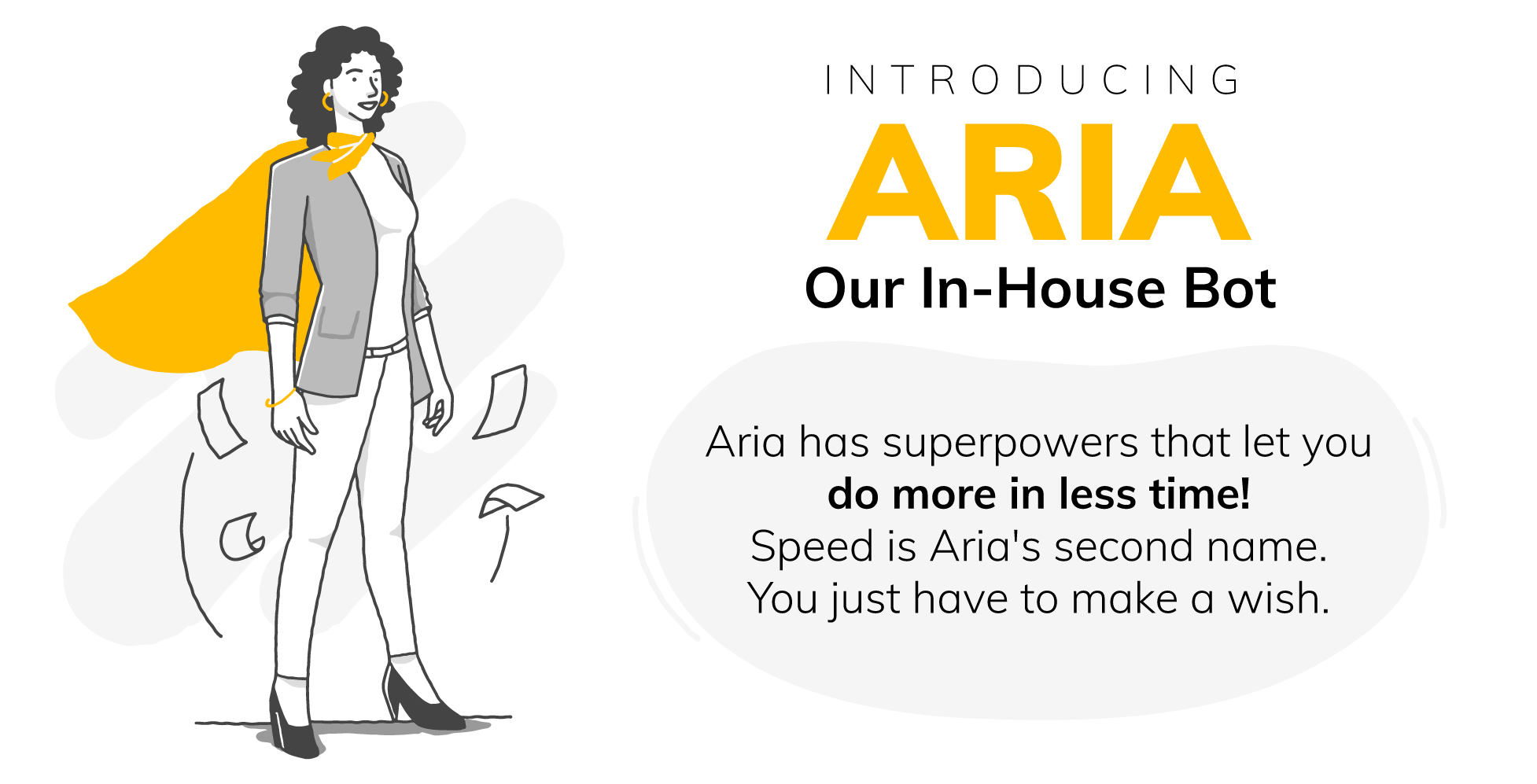 Empowering both our customers and partners as part of Digit's solar system 
There's a quote by Stephen Hawking that strikes a chord here, "For millions of years, mankind lived just like the animals. Then something happened which unleashed the power of our imagination. We learned to talk and we learned to listen. Speech has allowed the communication of ideas, enabling human beings to work together to build the impossible. Mankind's greatest achievements have come about by talking, and its greatest failures by not talking. It doesn't have to be like this. Our greatest hopes could become reality in the future. With the technology at our disposal, the possibilities are unbounded. All we need to do is make sure we keep talking."
One of the things we've learned is that both our customers and partners are a critical part of our solar system. And while we have embraced technology in different ways – we aren't using it to replace humans but to empower them:
1. Empowering partners with our Partner App: We recently helped partners create their digital stores on our fully functional partner app that helps them track their business and provides them with tools to grow their business.
Furthermore, we set up the 'Digit Action Series', a process that helps us collect feedback every 6 months from our partners and make continuous improvements to our products and processes basis that. 
2. Empowering customers with simple self-service queries: As a means to simplify our processes, we have been moving towards self-service. For example, for car insurance policies, we have set up an automated pre-inspection process where customers can capture and submit photographs and receive an approval/rejection quickly. Since 2018, this is being done for 5-10% of cases so far and will increase with time.
This is only possible due to the technology we have at our disposal today. Additionally, we're have also been scaling up claims and service requests on WhatsApp to overall reduce call volumes.  

Earlier, for 100k policies, we received around 1800 calls a day, to now 2300 calls a day for 10x the number of policies. In the last quarter (Q1 FY22) itself we have received more than 82,000 service requests on Whatsapp.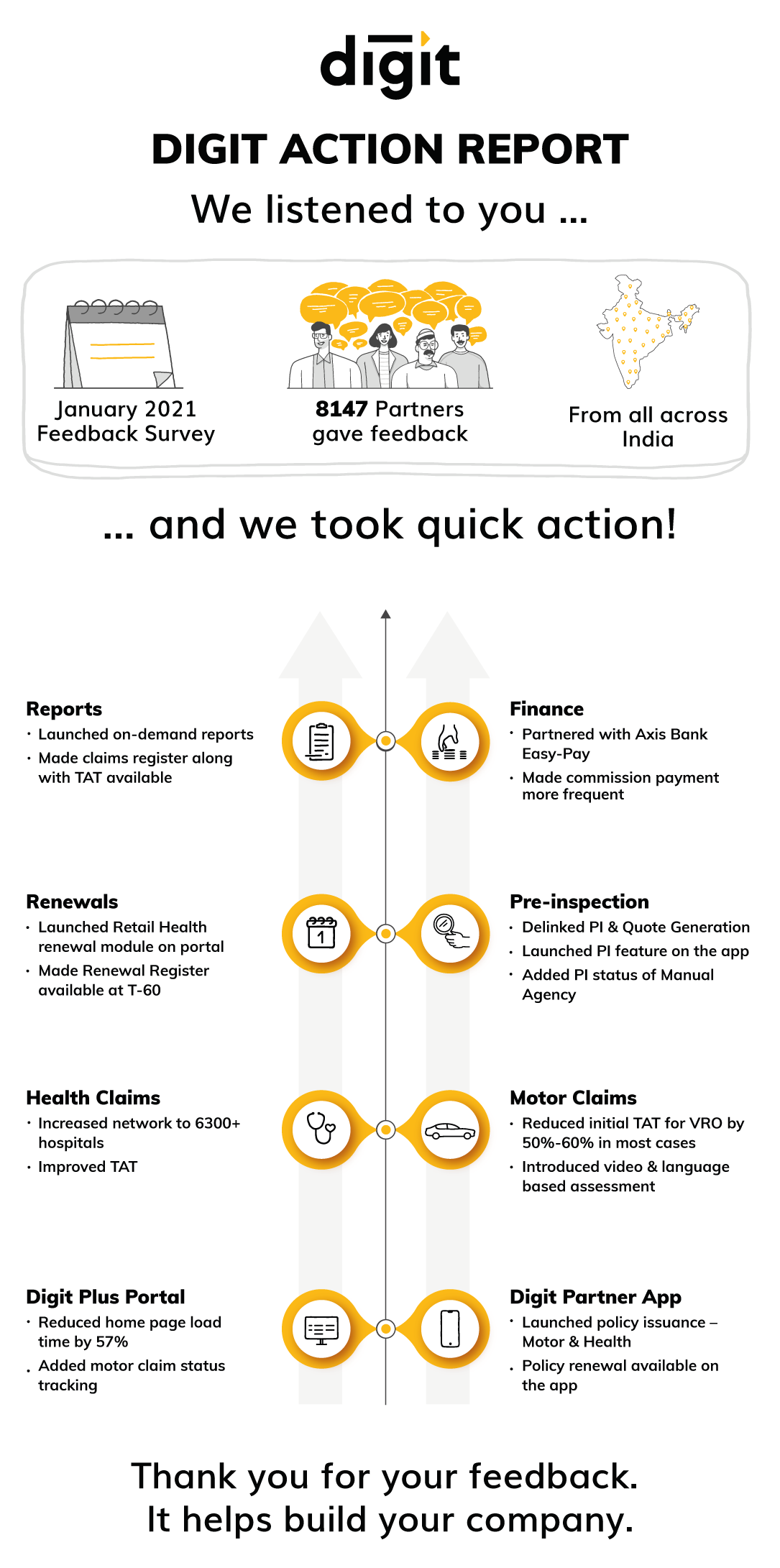 The splashdown - the return to Earth as we know it
For the first time in almost two years, it finally feels like we just might be getting back to normalcy. We don't just say this with the rampant vaccination drives and easing of travel restrictions but also through data we see on a day-to-day basis –increase in the purchase of travel insurance policies, the fall of COVID claims, and the rise of motor-related claims (we did say, we 💛 claims, right?)  There is a feeling of renewed hope, that just maybe we are getting to the beginning of the end.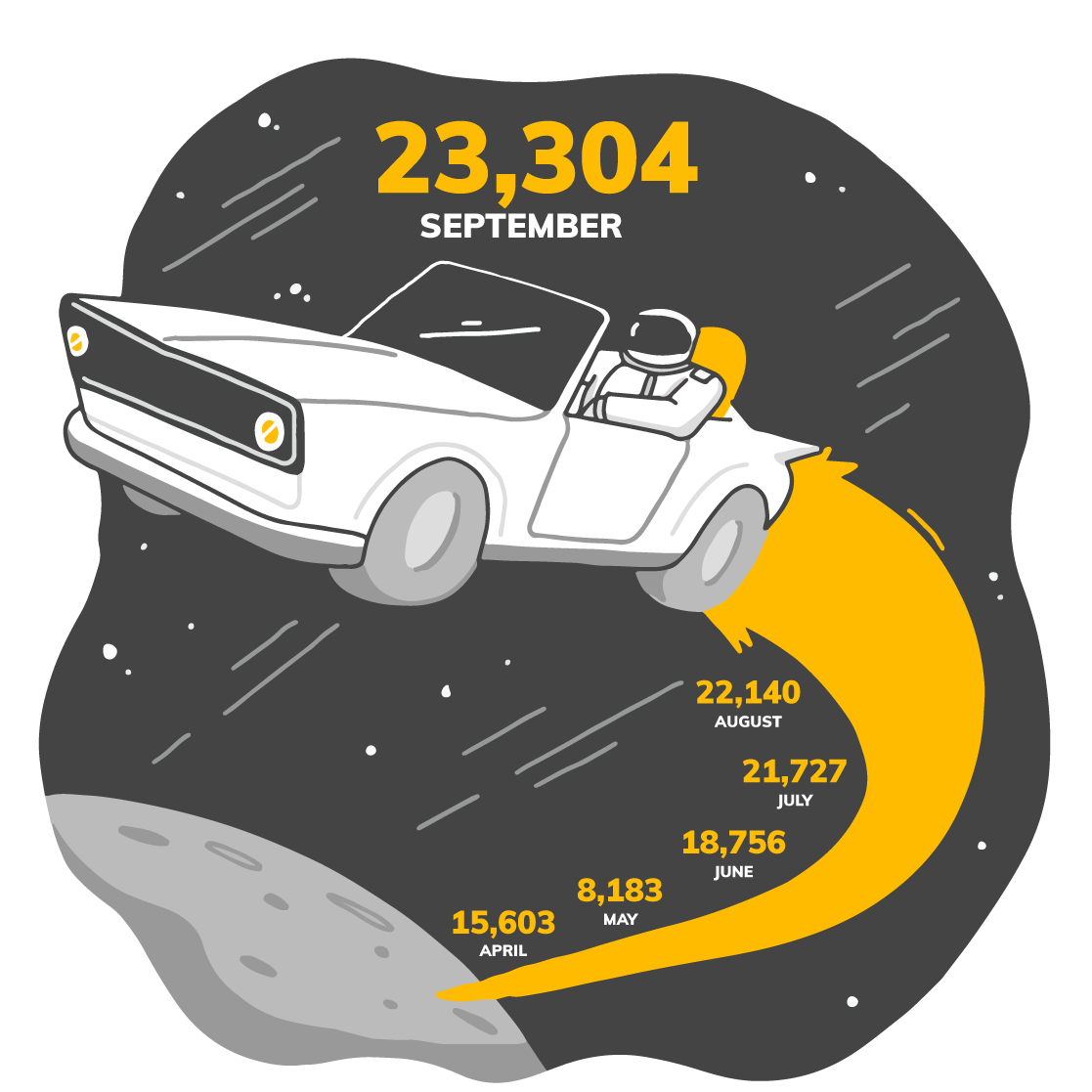 Rise in own damage claims, in the last 6-months
(April 2021 – September 2021)
Astronauts usually talk about the "overview effect"which is the revelatory shift in perspective that comes from seeing the Earth from the outside. Likewise, what we have experienced not only during the pandemic but, the last four years has given us, as an industry and insurance company itself – a revelatory shift in perspective. We are optimistic about reaching for the moon, but we also know that a pandemic or cyclone could almost diminish that. And so, we remain grounded to the earth. 😊 
Here are a few of our regular numbers;
Claim settlement ratio* as of Q1 FY22  
*Derived using: (Claim Paid + Claim Closed) / (Opening O/S + Claims Reported - Closing O/S) 

And before we wrap up our 8th transparency report, we would like to thank our stars; our employees, partners, and customers for believing in us and for being such a huge part of our journey towards making insurance simple. Here's to the next four years, onwards and upwards! 🚀