Ralph Waldo Emerson once wrote, "The soul refuses limits and always affirms an optimism, not a pessimism."
Simply put it, we are hardwired for hope even in the worst of times. In psychological terms, this is known as the 'Optimism Bias,' which refers to our tendency to overestimate the probability of positive events and underestimate the likelihood of negative events.
Think about it, looking back at March 2020, we were all pretty optimistic that the COVID-19 lockdown would only last two weeks, and that the virus would soon go away, with the onset of summer and what not!

And yet here we are, two years later, coexisting with the virus as waves come and go.
If you are reading our report for the first time, welcome to our 9th transparency report, our bi-annual review of what has been happening behind the scenes at Digit.
The objective of publishing this report is so that you don't always see us with those rose coloured glasses (after all, that IS human nature 😉), but with ones that are clear and transparent. 😊 So here it is, the good, the not so good, and of course...all the stats.
If you don't have more than 6 minutes to spare, here are some of our key business numbers

Key business highlights of FY22, compared to FY21
HUMAN BIASES x HEALTH INSURANCE
Whether we like it or not, a lot of our decision making is driven by our biases, and this is especially true when making financial decisions, including that of buying insurance.
a. "All is well, all is well!"
Did you know that, about 90% of the Indian population is still uninsured?
There are multiple reasons for this, but one being the fact that people usually assume that nothing bad is going to happen to them (and this phenomena is not just in India of course).

For example, one of the biggest misconceptions people have is, "I'm healthy, so I don't really need health insurance!" even though data and even the financial benefits of health insurance may prove otherwise. After all, people are not calculators and they do not objectively foresee the exact probability of events. Instead, we often gauge it just by how we feel about it, and we largely feel optimistic about ourselves and our future.

And unfortunately, when something does happen later, it is too late by then to get health insurance to cover for you. 
b. The human need for immediate gratification
While some people may assume things can go wrong, they only think of it as a possibility in the distant future (which may be the case for some) and that's why, delay buying that health insurance policy. This, dear readers is what is known as 'Hyperbolic Discounting.' In simple words, we as human beings are drawn to immediate rewards and since health insurance doesn't give us that, we delay getting one. 🙁

However, it is interesting to learn that although we are optimistic by nature, the scale of this may vary from person to person, based on one's experiences in life. For example, someone who has seen a family member lose out on savings due to a medical treatment or has faced multiple troubles while travelling would have a different perspective on health and travel insurance, respectively.
c. The positive side of negative thinking
Incidentally, an internal study we did at Digit showed that the demand for health insurance during Omicron (Nov-Dec 2021) went up by 98% as compared to 2020.

This could be because of the experiences people faced during the first and second wave, which led them to make better decisions to protect their families and themselves from the uncertainties the third-wave could bring.

In psychological terms, this is referred to as the 'Negativity Bias,' that explains that adverse, negative events usually stick to us and have a stronger impact on our psychological state, and eventually on our decision making as well.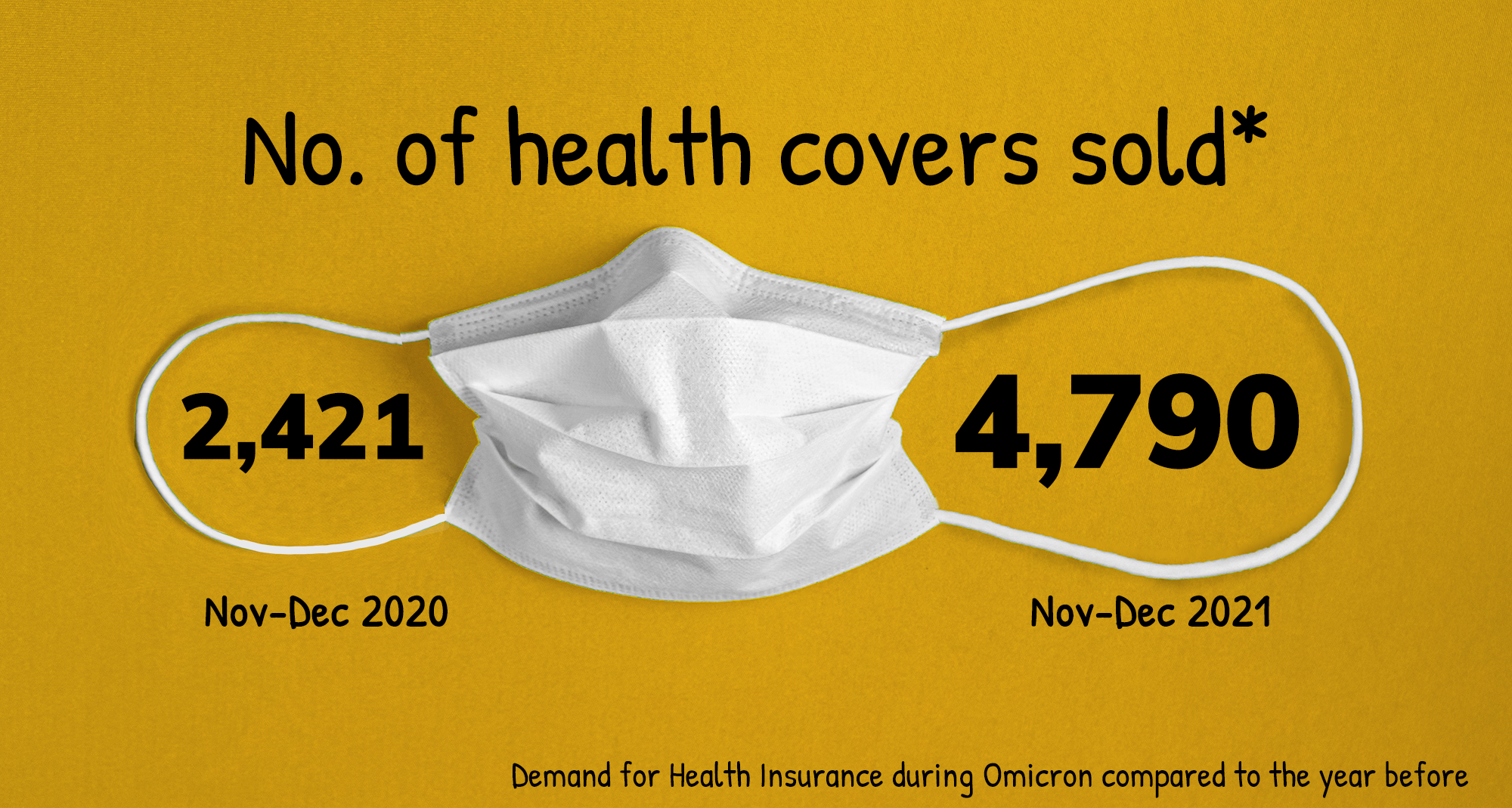 THE WAIT YOU HATE
Nobody likes waiting. Whether it's waiting in a long queue, waiting for a claim to be settled or even just waiting for groceries to be delivered! 😉 You know what they say, "the waiting is the hardest part." So, with our customer focused mindset, here's how we are continuing to make efforts to enhance customer experience and make the "wait" shorter:

1. Improving TAT (turnaround time) for Health & Motor Claims
a. Say hello to our Document Analysis Engine: Health claims always come with a range of documents, right from doctor's notes and reports to pharmacy bills and receipts.
So, with the help of AI (Artificial Intelligence), our Data Science has built the Document Analysis Engine that helps process health documents faster. What this does is, it identifies all documents and extracts all relevant data into our in-house claim processing system. This helps bring down the time it would otherwise take someone to go through multiple documents and hence contributes to bringing down our overall TAT.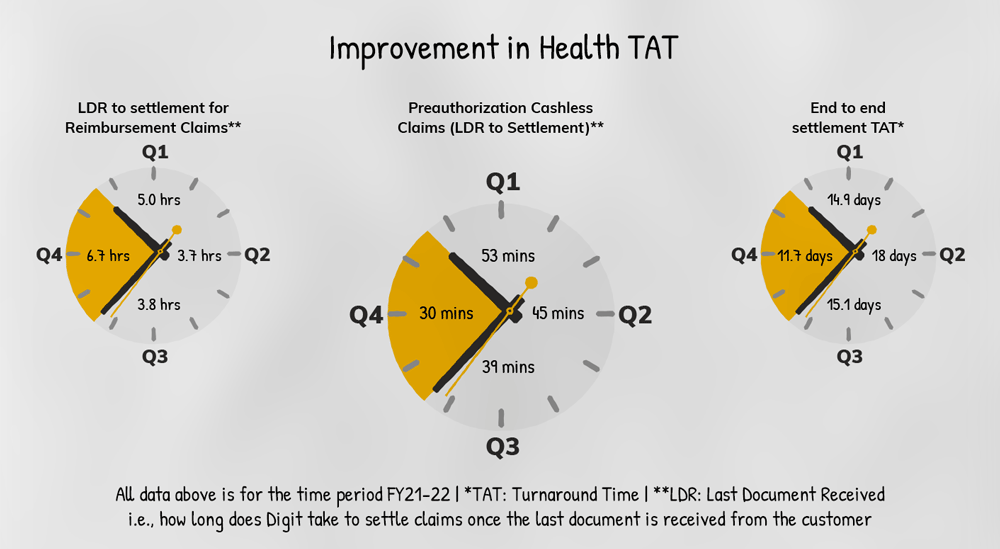 b. Bringing down TAT for motor pre-inspection: With the objective to bring down the turnaround time for motor pre-inspection and reduce dependencies on making physical visits, we developed one of India's first AI-enabled on-the-spot pre-inspection approval.
The pre-inspection approval that earlier took 24-48 hours can now be completed using AI models in less than 60 seconds, just by uploading nine pictures of the vehicle. Although we briefly talked about this in our previous report, this process now covers an increasing number of cases, I.e., from 18 to 20% on daily basis. While the current accuracy now stands at 90%, we are constantly building on it to achieve a near 100% accuracy.
2. Enabling one million  service requests through Whatsapp
In line with our USP of paperless claims processing, we introduced our Whatsapp functionality in 2020.
Currently, customers can avail up to 15 services including softcopy generation of policy documents, claim status tracking, cashless hospitals list, renewal enquiry, pre-inspection status for motor insurance, roadside assistance request, cancellation of policy, and health claims registration among many others.

This has successfully helped customers resolve queries in real-time against the typical wait time experienced for email responses or speaking with a customer care executive.

3. Reducing the waiting period for health insurance to 1 year only
In health insurance there is a waiting period of 3-4 years (industry average) for specific illnesses and pre-existing conditions. But we understood that this was a pain point and the need to make a claim within a year or two for specific illnesses was quite common. Hence, we introduced an option where customers can now choose their health insurance with a waiting period of one year only, ensuring that when needed, they can get access to quality healthcare at the right time.
JUMPING ON THE EV BANDWAGON!
You've probably heard of this phrase, inspired by the bias of the 'Bandwagon Effect,' it is
our habit of adopting certain behaviors or beliefs because many other people do the same. In simple words, it's how trends work! And it's probably why you too may have tried your hand at dalagona coffee, made a reel, or even succumbed to the daily wordle. 😉
What we currently see in the demand for EV vehicles too could be attributed to the same – both from a business and consumer perspective; while an increasing number of auto giants and startups are venturing into electric vehicles, people too are now getting more comfortable with buying one for themselves and of course, insuring it! 😊 

By the way, we've also recently started a podcast, #InsuringIndia; a monthly podcast that makes insurance more accessible. And one of our recent episodes is on Insuring Electric Vehicles itself. Right from how insurers can leverage the EV segment and how EV premiums work to things one should know about insuring EVs. You can listen to it here.

Before we jump into the last section of this report, here is a simple overview of the few human biases we've covered and how they impact our decision making when it comes to buying insurance, specifically health insurance.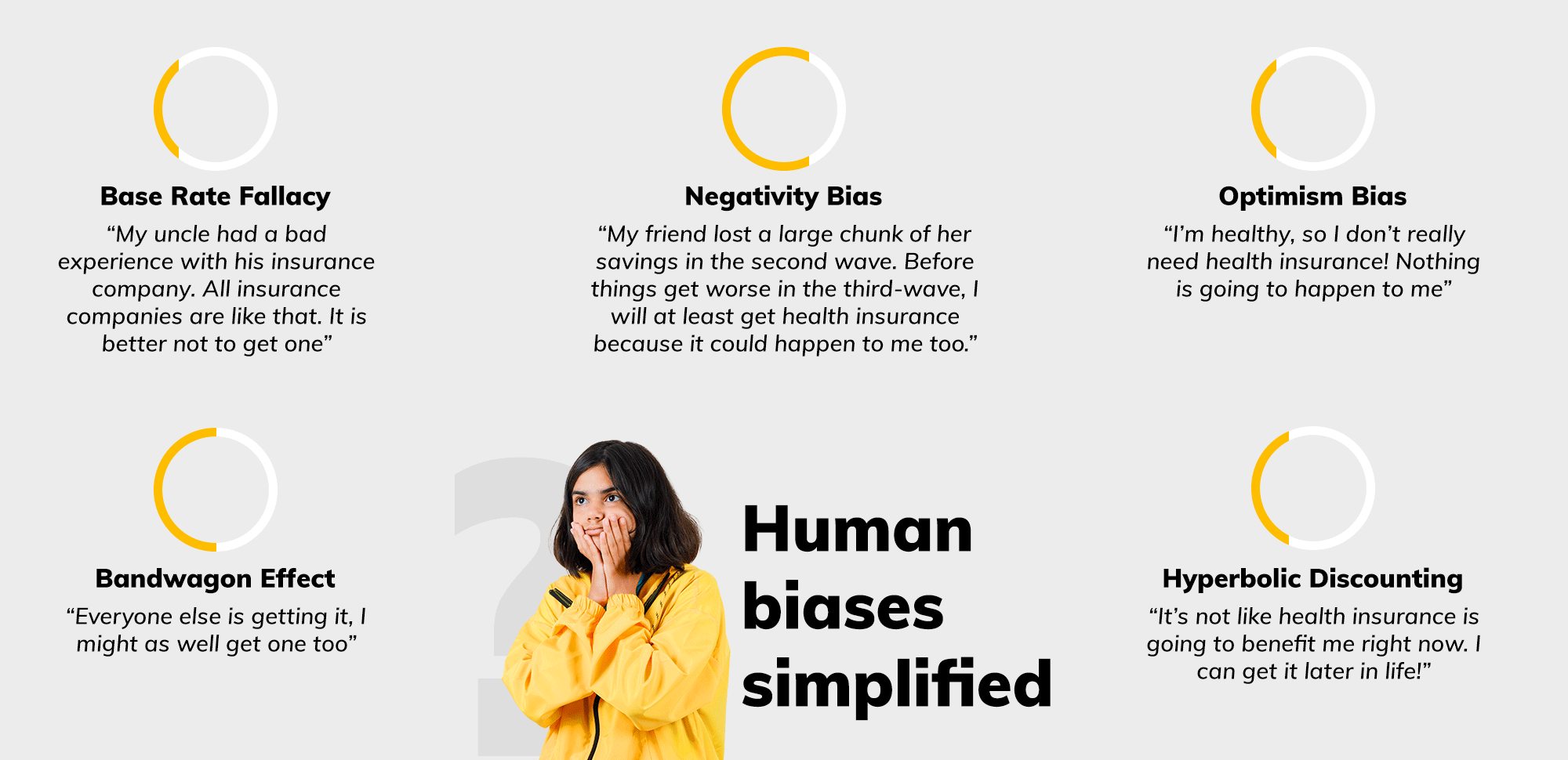 CONCLUDING THOUGHTS
While this is just a little glimpse into how the human mind works, do let us know what your thoughts are on this. Maybe we could cover more in our next report, or on our other channels of communication. 😊 There are over 180 biases that influence how we think and perceive reality. And it is said that the average adult makes around 35,000 decisions every day! Of course, we don't do it all alone – our biases always come into play!
The objective of talking about our biases in this report is not only because they impact our industry and our customers but because they impact us all in every way possible. In today's day and age, it is important that we are aware of what happens in the background of our minds, so that we can confront them and make conscious decisions.
Because, when we do not confront our biases, we miss the opportunity to learn, and grow. And, at Digit one of our values has always been to question the status quo, and that starts with confronting our biases itself. 😊

TALKING NUMBERS – LOOKING AT THINGS OBJECTIVELY
Now, let us dive into the last few statistics of the last 6 months 😊
Claim Settlement Ratios — how many % of claims have we settled so far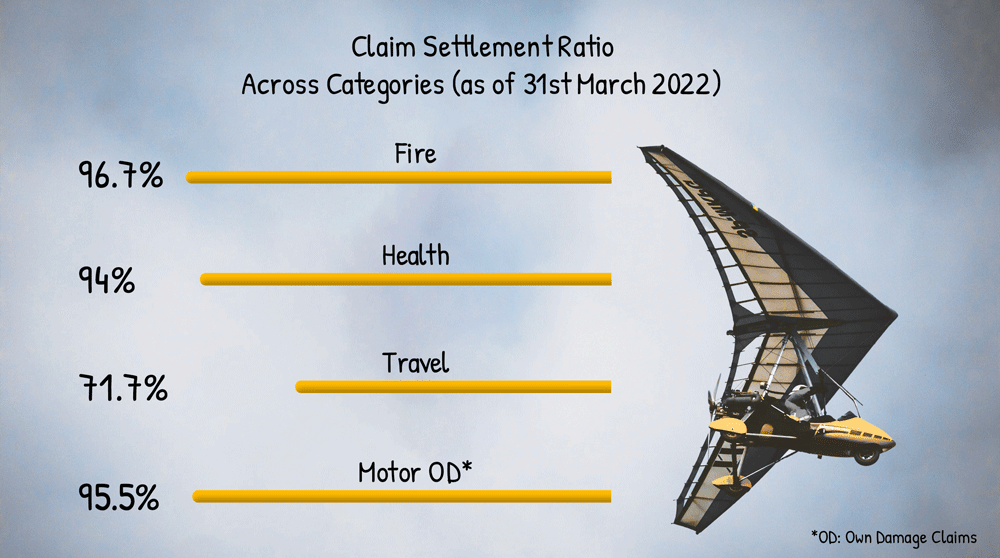 👍 95.5% is calculated by taking the average claim settlement time which is 15 days. This means 4.5% of claims are yet to be settled *
Our growth story in a few numbers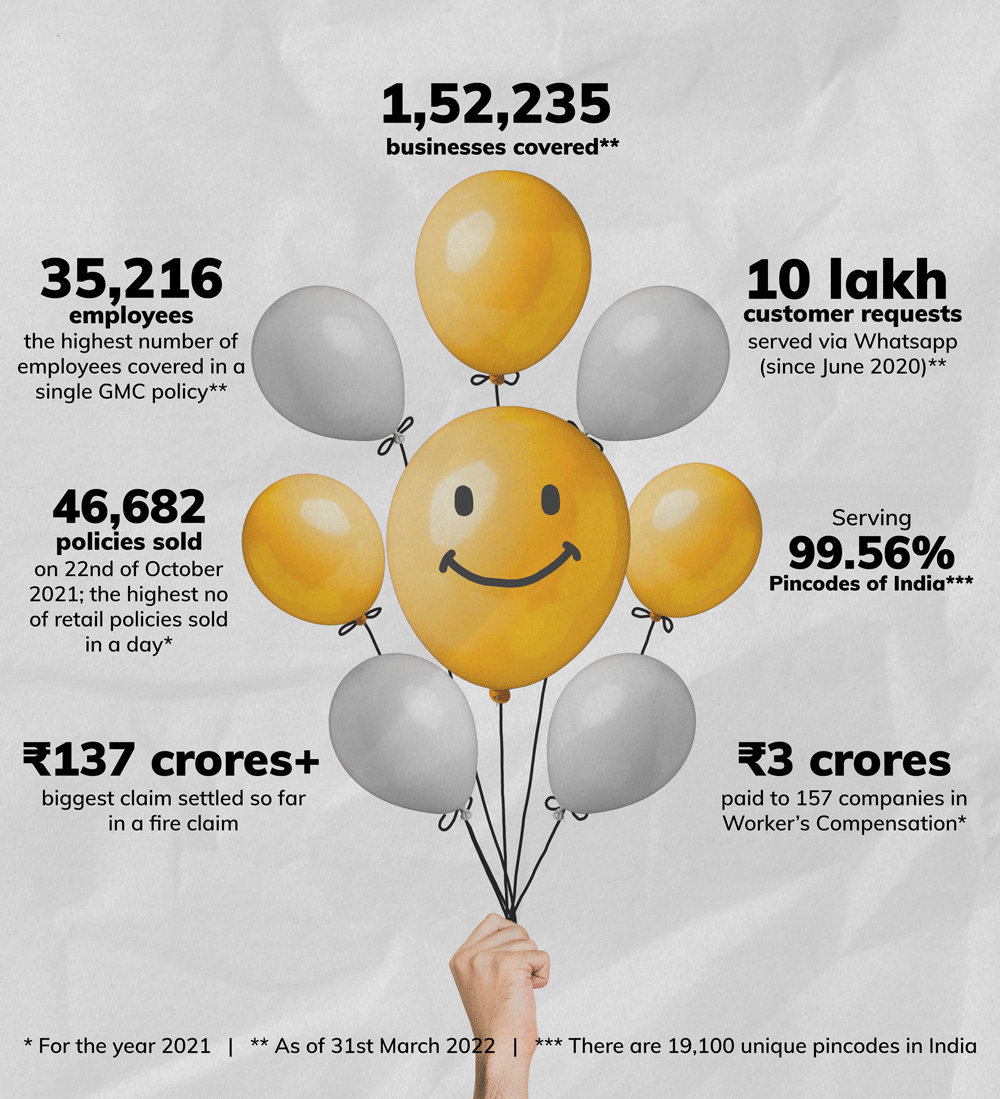 Everyone is doing the Digit – Our top ten markets across India, and growth across other states, I.e. across 19,016 of 19,100 pincodes in India