Property Insurance
for your
Home, Shop and Business

Terms and conditions apply*
Frayed Electrical Cords: Dangers and Safety Measures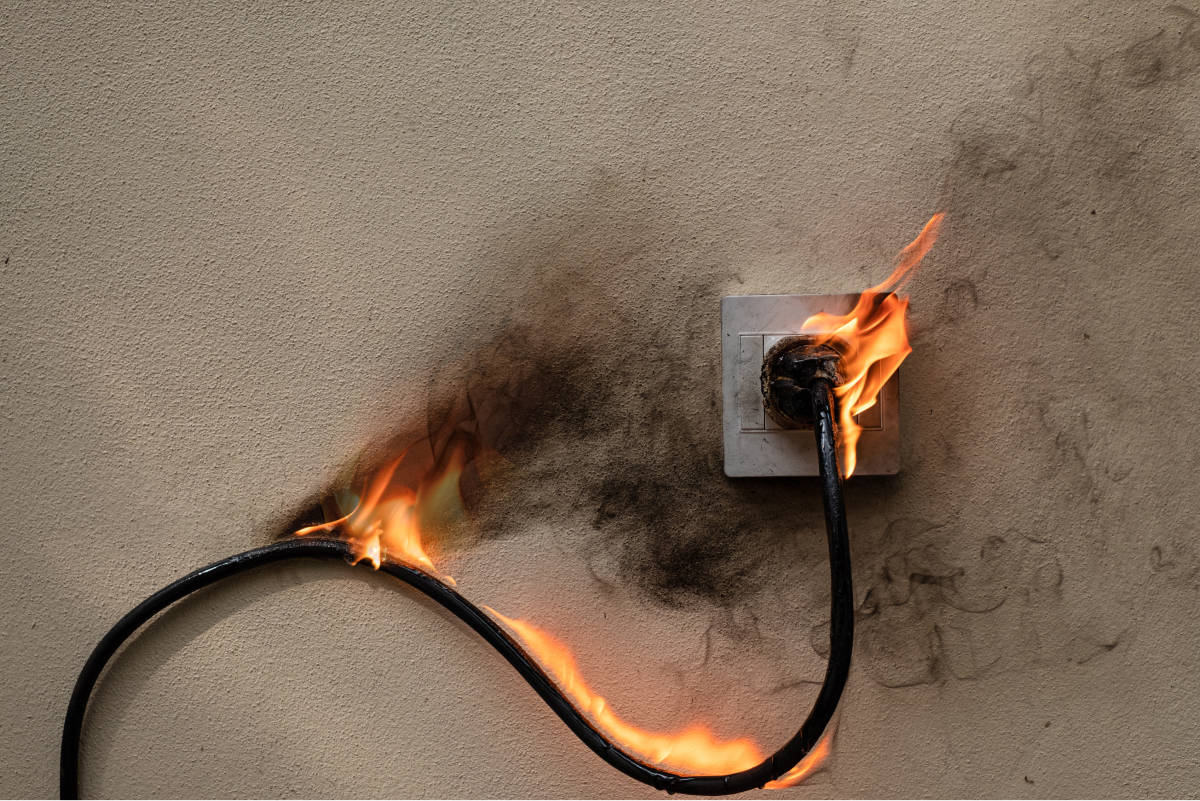 Electrical wires are essential in running any functional household or electrical systems of any foundation. From cruise ships to industrial warehouses, electrical wiring is mandatory and crucial for all. However, it also increases the chances of frayed electrical cords that pose dangers to people.
So, one should make sure to take steps to avoid that at all costs, as it comes with consequential hazards. Let's learn about this in detail through the following sections.
How to Identify the Signs of Frayed Electrical Cords?
There are various signs and symptoms one can experience when wires start to deteriorate. One should check for deterioration or damage in wires, especially if one uses extension cords, surge protectors, power trips and electrical instruments where one can trip over.
Let's look at the signs of wire damage or deterioration to ensure electrical safety against frayed wires:
Fuses are blowing away frequently.
Smoky smells or similar scents all over the house or near appliances.
Dimming or flickering lights.
Discoloured and/or warm wall surrounding one's outlets.
Tingling experience while plugging or unplugging an appliance.
These are signs that will tell someone about the frayed wires and that something needs to be done to prevent the worst to happen.
What are the Damages that Can Be Caused Due to Frayed Electrical Cords?
Frayed electrical wire can cause a lot of trouble if one does not take care of it. It creates hazardous situations by exposing electricity in unpredictable and unintended ways. It can electrocute people and cause substantial damage. Furthermore, it can also lead to a fire.
Let's look at to what extent and how a frayed wire system can incur damage in a building:
It damages the insulation whose purpose of design is to provide protection from electrification. Generally, it happens due to wear and tears on the plastic covering of wires and exposure to moisture.
A frayed wire system can harm people whenever someone touches a frayed area along with a metal appliance that is in connection with electricity. This act of touching completes a circuit and increases the risk of suffering a shock.
Ultimately, there can be fire related to frayed wires. A frayed electrical wire can catch fire which can emit hazardous chemicals like carbon monoxide.
How to Prevent Accidents Due to Frayed Electrical Cords?
One must take serious measures to protect one's home or professional place to keep it from the dangers of frayed electrical cords. Let's look at what can be done in a stepwise manner:
Run frequent careful inspections of all electrical appliances.
Install 3-prong grounded plugs and tamper-resistant plugs.
Inspect power strips and extension cords. It is very necessary as they are more prone to wear and tear due to regular coiling and uncoiling.
Get rid of the tattered cable and replace it with a new one as the fray can spread from one part to the other.
Replace old appliances as these are also a crucial part of ensuring safety from frayed wires.
Keep one's pets and children away from electrical machinery and wire systems as a necessary consideration.
Keeping up with these practices may seem redundant. However, preventing a disaster is far more important and bigger than that bit of regular chore.
How to Fix Frayed Electrical Cords?
Apart from the above-mentioned ways, there are 5 ways one can keep the danger away. Let's look at the ways one can fix a frayed wire:
1. Mouldable Glue
If one has identified a worn-out cable one can fix that using mouldable glue. These glues are putty-like substances that can take any shape a person wants. After one lets it stay still for 24 hours it solidifies and becomes hard.
One can apply it to a tattered area of an electrical cord and let it get solid for a day. It will perfectly insulate the cord and keep everyone safe. However, one should take note that they should do it only after completely turning off the electricity from the mains.
2. Cable Savers
Cable savers are a great option to reduce the risks of frayed electrical cords. It will come into play when cables break near the combiner. Cable breakage near the combiner is a common problem and can cause shocks and fires too.
A cable saver will help a cable to relieve strain and reduce friction while adding flexibility to the cable. Musicians heavily use this device for their lavalier microphones.
3. Heat Shrink
Heat shrink is one of the most long-term solutions. One has to buy heat shrink tubing for their electrical cords that have started to deteriorate.
They have to slip the tube over one of the ends of the damaged cords and keep the tube over the affected parts. After that, with a hair drier or a heat gun one can give the tube the necessary heat to activate it. It will shrink and cover the frayed electrical cords effectively. This will reinforce and immobilise the affected area.
4. Repurposed Spring
One can use springs from retractable pens and use it to cover an affected area of an electrical cord. One can also stretch it out and use it as a protective guard to prevent further erosion.
However, a stretched-out spring loses its rigidity substantially. So, one can use it before applying heat shrink tubing over the frayed area. It would provide very secure insulation and future damage protection.
5. Electrical Tape
Electrical tape is the most cost-effective option out there to prevent further erosion of a frayed electrical wire. It would not be very effective like the other solutions, and it would not look good too. However, it will provide solid protection for a while.
To make it work a little better, one has to wrap the frayed part several times with tape. After that working one's way out from the affected area will immobilise any more breaks.
However, if the damage is substantial and the wire is considerably old, one should always opt for a complete replacement.
What To Do in Case of Fire Due to Frayed Electrical Cords?
Apart from risk assessment of frayed electrical cords and the following preventive measures, one should keep in mind what to do if there is a fire already or someone got electrocuted:
The primary course of action is to cut the power supply. One can do it by locating a circuit breaker panel or a fuse box. One should remember to cut the power of the entire building.
In case of a fire, one must make sure of their own safety and the safety of every person and living creature in the building. Depending on the scale of a fire one should call the fire emergency number 101.
This article discusses several aspects related to frayed electrical cords and how to deal with them. It focuses on the potential hazards of damaged electrical wires and how to prevent them for the better.
FAQs About Frayed Electrical Cords