Property Insurance
for your
Home, Shop and Business

Terms and conditions apply*
How to Avoid Short Circuits at Home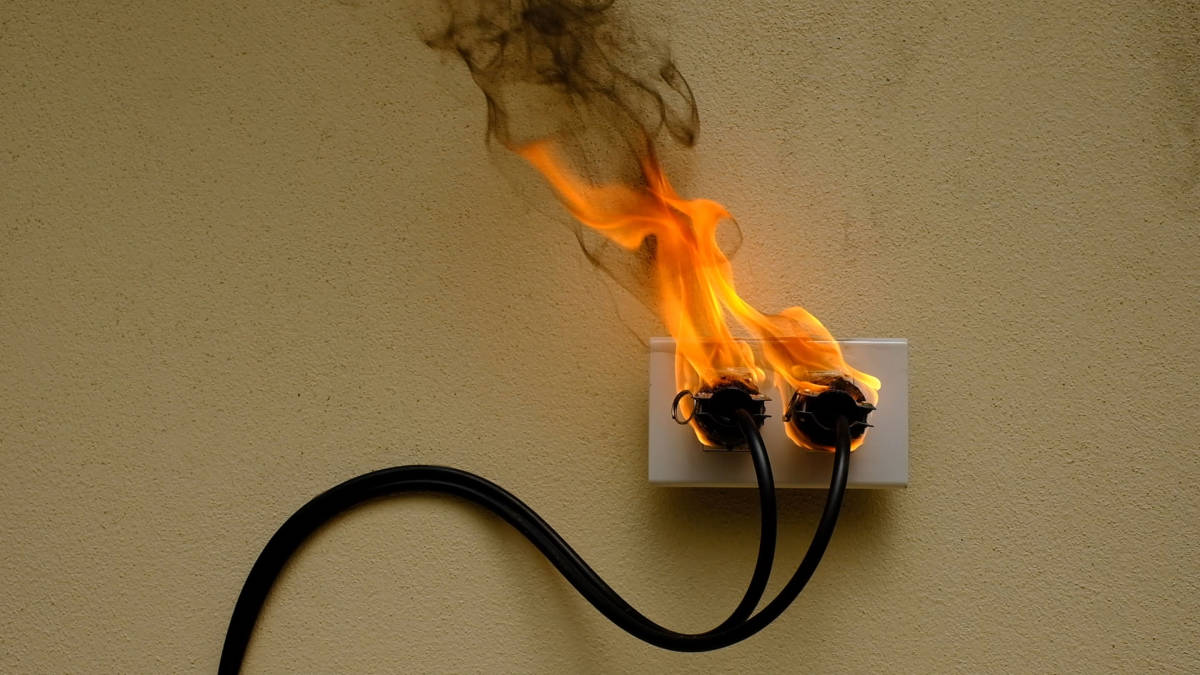 A short circuit is one of the most common types of electrical issues in households. Though common, they can be extremely dangerous, cause serious fire hazards, and damage your home's electrical system. Hence, it is essential to understand how to avoid short circuits at home.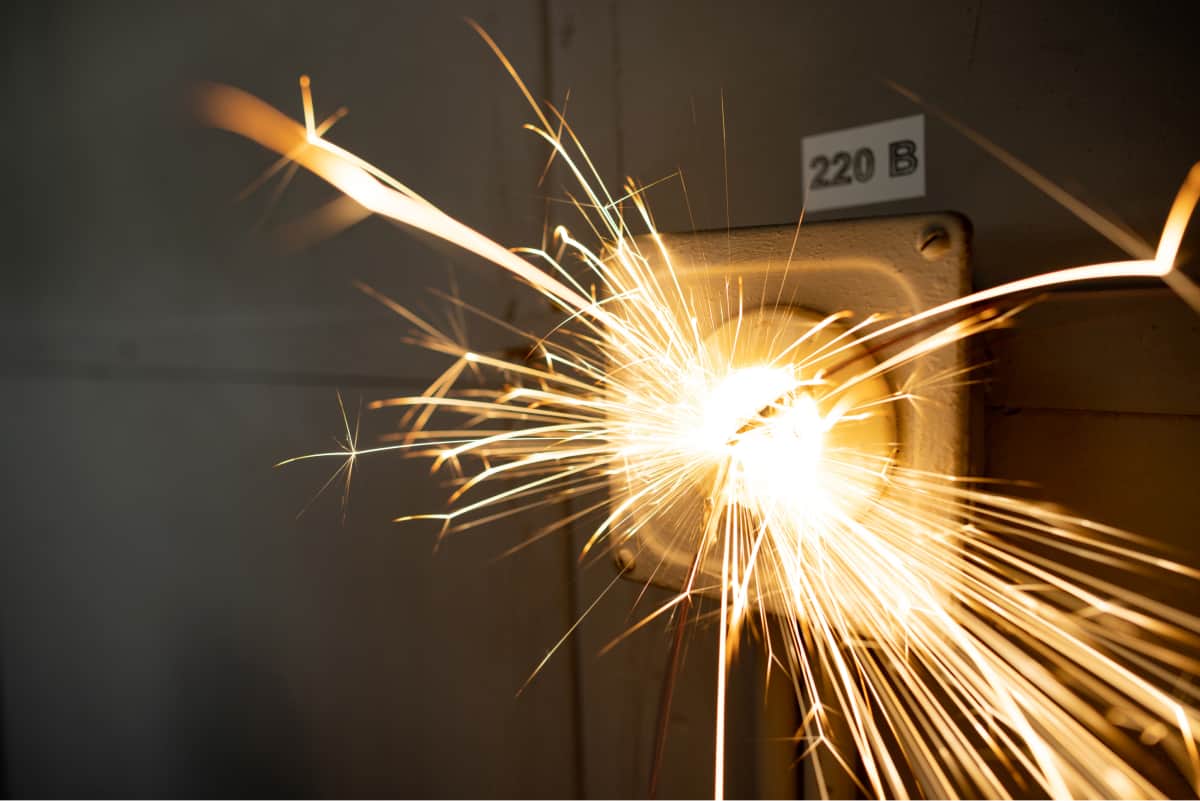 Short circuits happen when the live and neutral wires accidentally come into contact before the load is delivered, creating a low-resistance path. This results in excess voltage and current flow in the circuit, leading to the wires heating up and catching fire.
Short circuits typically occur due to improper wiring, broken insulation, or circuit overloading.
How to Avoid a Short Circuit?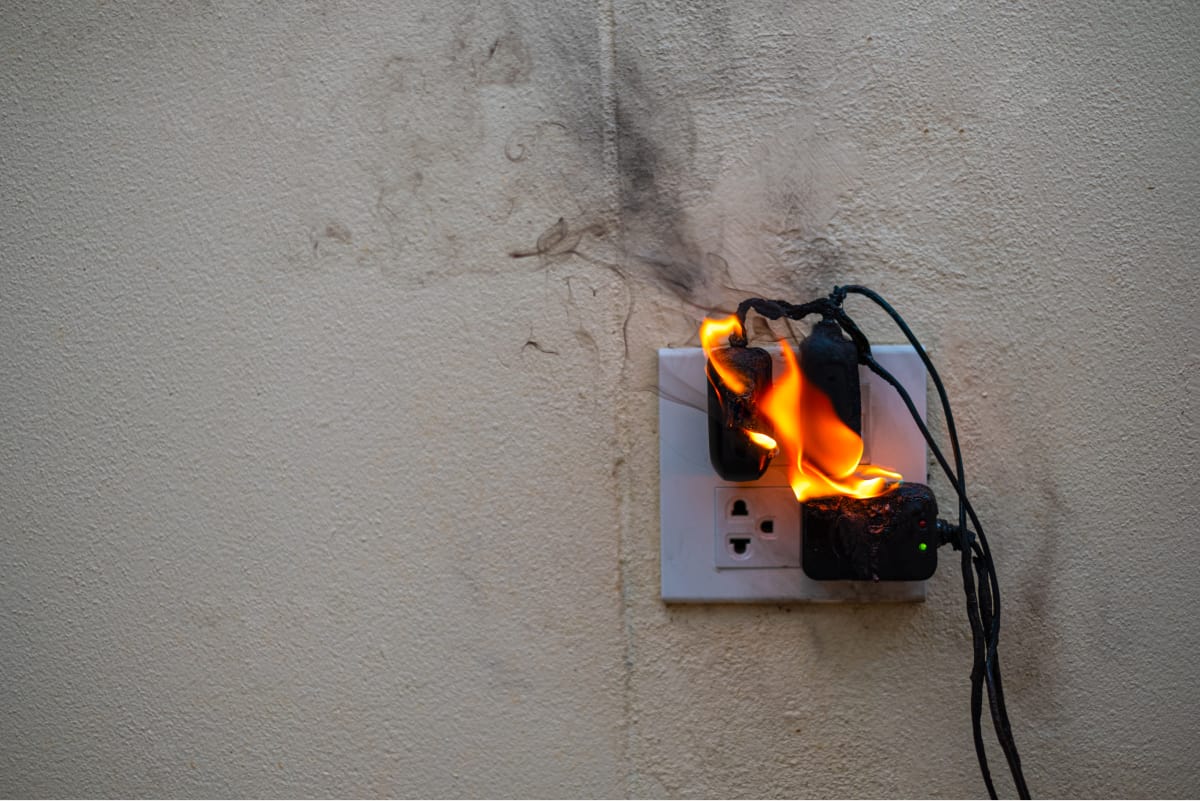 Now that you know the underlying factors of a short circuit, you should know how to prevent one from happening at your house.
Here are a few responsible steps to avoid short circuits at home:
1. Install Fuses or Circuit Breakers
A fuse box or circuit breaker is the short circuit protection for an electrical system. These electrical components trip and close off the circuit when there is an unstable electrical surge or overload, interrupting the current flow. Thus, installing fuses or circuit breakers is the first step to avoid short circuits.
2. Fix Exposed or Damaged Wiring
It is imperative that you fix any damaged or exposed wires that need insulation or repair. Exposed wires are vulnerable to short circuits as their conductive ends can come into contact with each other. Ensure that industry-grade materials, like fibreglass, polystyrene, PVC, etc., are used for insulation.
3. Do Not Overload Circuits
Every circuit has a load-bearing capacity, and when too much power is drawn from one particular circuit, it often overloads. Unfortunately, this can also lead to a short circuit, so refrain from plugging too many appliances or devices into one outlet.
4. Be Mindful of Hidden Cables
Cable management is fine until you tuck away all your cables and wires under carpets or behind showcases – which is another cause of short circuits. This creates densely cable-packed areas, resulting in these cables wearing and tearing over time without you noticing the damage.
5. Unplug Electronics and Appliances When Not in Use
Most electronics and appliances still draw minimal power from outlets, even when turned off and not in use. Hence, to avoid a short circuit, unplugging all electrical appliances and devices from their respective outlets when not in use is wise. These include heaters, toasters, microwaves, ovens, refrigerators, air conditioners, televisions, computers, etc.
6. Check Appliances Periodically
Check all electrical appliances, such as refrigerators and air conditioners, before using them. Faulty circuitry or wiring in the appliance can lead to short circuits.
Hence, before use, check for the following:
Damaged cables, wires, cords, or casin
Cracks or burn marks on the appliance
Exposed circuitry on the appliance
Loose, brittle or old plugs
You should professionally repair or replace the electrical appliances if you notice any of the above signs.
7. Ensure Outlets and Connections Are Functional
efore plugging anything into any outlets, ensure the outlets and connections are functioning properly. Malfunctioning electrical outlets can lead to short circuits as well. Also, do not use an outlet that is more than 20 years old.
These are a few sure signs indicating that you may have faulty outlets or connections, including:
Burn marks, melted parts or burning smell from outlets
Emission of sparks from plugs or outlets
Cracks or chipped parts on outlets
Plugs do not fit snugly into outlets, i.e., loose connections
Popping or buzzing noise from outlets
Loose connections, faulty wiring, and old outlets are a few of the major factors that cause short circuits.
8. Avoid Heat and Moisture
Both heat and moisture are electrical hazards that can lead to a short circuit. Keep your electrical components in dry places, away from heat sources.
9. Get Rid of Pests
Pests are notoriously known for chewing through all sorts of cables and wires in your house, exposing their ends. So make sure to perform pest control in your house from time to time to keep your home pest-free, reducing the risks of a short circuit.
10. Install Grounded Outlets
Having grounded outlets is always a good idea, as they help prevent any internal short circuits. If a short circuit occurs in grounded outlets, the electricity flows to the ground, thus, saving you from any electrical or fire hazards.
11. Get Annual Electrical Inspections
Get professional electrical inspectors to check your house's electrical system at least once each year. These annual inspections can be extremely helpful in avoiding potential electrical hazards. In addition, these inspections address and fix electrical issues like exposed wires, damaged cables, faulty appliances, old outlets, and many more.
12. Lower Electricity Usage During Storms
A lightning strike can cause a short circuit by overwhelming the load-bearing capacity of any circuit. Therefore, reducing your electricity consumption during a lightning storm is best to minimise any risks of frying your house's electrical system.
What Are the Types of Short Circuits?
Electrical short circuits can be classified into 2 types:
Normal Short Circuit: When a current-carrying live wire makes contact with a neutral wire, the electrical resistance drops significantly and allows excessive amounts of current to flow via an undesignated path.
Ground Fault Short Circuit: This occurs when a current-carrying live wire touches the grounded part of the electrical system. The grounded part can be a ground wire, the base of an appliance, or even a grounded box made of metal.
What Causes Short Circuits?
Electricity always travels through the quickest possible path it can find to the earth, which means it will always take the path with the least resistance. Thus, an electrical short circuit occurs when it finds a shorter and easier path to flow through than the designated wiring.
Older households are especially prone to short circuits, unlike modern households. Here are a few factors that you must know about to prevent short circuits at home:
Faulty or Broken Wire Insulation: Insulation is done around all wires during manufacturing to prevent electrocution. A faulty or broken insulation implies that the wires are exposed and may allow live and neutral wires to make contact, resulting in a short circuit.
Faulty or Outdated Wiring: In the case of plugged appliances, wiring is an extension of the circuit. Hence, appropriate wiring is necessary to avoid short circuits. Older wires were made of aluminium, whereas modern wires are manufactured using copper. Aluminium was sufficient for the 1900s when electrical demand was not as high as it is now. Therefore, you must invest in copper wires to support the daily electricity consumption of a modern household.
Faulty or Damaged Electrical Components: It is best to check electrical appliances you have in your home for any apparent damage or faults. For example, if you experience flickering lights or plugs and sockets that do not fit snugly, it is high time you switch them out for new ones. All these components are factors that can cause an electrical short circuit.
Loose Connections: A circuit requires strong connections on both ends to complete the flow of electricity. If a connection is loose, it is exposed to other wires, which may come into contact with each other and cause a short circuit.
Pests Chewing on Wires: Pests such as rats, cockroaches, squirrels, etc., can chew through wires and wreak havoc on your house's electrical system, completely compromising it. Hence, pest control is essential to avoid short circuits.
Presence of Moisture:It is general knowledge at this point that water is a good conductor of electricity. Thus current will flow through the water instead of the designated path. This means water or moisture touching the electrical system can cause a short circuit.
Frequently Asked Questions