Property Insurance
for your
Home, Shop and Business

Terms and conditions apply*
What Are the Stages of Fire Damage Restoration Process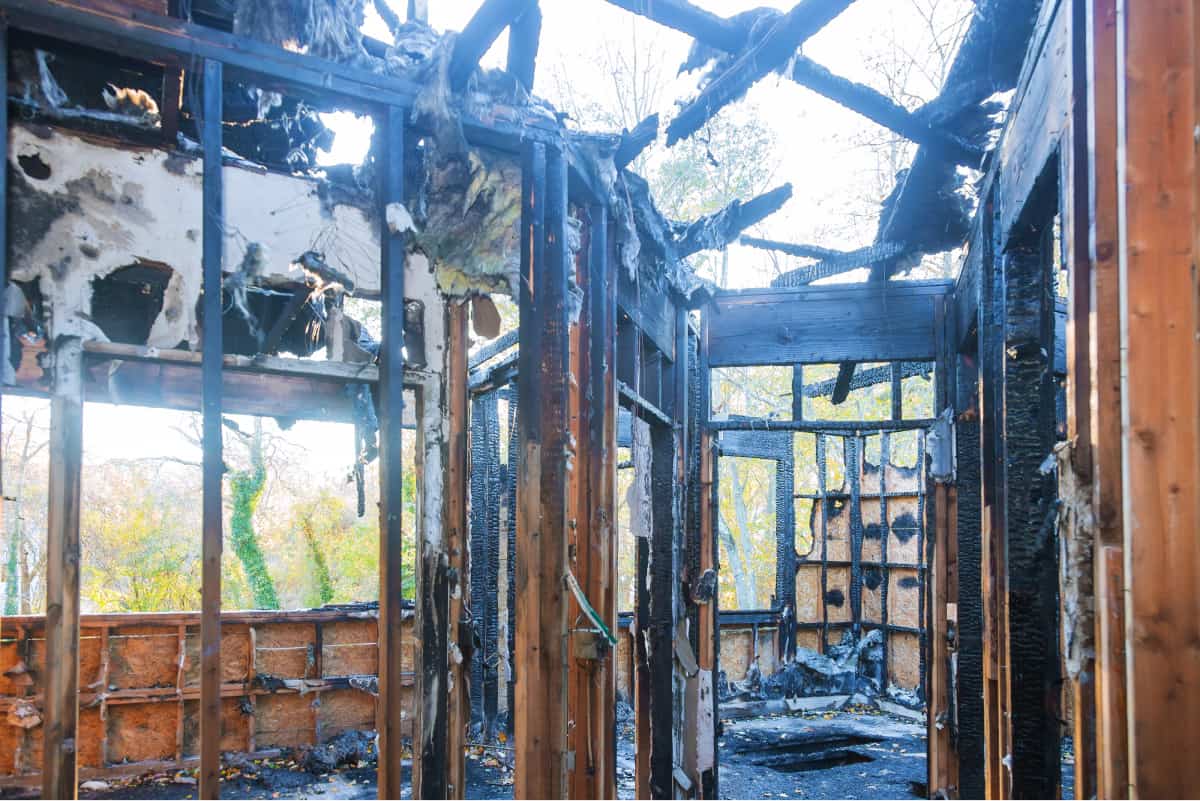 A fire in your property can cause substantial damage and devastate your life. Once the fire is extinguished, other aspects need tending to. Synthetic items burnt in flames produce corrosive by-products, which combine with smoke and soot to become hazards, not only to your belongings but to your health as well. Thus, you must initiate the fire damage restoration process immediately after the fire department clears your property.
What Kinds of Damages Are Caused by a Fire?
Before discussing the steps to fire damage restoration, you should know what types of damage a fire causes to your property. Here are the 4 types of expected damage after extinguishing a fire:
Rust: It is the oxidation of metal objects that leads to corrosion. It also damages electrical products, leading to higher chances of suffering an electrical shock.
Soot: It is a carbon-based acidic leftover from burnt objects like wood, fabrics, stone, etc. It looks like a powdery black layer covering any surfaces it comes into contact with.
Odour: Post-fire damage smell can be overwhelmingly foul. The mixture of mould, smoke and soot produces a highly unpleasant and unhealthy odour.
What Is the Fire Damage Restoration Process?
Flames burn everything it engulfs. However, flames are only one part of the fire damage. Water, soot, and debris are leftover hazards even after the fire is extinguished.
Fire damage restoration is the repair and restoration process done for the damage caused by fire and smoke. Fire damage repair companies perform such restorations and need experienced personnel to identify the extent of the problems and damage.
Here is a guide that simplifies the stages of the fire damage restoration process:
1. What to Expect
Fire damages your house in various ways, and it may necessitate thorough cleaning, repair, and reconstruction. A fire remediation firm assesses the damage and provides you with ways to renovate your house.
Safety First: Professionals do fire restoration, and you must refrain from attempting to fix your property yourself. The primary duty of fire remediation companies is to ensure your safety and evaluate the magnitude of the fire damage.
Further Damage Prevention: Fire restoration firms also objectively ensure that your property suffers no more damage than it already has. Fire damage restoration services fix everything from leaking roofs and walls to removing your possessions from the ruins.
2. Damage Restoration
Fire damage repair experts perform the damage restoration process which entails water, soot damage remediation and debris removal.
Water: This is the first step to fire damage remediation. Once the fire is put out, the crew cleans all the pooled water in your house to avoid mould and corrosion. After the professionals remove the standing water, they use dehumidifiers and dryers to remove moisture and help dry out the property to avoid further damage.
Soot: Soot and corrosive residues can not only cover the areas affected by the fire but also extend beyond to other unaffected parts of your property. Restoration experts use industry-grade cleaning products and chemicals to eliminate soot from the ceiling, walls, furniture and all other affected surfaces. They sand, prime and paint unharmed parts of your house and employ hydroxyl or ozone generators to eliminate the smoke odour.
Debris: Once everything has dried out – the repair crew removes all debris and demolition before undertaking repairs. Next, fire restoration professionals establish fences and board-ups to secure the property, seal off portions to preserve unaffected areas, fill gaps in the structure, and clear all peripheral trash.
3. Damage Assessment
Now that your house is somewhat safer, you, as the property owner, may assist the fire damage restoration firm in assessing the degree of damage.
Structural Integrity: The repair professionals will assess how extensive the fire damage is and how long the clean-up process will be. The crew uses special equipment to evaluate sections of your house for smoke and soot damage. The experts will offer estimates of what must be discarded, what can be fixed, and what must be rebuilt. They also estimate the total duration and cost involved in the process.
Property Stabilisation: Fire repair professionals ensure that no further damage is done to your property, be it from vandalism or weather elements. They use tarps on the roof and boards on the walls to make your house structurally sound and stable throughout the restoration process.
4. Clean-up
To avoid more damage, the repair crew begins cleaning up as soon as possible.
Deep Cleaning: The restoration personnel use special equipment and products to remove odours and soot, dispose of trash and water, and clean dust and debris from surfaces, furniture, walls, floors, ceilings, etc. Salvageable possessions are thoroughly cleaned and fixed, while unsalvageable materials are cleared out. You can collaborate with the experts to decide what should be kept and discarded.
Disinfection: After a fire, numerous impurities accumulate in your property which must be dealt with the earliest possible. The clean-up experts use ventilation equipment like air scrubbers and movers to eliminate odours and pollutants. Carpets, fabrics and furniture need thorough washing and cleaning to eliminate trapped impurities. Additionally, to avoid mould damage, antimicrobial treatment and sterilisation are done, and deodorising agents remove lingering odours.
5. Rebuilding
The final stage of the fire damage restoration process is to repair and reconstruct fire-damaged sections of your property back to their undamaged state.
Repairs: Some belongings can be repaired, while others may require to be replaced or rebuilt. The fire damage repair company helps you save money by efficiently and swiftly repairing the parts of your house such as roofs, damaged structures, painting, flooring, etc.
Reconstruction: The process of reconstruction can entail renovation, rebuilding the roof, new carpeting, replacing walls and countertops, restoring electricity and so on. In addition, you can use the fire damage as a restoration point and give your property a complete overhaul if needed.
The clean-up crew fixes all damages caused by smoke, fire, and water by the time everything is finished. The surfaces and floors will be stain-free, the walls and ceilings will be soot-free, and the air will be odour-free. Depending on the extent of damage and size of the fire and the property – this damage restoration process can range from a few days or weeks to several months.
Frequently Asked Questions