Property Insurance
for your
Home, Shop and Business

Terms and conditions apply*
How to Test Smoke Detector Alarms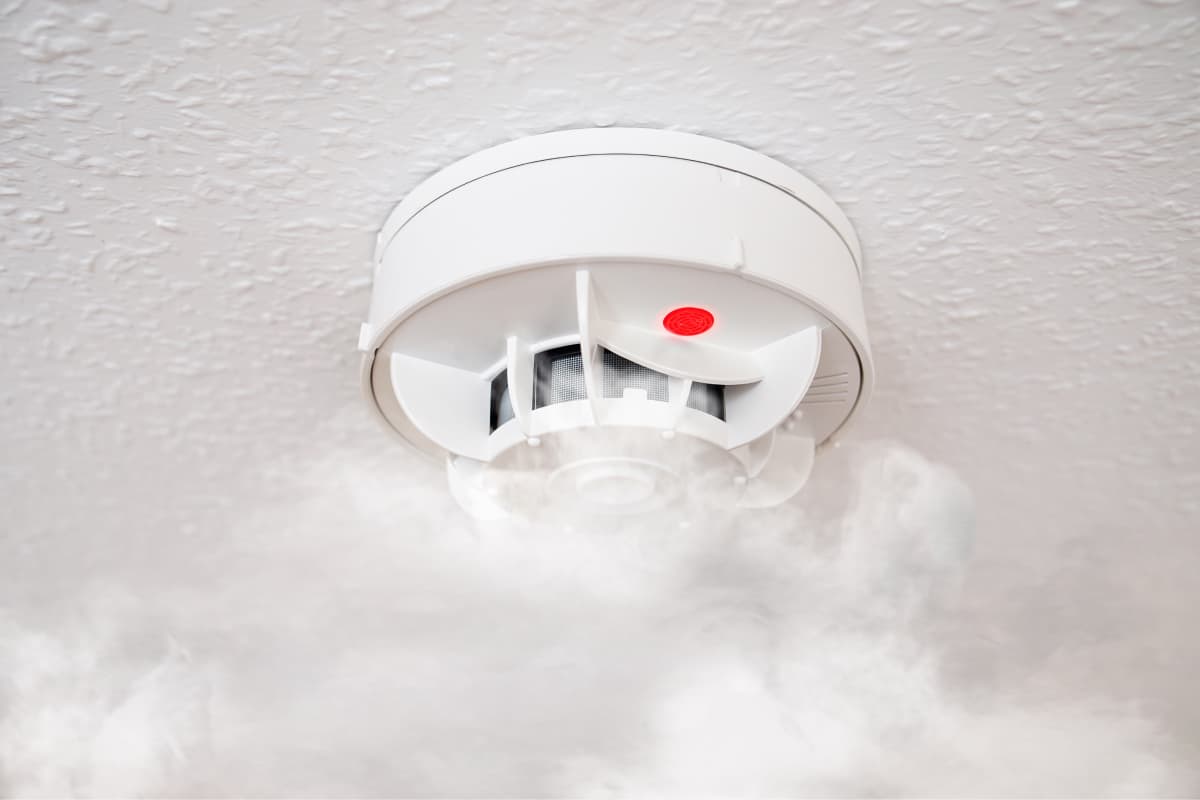 Smoke detectors are sensors that alert people when smoke caused due to fire is detected. They are installed in houses, hotels and almost every public place. Smoke detectors are an excellent preventive method and save many lives at times. These devices are easy to install and are cost-friendly. However, running a smoke detector test after its installation is necessary to ensure it works fine in times of need.
What Are the Types of Smoke Detectors Alarms?
The different types of smoke detector alarms are:
Photoelectric Smoke Detectors
Ionisation Smoke Detector
Dual Sensor Smoke Detector
Aspirating Smoke Detectors
Auto-aligning optical beam smoke detectors
How Do Smoke Detectors Work?
Smoke detectors have two main parts:
Smoke detecting sensor
Alarm
Different smoke detector alarms work in different ways.
Ionisation Smoke Detectors: Ionisation smoke detectors respond faster than photoelectric smoke detectors in case of small smoke particles.

Ionisation smoke detectors consist of 2 electrically charged plates carrying small amounts of radioactive material. These radioactive materials make current low between the plates by ionising the air. The flow of the ions is disrupted when smoke enters the chamber, which triggers the alarm.
Ionisation smoke detectors detect fast flaming fires. These fires do not smoulder; instead, they rise quickly and create less smoke. These are usually caused by objects that quickly catch fire, like newspapers, cleaning products or flammable liquids like gasoline.

Photoelectric Smoke Detectors: When smoke enters the detector's chamber, it senses a sudden scattering of light inside, which triggers the alarm.

Photoelectric smoke detectors are faster than Ionisation smoke detectors in cases of a smouldering fire. These respond faster to smoke and often detect them in their smouldering stage, even before it breaks into a flame. Photoelectric smoke detectors detect fires that burn slowly and produce a lot of smoke.
Cigarettes and electrical short circuits mainly cause smouldering before the fire. It is advised that one should install these detectors near the kitchen.

Dual Sensor Smoke Detectors: Dual-sensor smoke detectors combine photoelectric smoke detectors and ionisation smoke detectors. It has a system that can detect small smoke particles and smouldering fires at an equal speed.

Using the dual-sensor smoke detector is recommended as it saves the hassle of installing 2 separate smoke detectors.

Aspirating Smoke Detectors: Aspirating smoke detectors are more advanced and are used for active fire protection, and they are highly sensitive and provide early warning detection. These detectors have small, flexible tubes that draw air from each room, and this air continuously identifies the presence of minute smoke particles.

It is used in situations where there is very high airflow and where condensation is present. It is the most suitable for places like communication rooms with high chances of fire due to short circuits.

Auto-Aligning Optical Beam Smoke Detectors: The auto-aligning optical beam smoke detectors are the latest smoke detectors that take less than a minute to sense smoke. It has an infrared optical beam smoke detector which is laser-assisted.

These smoke detectors are used in public spaces like shopping malls and theatres.
How to Install Smoke Detector Alarms?
These alarms are installed with the help of an electrical technician. Domestic smoke detectors are easier to install as there is no wiring needed. However, it is necessary to conduct a smoke detector test while installing it to ensure it is working well.
However, they need proper maintenance and should be checked almost regularly. The batteries of these alarms must be changed when required, and ideally, one should change them every 1 year.
How to Test Smoke Detector Alarm?
The manufacturer's instructions include the right way to test a fire alarm. However, one can test smoke detector alarms in the following ways:
Inform the Family Members About the Test: These alarms have a high-pitched sound. Therefore, informing all the family members about the test is necessary. In addition, the sound might startle children or older people in the house.
Ask a Family Member to Stand at a Maximum Distance: This step is necessary to ensure that the alarm sounds are audible at a distance. The sound must reach throughout the place to alarm everyone inside. If it does not reach the person standing at a distance, one should install another alarm near that area. One should install additional alarms in every corner if the sound does not reach there.
Test the Alarm by Pressing the Test Button: Finally, test the alarm by pressing the test button. It usually takes a few seconds and starts with a sharp ear-piercing sound. One must replace the batteries if the sound is not as loud or piercing.
In addition, one must check them for dust blocking them because that might also be a problem even when the batteries are replaced.
Check the Smoke Sensors: It is also necessary to check if the sensors are working right. For this, one must use an aerosol spray to check whether the smoke sensors detect smoke. If not, it should be replaced immediately.
Test the Smoke Sensors Using Real Smoke:After testing the sensors with aerosol sprays, one must check them for real smoke. Light a few matches together and hold them at a distance underneath the smoke detectors. The alarm will start ringing if the sensors are working correctly, and one must change the sensors if they fail to detect smoke.
Moreover, one should test smoke detector alarms every week for assured safety. A monthly test must be conducted for those who cannot test it every week. These alarms usually have a life span of 10 years, and some may work even after 10 years. However, it should only be used up to that and be replaced.
How Much Time Does It Take to Gain Approval for OC?
Ideally, a developer must submit an OC application within 30 days of the project's completion. Property owners can request this paperwork from the development authority or local government department. Within 30 days of the application date, an OC may be obtained if that project meets all eligibility requirements and there are no difficulties with the documentation presented.
How to Check an Occupancy Certificate Online?
People can check the status of their occupancy certificate on the RERA state website portal if it has been registered under the Real Estate Regulation and Development Act, 2016. This Act's provisions require builders to update the web platform with any new project-related information. Also, people can check with local authorities to confirm the status if it hasn't been updated.
What Are the Differences Between Occupancy and Possession Certificate?
A few differences between occupancy and possession certificate include the following –
The possession certificate verifies a claim of possession over a specific property, whereas the occupancy certificate verifies that the property is appropriate for occupation.
The local government issues an occupancy certificate, which certifies that the project has been finished in accordance with all building bye-laws and construction standards and is suitable for occupation.
A developer or a seller issues a possession certificate as evidence of the transfer of ownership rights. This certificate includes the date the new buyer took possession of the property.
A possession certificate provides evidence of the transfer of a property to the buyer, whereas an occupation certificate grants you the right to the property.
What Are the Differences Between Occupancy and Completion Certificate?
A completion certificate confirms that a building was erected in accordance with building bye-laws and that all relevant authorities authorised the layout design. In addition, an occupancy certificate indicates that no building construction standards have been broken and that the facility is safe for residents.
Buyers might need to pay more attention to these documents because they are not required at the time of property registration, not realising their significance. However, it is recommended that purchasers of finished and unfinished houses review these agreements before taking ownership. Also, In future, this may assist in preventing unnecessary legal disputes or conflicts.
What Are the Benefits of an Occupancy Certificate?
A few of the benefits of getting an occupancy certificate include the following –
An OC helps homeowners to secure their property's legal status.
Occupancy certificate helps an owner to apply for a connection to the water supply, sanitation system, or power.
Individuals can use this document to obtain a certified copy of the deed.
OC also helps one apply for a mortgage loan, as it is a mandatory document.
A valid OC is also essential during acquiring or selling one's property.
Frequently Asked Questions