Home Insurance Online starting
₹150/year*


,
A home insurance is a property insurance policy to help you cover your own home or rented apartment, and your personal belongings within, from unforeseen circumstances such as burglaries, fires, floods, storms and explosions. 
Buying a house is one of the most vital investments people spend all their life working towards. Yet, there are so many people who forget to secure and protect for this very important investment in their life. From your cutting-edge gadgets and beautiful interiors to your jewellery and other valuable belongings; your home is more than just its mere physical property and is a lot more valuable than you imagine it to be.
That's why, one of the most essential things you could do for the wellbeing and safety of your home is at least get a home insurance that would allow you to stay secured and covered for in the case of uncertain and unfortunate circumstances such as burglaries, floods, fires, and earthquakes amongst other likely, but unforeseen circumstances. Our Go Digit, Bharat Griha Raksha Policy (UIN - IRDAN158RP0081V01202021) with optional add-on for valuables like jewellery will help you secure your home and valuables.
To ensure that your home is secured against burglaries as well, you can combine the Digit Burglary Insurance policy with your Home Insurance policy.
Why should I get a Home Insurance?
If you're still confused about the need for a home insurance, read on...
What's Great About Home Insurance by Digit?
Go Digit, Bharat Griha Raksha policy is great because it offers the below mentioned benefits:
• Value for Money - When we think of Home Insurance, we think of it as an expensive affair. After all, it's about protecting one of your most prized possessions! Fret not though, we not only ensure your home is covered for but, make sure that it is affordable for you and your pocket! 
• Digital Friendly, all the way! - One of the things people often wary about in insurance is paperwork and that's exactly what we've gotten rid of with our online home insurance! With Digit, everything from buying a home insurance policy to making claims is simple and can be done online! (Note: Claims above 1 lakh will need manual inspection as per the IRDAI).
• Plans for Renters - Millennials are shaping the rental economy and we understand that! That's why, it doesn't matter if you own a home or not, your place can still be protected with our insurance for home renters. 
• 24x7 Customer Support - Emergencies come unannounced and can happen at any point in time! That's why, we'll always be just a ring away, no matter what time or day it is! 
What's Covered in Home Insurance by Digit?
Note: In India, burglaries are common. You can opt to combine the home insurance policy with Digit Burglary Insurance policy (UIN: IRDAN158RP0019V01201920) to secure your abode against burglaries as well.
Bharat Griha Raksha policy does not cover damages caused by the reasons mentioned below:
Deliberate damage to the house.
Damage caused due to factors like war, invasion, and war-like operations.
Losses incurred due to contamination or ionizing radiation.
Damage caused to bullion or unset precious stones, manuscripts, vehicles, and explosive substances are not covered by the policy.
The cost, fees or expenses incurred for preparing any claim.
Expenses incurred for any addition, extension or alteration to the house (more than 10% of its carpet area existing at the commencement date or on the date of renewal)
How to Buy Home Insurance from Digit?
Whether you're buying your insurance policy from our mobile app or website, you can follow these easy steps and secure your home.
Step 1: Visit Digit's Bharat Griha Raksha Insurance Policy page or download our 'Digit Insurance App' from Play Store or App Store.
Step 2: Select the 'type of property' and enter your details such as 'pin code' and 'mobile number'.
Step 3: Click on 'View Prices' and enter plan details. Enter Home Building details and confirm. You can then choose the type of plan you want.
Step 4: After you view plan prices, fill in details about your building and other details like the 'Property Owners Name', 'Mobile Number', 'Email ID' and 'Pan Card Number'.
Step 5: Make the payment online either through Card, Net Banking, UPI, Wallet or EMI.
Step 6: We will require some details for KYC verification so we can issue your policy immediately.
| | | |
| --- | --- | --- |
| Only Content Cover | Building + Content Cover | Only Building Cover |
| Covers only contents (i.e personal belongings) within your home. | Covers both the building and contents of your home. | Covers your house building |
Things to Know about Home Insurance
Building/Structure: In a home insurance, building refers to the physical aspect of your house.  
Content: Content refers to the articles and things  in your house. So, things such as your furniture too would be covered for in your home insurance.
How to File a Claim?
Filing a claim with Digit is a quick, simple and hassle-free process. We've listed out what you can do to file a claim with us:
Step 1
Call us at 1800-258-5956. We will help you file a claim and investigate the loss or damage as required.
Step 2
Upload the required documents & your bank account details, on the link sent.
Step 3
We'll take care of the rest!
Advantages of Protecting Your Home with Home Insurance
Who Should Get Home Insurance?
Types of Homes Covered
From independent owned homes to rented apartments; a home insurance by Digit is designed to suit all types of houses.
Why You Must Buy Home Insurance: In Coversation with Dilip Baba Neeronthiyil, Head-Underwriting, Digit Insurance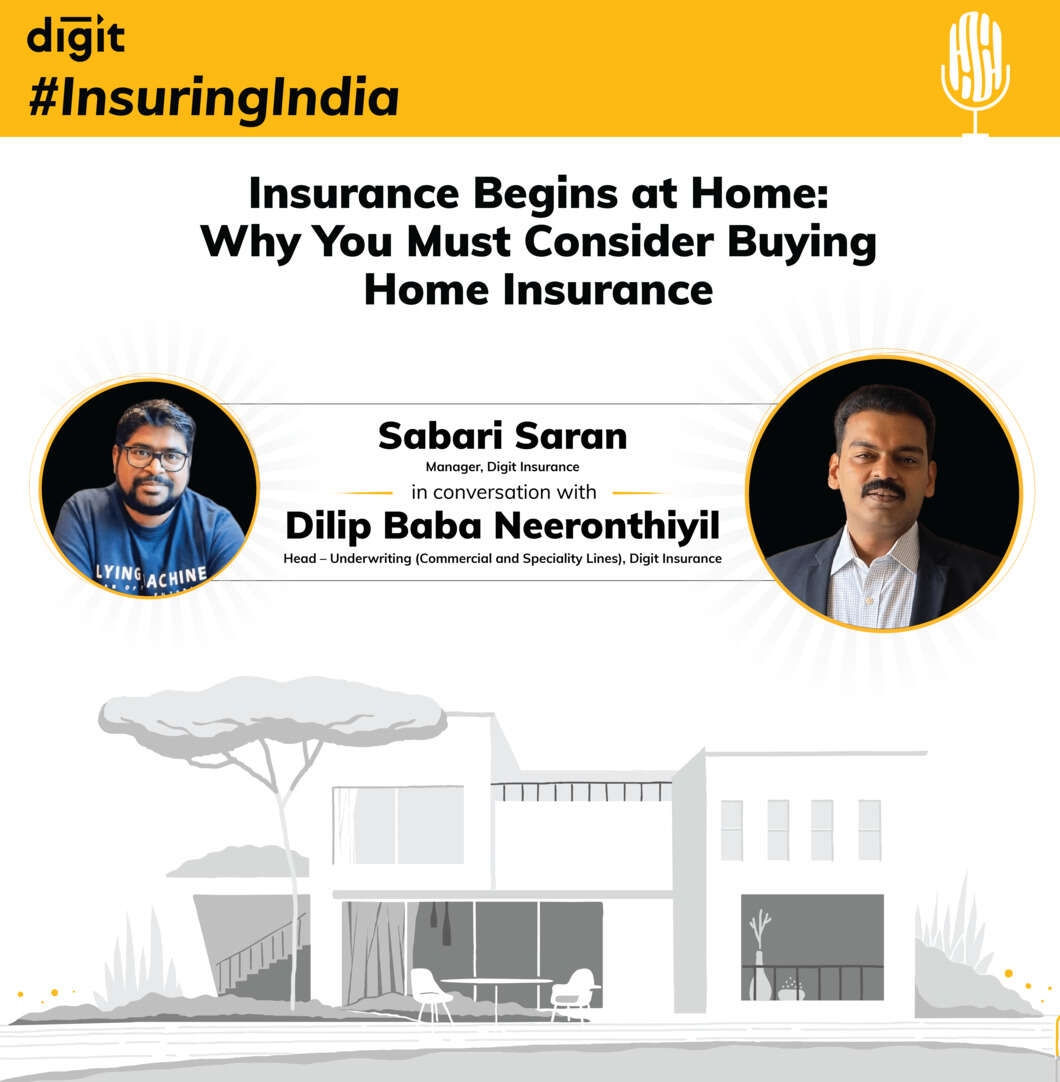 Digit makes it to the headlines!
All You Need To Know About Home Insurance
Check this Conversation out to know everything about Home Insurance by Expert- Vivek Chaturvedi.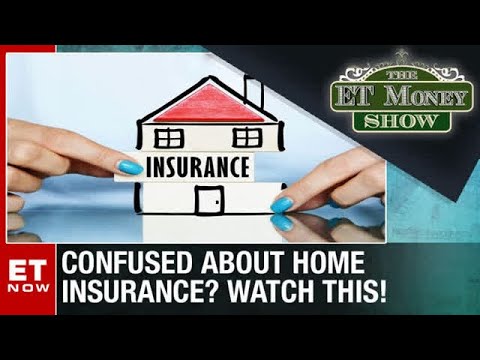 *This Video is just for information Purpose
Things you should know about Home Insurance
Why is Home Insurance Important?
Your home is not only essential for your living but also marks one of the biggest investments of your life. Therefore, the least you can do is keep it secured through Home Insurance.
Home insurance plan helps manage uncertain and unforeseen losses and damages that could happen to your house during events such as burglaries, fires, floods, storms, earthquakes, etc. It can help recover your financial losses in no time!
Why Should I Buy Home Insurance Plan Online?
Buying anything online is undoubtedly convenient and faster. For decisions as crucial as home insurance, it's always better to have the time and peace of mind to decide on the best possible choice. Buying home insurance online gives you time to evaluate and compare various plans available in the market, to make the right decision. Along with that, you can also customize your plan and manage documentation online, without any hassles and pointless paperwork!
Factors that Affect Your Home Insurance Premium
We have listed 7 factors that will directly or indirectly influence your home insurance premium:
Type of Home  - Your premium amount differs if you have your own property, are renting a place, or if it is an apartment or independent bungalow, or even the type of furnishing affects your premium rate.
Location of the Building –

If your home is in zones prone to disasters such as floods, fires or even in unsafe areas where crime and thefts are common, it could affect the amount of premium you have to pay. Homes located in a safer society offer an economical premium amount.



Age of Home -

 Like any other insurance policy, age is a prime factor in determining premium prices. 



Size of Home -

The square ft area of your home has the highest and direct impact on your home insurance premium.



Value of your Belongings –

The value of your belongings in your home also affects the amount of premium you will have to pay. For example, if you have expensive jewellery, artefacts, expensive gadgets, etc. insuring these items is crucial. This will directly reflect in your premium amount as well.



Home Safety Measures  - We're all obsessed with the safety of our homes. So, we go ahead and take various measures like adding a security system, to keep our homes safe. This positively impacts your premium, making it lower. 
Additional Coverages  - Some home insurances offer additional covers to cover for things beyond the standard plan. This consequently affects one's premium.
To know how much your home insurance would cost, you can use our Home Insurance Premium calculator to check your premium amount.
Tips to Compare Home Insurance Plans
When you're making the decision to buy a home insurance policy, following are some of the important factors you can compare to choose the right plan for your home:
Coverage Benefits - The most important part of your home insurance is the kind of coverage you're getting. You need to know what you will be covered for in the case of an unfortunate event. Therefore, always look at what is covered and what is not covered to help evaluate the most valuable plan to you.
Sum Insured - Your Sum Insured in your Home Insurance refers to the total amount you'll be covered for in the case of a claim you make. Therefore, be very wary on the amount you'd like to go for since this won't only affect your home insurance premium but will also affect the claim amount you will receive in the case of damages and losses!
Add-ons Available - Sometimes, you need coverage beyond just the basic plan benefits. This is where add-ons come in use. Different insurance providers give different range of add-ons for people to choose from. Likewise, we at Digit offer a unique jewelry protection add-on for Home Insurers. Compare your options and see what works for you best!

How to Select the Right Sum Insured?
In insurance, the sum insured refers to the maximum value you'd be compensated for in case of losses. It also determines the value of your insured home. So, you need to be sure that the sum insured you choose reflects the true value of your home. To choose the right sum insured, you should consider your total carpet area in square meters and the approximate value of items in your home.
FAQs about Home Insurance in India