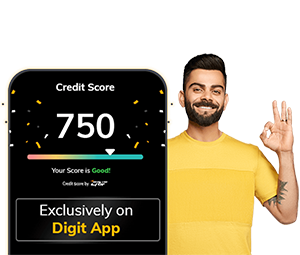 Check Credit Score for FREE
Get Additional Discount on Your Health Insurance Premium
CRIF Highmark Score: Range, Importance & How to Improve?
One of the four recognized credit bureaus in India is CRIF Highmark. It was founded in 2007, as Highmark, and in 2014 CRIF acquired a majority stake in the company, changing the name to CRIF Highmark.
The company offers both personal and business credit scores to measure an individual's or a company's creditworthiness.
What is a CRIF Credit Score?
Like the other credit bureaus, CRIF Highmark gives individuals a range of credit scores that are expressed as a three-digit number between 300-900 (with 900 being the highest score possible).
This score is based on a person's history of repaying bills, credit usage, loans and more. It is said to represent their "creditworthiness" or the likelihood that they will repay a debt in a timely manner.
When a person has a good credit score, it shows banks and other lending institutions that you show responsible credit behaviour, and they will be more likely to approve your application for a loan or credit card.
What are Good and Bad CRIF Credit Scores?
As mentioned above, CRIF 
credit score
 ranges between 300–900. 300 is the lowest possible score, and indicates that someone might be a risky borrower, while 900 is the highest possible score and shows that someone has a history of responsible borrowing. Generally, a score above 700 is considered good.
| | | |
| --- | --- | --- |
| CRIF score | Range | Meaning |
| NA/NH | No Score | You do not have a credit history. |
| 300-549 | Low | You might be at a high risk of defaulting on credit payments, due to a poor credit history and record of missed repayment, Lenders might not approve loans or credit |
| 550-649 | Medium | You might have a lower score due to some delayed and defaulted payments in the past, You might still be considered a risk for lenders, and thus some of them may not approve your loans. |
| 650-749 | High | You have displayed good repayment behaviour in the pas, Scores above 700 are considered good, as you are considered to have a low risk of defaulting. |
| 750-900 | Excellent | You have never defaulted on payments and have displayed excellent credit repayment behaviour in the past, You are considered dependable, and thus lenders will be willing to offer you loans and credit cards |
What are the Benefits of a Good CRIF Highmark Credit Score?
Having a good CRIF score (one between 700 and 900) can be very beneficial. As banks and other lending institutions use these scores to determine the person's "creditworthiness," they can help them decide whether or not they approve any loan applications.  Some other benefits include:
You might qualify for increases in your credit limits
You might get lower interest rates on your loans and credit cards
You might get approved for home loans, or car loans more easily
You might get more power to negotiate the terms of your loans
How is CRIF Credit Score Calculated?
A person's CRIF Highmark score is calculated using a few main factors, each of which has a different weightage on your credit score. These factors are:
| | |
| --- | --- |
| Factors | What affects these factors |
| Payment history | This refers to the timely payments of credit card bills, loans, and EMIs. Delayed or defaulted payments will lower your credit score. |
| Length of credit history | The age of your credit history refers to how long you have had a credit account. Older accounts and credit cards can assure lenders that you have been paying your bills on time. |
| Credit utilization | This refers to the amount of your credit limit that you use. Ideally, you should spend no more than 30% of your credit limit, if it is higher than this, it will bring your score down. |
| Credit mix | There are two main types of credit: unsecured loans (like credit cards and personal loans) and secured loans (such as auto loans or home loans). It is recommended to have a mix of both. |
| New credit enquiries | The number of times you have applied for credit, such as credit cards, loans, etc. A higher number of enquiries can bring your score down. |
How to Check your CRIF Credit Score online?
According to the Reserve Bank of India, all the credit information companies have to allow users to check credit scores online and provide one free credit report each year. You can check your CRIF credit score online easily with the following steps:
Step 1: Open the CRIF portal here
Step 2: Click on the "Get Your Score Now" button
Step 3: You will be asked to enter your email address to proceed
Step 4: After entering your email address, you will be directed to a page where you need to fill in your details. These include: your full name, date of birth, mobile number, address, and Aadhaar or PAN number.
Step 5: Once you review and submit this information, you will be asked one security credit question, which will be based upon your records.
Step 6: If you answer the security credit question correctly, your CRIF credit report will be available to you for download.
Once you have completed this process, you can check your credit score, which is calculated from the credit report. This can be done as often as you want to.
However, as mentioned above, you can check your credit report for free only once a year. If you want to check it more frequently, you can do so with a payment of ₹399 (including GST) from CRIF Highmark.
How can you Improve your CRIF Credit Score?
Since having a good credit score is important, as it can help banks and other lenders decide in your favour, here are some ways you can improve your CRIF credit score:
Make prompt and timely repayments on your credit, bills, and loans
Ensure that your credit utilization ratio is kept under 30%. For example, if your credit limit is ₹10,000, try not to use more than ₹3,000.
Limit your hard credit inquiries, such as applying for credit cards, loans, etc.
Unless it is absolutely necessary, don't cancel your old credit cards and accounts. This is because older cards can assure lenders that you have been paying your bills on time.
Review your credit report regularly so that you can correct any errors or mistakes
Check your CRIF Highmark credit score regularly so that you can track any improvements.
What is CRIF Credit Score for Businesses?
CRIF Highmark also offers additional services for companies, like providing a business credit score. A business credit score is a measure of a company's creditworthiness. It is calculated in a similar way to personal credit scores, taking into account:
Business History
Payment History 
Loan History
Past Searches, etc.
Frequently Asked Questions