Buy/Renew Aprilia SXR-160 Scooter Insurance Online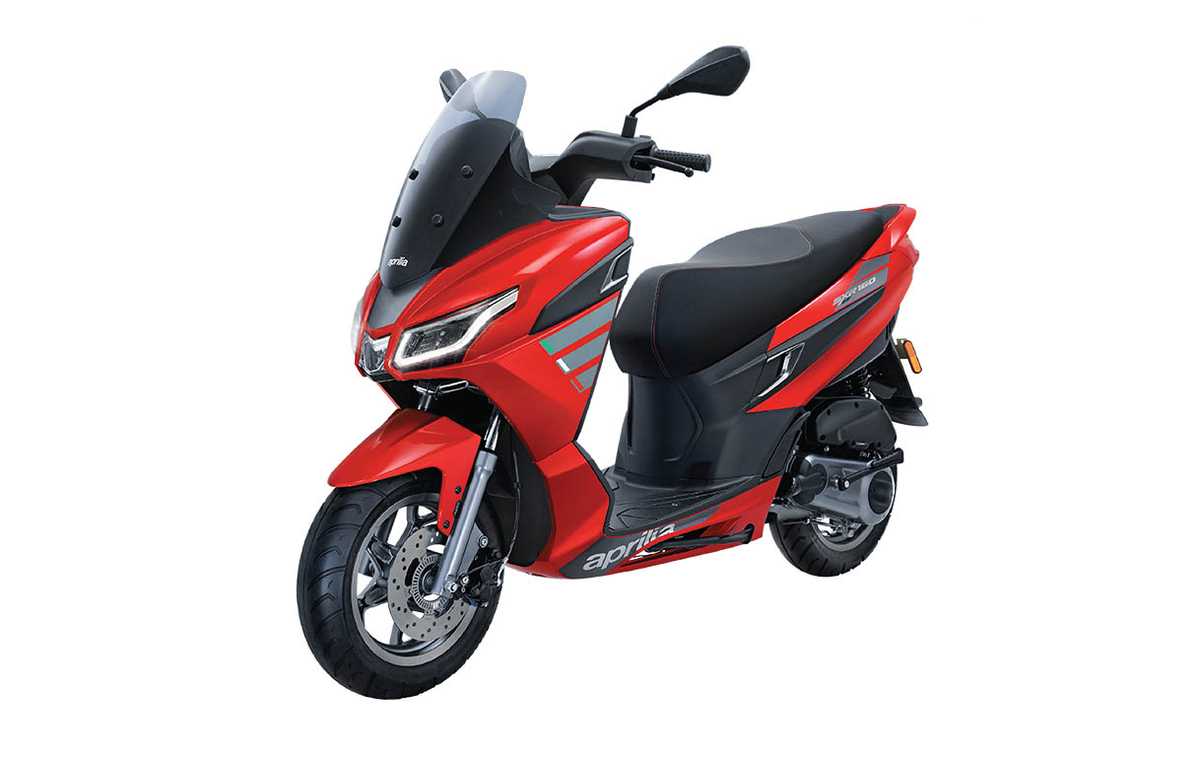 Founded in 1945, Aprilia is an Italian two-wheeler manufacturer known for producing motorcycles, scooters and sportbikes. The SXR-160 is an upcoming scooter from the house of Aprilia rumoured to hit the Indian two-wheeler market in December 2021.
With its racing history, Aprilia two-wheelers are famous for their robust build and excellent handling. But, like any other two-wheeler, Aprilia SXR-160 too is vulnerable to damages and accidents.
So, choosing a reliable insurance provider like Digit is paramount for renewing or buying your Aprilia SXR-160 insurance.
What's Covered in Aprilia SXR-160 Insurance
Why should you buy Digit's Aprilia SXR-160 Insurance?
Types of Insurance Plans for Aprilia SXR-160
Third Party
Comprehensive
| | | |
| --- | --- | --- |
| Damages/Losses to own two-wheeler due to an accident | | |
| Damages/Losses to own two-wheeler in case of fire | | |
| Damages/Losses to own two-wheeler in case of a natural calamity | | |
| Damages to Third-Party Vehicle | | |
| Damages to Third-Party Property | | |
| | | |
| Injuries/Death of a Third-Party Person | | |
| Theft of your scooter or bike | | |
| | | |
| Extra protection with customized add-ons | | |
How to file a Claim?
After you buy or renew our two wheeler insurance plan, you live tension free as we have a 3-step, completely digital claims process!
Step 1
Just call on 1800-258-5956. No forms to be filled.
Step 2
Get a link for Self-Inspection on your registered mobile number. Shoot your vehicle's damages from your smartphone through a guided step by step process.
Step 3
Choose the mode of repair you wish to opt for i.e. Reimbursement or Cashless through our network of garages.
How fast are Digit Insurance Claims Settled?
This is the first question that should come to your mind when switching your insurance company. Good you're doing that!
Read Digit's Claims Report Card
Reasons to Choose Digit for Aprilia SXR-160 Insurance
Before going for an insurance provider, you must factor in several other pointers besides the cost. Digit Insurance presents plenty of attractive benefits that make it a suitable choice for Aprilia two-wheeler owners.
Vast Network of Garages - Digit works with a network of 2,900+ garages all over India. So, you will easily find a partner garage nearby offering cashless repairs if you meet with an accident.
Three Insurance Policy Options - Digit offers three separate insurance policies to choose from.
Third-Party Liability Two-Wheeler Insurance Policy - This policy covers financial losses incurred from third-party damages inflicted by your Aprilia SXR-160 in an accident. Also, this policy provides financial coverage against the expenses arising from the death or injuries of any third person involved, including litigation issues.
Own Damage Insurance Policy - This Aprilia SXR-160 insurance policy financially covers policyholders for their two-wheelers against damages caused by fire, accidents, natural disasters, fire and more. It does not cover third-party liabilities. So, existing third-party policyholders can avail of this standalone policy alongside their current one at any point in time. They need not wait till their current policy renewal to avail themselves of this one.
Comprehensive Two-Wheeler Insurance Policy - Besides third-party liabilities, this comprehensive two-wheeler insurance for Aprilia SXR-160 also provides financial coverage for liabilities arising from unpredictable events like theft, accidents, fire, natural disasters and more. In addition, both you and the other party can claim the damage expenses from Digit.
Easy Online Process - Digit presents an easy online process for claiming and buying your Aprilia SXR-160 insurance online. You can upload your claim documents and buy your best-suited policy directly from your smartphone. You can also get your Aprilia SXR-160 insurance renewal online in a similar manner.
Complete Transparency - Digit follows a complete transparency approach while presenting the different insurance policies on its website. As a result, you pay specifically for the policies you choose. In return, you get covered precisely for the policies you have selected.
Dedicated Customer Service - Furthermore, Digit has a responsive customer service team providing round-the-clock assistance with your Aprilia SXR-160 insurance.
Instant Claim Settlement - In addition, Digit presents instant claim settlement services. This way, you can get your claims settled instantly with Digit's smartphone-enabled self-inspection.
Several Add-On Policies - Digit presents several convenient add-on policies.
Consumable Cover

Return-to-Invoice Cover

Breakdown Assistance

Engine and Gearbox Protection
Digit also allows you to bring down your Aprilia SXR-160 insurance premium by choosing a higher deductible and keeping away from small claims. However, a higher deductible can lead to increased future expenses. As a result, it is not recommended to let go of such convenient insurance benefits by settling for a lower premium.
You can reach out to reliable insurance providers like Digit to obtain more clarity on your Aprilia SXR-160 insurance.
Why Choose Digit for your Aprilia SXR-160 Insurance policy?
Bearing the Aprilia SXR-160 insurance cost now to safeguard yourself from extensive future damage expenses and penalties is a practical decision. A well-rounded two-wheeler insurance policy offers several convenient benefits.
Protection from Penalty/Punishment - According to the Motor Vehicles Amendment Act 2019, it is paramount to have your two-wheeler insured by a valid third-party insurance policy. Failing to abide by it is considered a punishable offence. In that case, you will be liable for a penalty payment of ₹2,000 on your first offence and ₹4,000 again for repeating the same. It can also result in imprisonment for three months.
Own Damage Protection - In case your Aprilia SXR-160 undergoes extensive damages due to accident, fire or flood, an insurance policy can cover your financial liabilities arising from that unfortunate incident.
Personal Accident Cover - The IRDAI (Insurance Regulatory and Development Authority of India) states that if a two-wheeler owner faces bodily injuries or death in an accident, an active personal accident cover can provide substantial financial coverage to the owner's family for losses incurred from the incident.
Third-Party Damage Protection - If your Aprilia SXR-160 inflicts damage to any third-party property in the event of an accident, you will have to cover the third-party damage expenses. Here, a third-party liability policy can financially cover these huge liabilities arising from third-party damage repair. Moreover, your Aprilia SXR-160 insurance can relieve you from all related litigation issues.
No Claim Bonus Benefits - In addition, a reputed insurance provider offers you a bonus for completing a claim-free policy term. This bonus acts as a discount on your premium when you renew the insurance policy. Likewise, you too can make the most of such no-claim bonus benefits on your Aprilia SXR-160 insurance policy renewal under similar conditions.
Therefore, buying or renewing your Aprilia SXR-160 insurance to avoid possible future expenses seems way more logical.
In this regard, Digit Insurance can be the best choice to buy or renew your two-wheeler insurance.
Learn More About Aprilia SXR-160
Aprilia SXR-160 comes in a single variant with four colour options to choose from - Black, White, Red and Blue. A few interesting facts about this model are listed below.
Aprilia SXR-160 features a 160cc BSVI 3 Valve Fuel Injection petrol engine.

It churns out a maximum power of 10.9 PS and has a fuel tank capacity of 7 litres.

Aprilia SXR-160 flaunts a 210 sq. cm digital cluster with features like average speed display, mileage indication, top speed display, RPM meter and more.

It includes Anti-Lock Braking System (ABS) with twin pots, calliper hydraulic brakes, and ventilated disc brakes.

Aprilia SXR-160 has dual telescopic front suspension and finely tuned adjustable rear suspension.
Aprilia SXR-160 packs in lots of safety features to ensure a safe and smooth riding experience. However, you must never rule out the possible scenarios where your scooter undergoes extensive damage. In such instances, a sound two-wheeler insurance policy can provide financial support for losses incurred due to damage repairs.
So, choosing a responsible insurer for buying or renewing your two-wheeler insurance for Aprilia SXR-160 is fundamental.
Aprilia SXR-160 - Variants & ex-Showroom Price
| | |
| --- | --- |
| Variants | ex-Showroom Price (may change as per the city) |
| Aprilia SXR-160 STD | ₹1,27,384 |
FAQs about Aprilia SXR-160 Two Wheeler Insurance in India