Buy/Renew Suzuki Hayate Insurance Online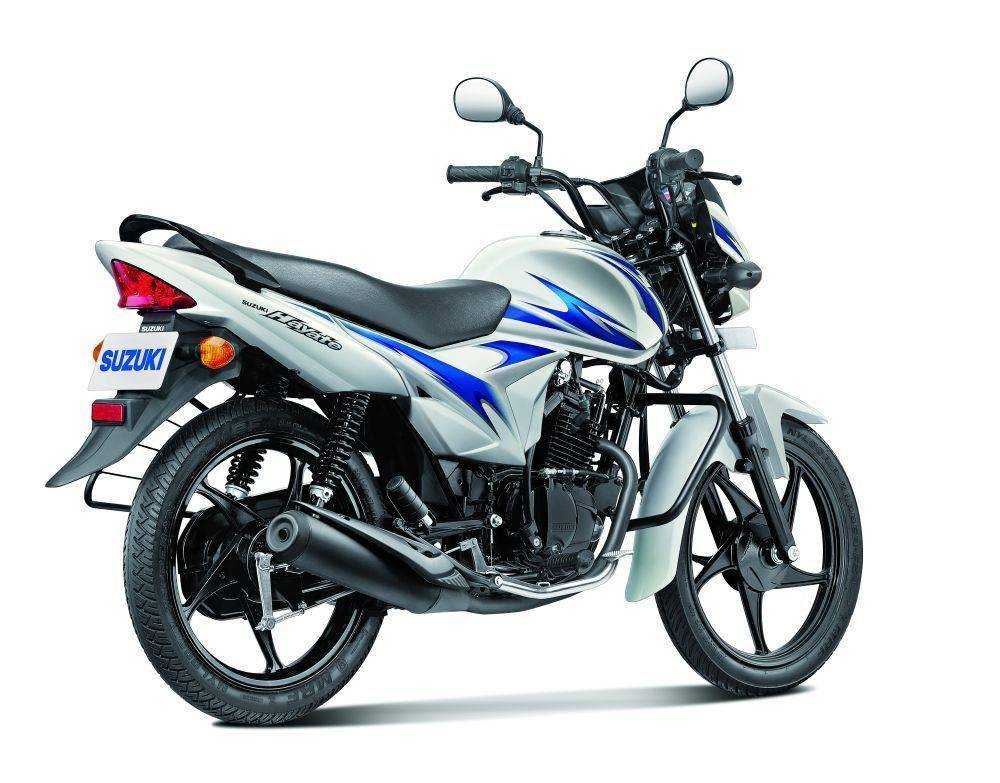 Suzuki Motorcycle India launched a facelifted version of its Hayate model a few years back. The model was sold in India till 2016. Initially, the model was highly popular among motorists owing to its attractive features. 
Although it entails a number of safety features, you must not ignore the instances of accidents or other unfortunate scenarios. In case of heavy damages, the repair costs can burn a hole in your pockets. 
Therefore, you can consider obtaining Suzuki Hayate insurance and cover those costs effectively. 
A number of reputed insurers offer both types of two-wheeler insurance policy- third-party and comprehensive. However, insurers like Digit offer 3 coverage options. 
In the following segment, you will find the perks of obtaining Digit insurance and other details.
What's Covered in Suzuki Hayate Insurance
Why should you buy Digit's Suzuki Hayate Insurance?
Two Wheeler Insurance Plans for Suzuki Hayate
Third Party
Comprehensive
| | | |
| --- | --- | --- |
| Damages/Losses to own two-wheeler due to an accident | | |
| Damages/Losses to own two-wheeler in case of fire | | |
| Damages/Losses to own two-wheeler in case of a natural calamity | | |
| Damages to Third-Party Vehicle | | |
| Damages to Third-Party Property | | |
| | | |
| Injuries/Death of a Third-Party Person | | |
| Theft of your scooter or bike | | |
| | | |
| Extra protection with customized add-ons | | |
How to file a Claim?
After you buy or renew our two wheeler insurance plan, you live tension free as we have a 3-step, completely digital claims process!
Step 1
Just call on 1800-258-5956. No forms to be filled.
Step 2
Get a link for Self-Inspection on your registered mobile number. Shoot your vehicle's damages from your smartphone through a guided step by step process.
Step 3
Choose the mode of repair you wish to opt for i.e. Reimbursement or Cashless through our network of garages.
How fast are Digit Insurance Claims Settled?
This is the first question that should come to your mind when switching your insurance company. Good you're doing that!
Read Digit's Claims Report Card
Reasons to Choose Digit for Suzuki Hayate Insurance
Before choosing an insurance provider, it is advisable to factor in certain pointers like premium rates, service benefits, etc. Comparing the insurers and their offerings will help you make an informed decision regarding your two-wheeler insurance. If you are wondering why you should choose Digit as your insurer, here are the reasons:
Obtain Cashless Repairs - If you get your Hayate bike repaired from any one of the Digit network bike garages, you can avail of cashless repairs. Under this facility, policyholders are not required to pay for their repair costs as the insurer will pay on their behalf.
Get Cashless Facility from a Large Number of Network Garages - There are 2900+ Digit authorised network garages from where you can get a cashless facility in case of damage repairs for your Hayate.
Offers Coverage Options - As mentioned, you can choose from 3 two-wheeler insurance plans for your Suzuki commuter. The plans are:
Third-party Damage Cover - Under this insurance plan, you can obtain third-party damages coverage benefits. It also takes care of litigation issues that may arise from third-party accidents.

Own Damage Bike Cover - This is a standalone policy that provides coverage for own bike damages. You can purchase this cover separately on top of your third-party insurance plan.

Comprehensive Cover: If you want comprehensive coverage for your Suzuki Hayate, this plan might be beneficial.
Provides a Seamless Application Procedure - Digit enables you to apply for Suzuki Hayate insurance online with the help of your smartphone. All you need to do is download the Digit app, input a few details, and upload some documents.
Avail Add-on Policies - This insurer also gives you the benefits of add-on policies if you opt for their comprehensive policy. Some of the policies are:

Consumable cover
Return to invoice cover
Breakdown assistance
Engine and gearbox protection cover
Get 24x7 Customer Service - Should you face doubts about two-wheeler insurance for Suzuki Hayate, feel free to get in touch with Digit's customer support at your convenience.
Customise Your Bike's IDV - Digit allows its customer to customise the Insured Declared Value of his or her bike and obtain maximum returns in case the bike suffers irreparable damage or is stolen.
Hence, if you wish to obtain the aforementioned benefits, Digit insurance must be your ideal choice.
Why Choose Digit for your Suzuki Hayate Insurance policy?
Here are the reasons to obtain insurance for your Hayate bike:
Covers Financial Dents - Repairing your Hayate commuter in case of accidents or collisions can cost you a fortune that might also hamper your financial plans. In this regard, a well-rounded insurance policy for Suzuki Hayate can be beneficial as it covers the hefty costs of damage repairs and allows you to save funds for future expenses.
Helps to Avoid Legal Repercussions - Driving your Suzuki Hayate without a valid third-party insurance policy can incur heavy fines as per the Motor Vehicles Act mandates. Therefore, by opting for Suzuki Hayate insurance policy renewal, you can avoid such legal liabilities.
Provides Personal Accident Coverage - Whether you opt for third-party or comprehensive Suzuki Hayate insurance, you and your family are liable to receive compensation in case of accidents that result in permanent total disability or death.
Offers No Claim Bonus - During Suzuki Hayate insurance renewal online, insurers might offer discounts on your policy premium in case you manage to raise no claims in a year or more. This discount, also known as the No Claim Bonus, ranges up to 50% depending on the tenure of the policy term.
Covers Third-party Liabilities - Your Suzuki motorcycle may be involved in an accident or collision that results in third-party damages. In such a case, you will be able to avoid third-party liabilities if you possess this insurance plan.
Own Damage Cover - You can cover your own bike damages along with third-party by opting for a comprehensive two-wheeler insurance policy.
However, to receive further discounts and offers, you might consider insurance from Digit.
Learn More About Suzuki Hayate
Some key features of this model are:
The bike is powered by a single-cylinder, 4-stroke, 2-valve, SOHC engine that generates 8.7 PS at 7500 RPM maximum power and 9.3 Nm at 5500 RPM maximum torque.

It features a 4-speed manual transmission.

This motorcycle's suspension equips a telescopic front and dual 5-step adjustable rear.

It has a fuel tank capacity of 10 litres.

The model sports alloy wheels and tubeless tyres along with drum front and rear brakes.
However, you must consider Suzuki Hayate insurance by factoring in the accidents and risks. During such instances, an insurance policy can cover financial as well as legal liabilities. In this aspect, you can consider reputed insurers like Digit.
Suzuki Hayate - Variants & ex-Showroom Price
Variants

ex-Showroom Price (may change as per the city)

Hayate Drum

₹41,000

Hayate Electric Start

₹49,000

Hayate EP

₹52,000

Hayate EP BS-IV

₹53,000
FAQs about Suzuki Hayate Two Wheeler Insurance in India