Property Insurance
for your
Home, Shop and Business

Terms and conditions apply*
House Rent Agreement – Purpose, Format & Registration Procedure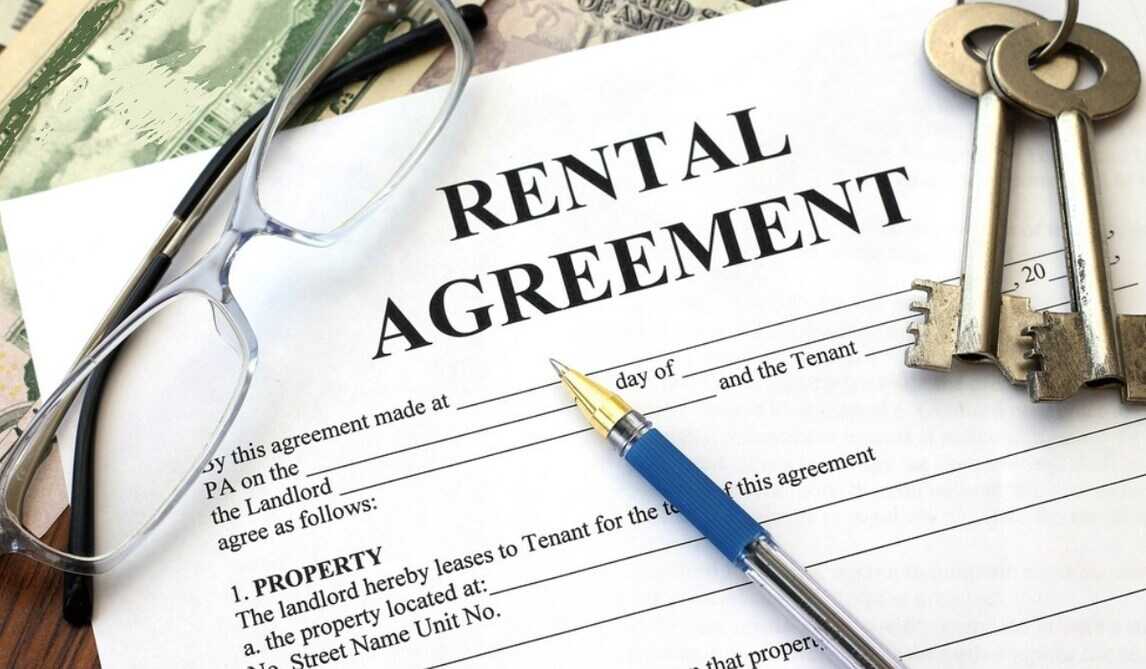 Moving out of one's hometown in pursuit of a prized degree or superior employment opportunities has become increasingly common in recent times. Whether you are a part of this crowd seeking shelter in a new city or a landowner wishing to profit off the skyrocketing demand for rentals, acquainting yourself with the nitty-gritty of a house rent agreement is a must.
Here is a detailed discussion on the 'what's and 'how's of this document, its purpose, contents, and preparation procedure to answer your question.
What Is a Rent Agreement?
A rent agreement is an essential legal document that a property's landlord and a tenant willing to reside in the property must sign before entering a rental arrangement. This contract enlists all the crucial terms and conditions established upon mutual agreement between both parties. These factors shall be legally binding on both the landlord and the tenant. This is why both parties need to go through the document carefully before signing.
What Is the Purpose of a Room or House Rent Agreement?
The primary purpose of a rent agreement is to protect the interests of both the landowner and the tenant.
Most individuals involved in rental arrangements report experiencing some sort of rift that negatively impacts the landlord-tenant relationship. These include tenants threatening a property's safety and landlords making illegitimate demands.
Having a house rent agreement in place helps prevent such undesirable incidents. Additionally, either party can use this legal document as a piece of evidence in court in case of any legal dispute.
Now that you know what a rental agreement is and why it is important to have one, you must know the format of this document for its legal validity.
How to Prepare a Rent Agreement?
If it is your first time dealing with a rent agreement registration, look at the step-by-step procedure below for easy navigation.
Step 1: Draft a Rental Agreement
The primary step is to prepare a house or room rental agreement. This includes a tenant-landlord discussion of the clauses that this contract will comprise. After the verbal agreement of both parties on the terms and conditions, you can approach a lawyer to formulate the document.
Step 2: Print the Agreement on a Stamp Paper of Applicable Value
You can get a printout of the document on conventional stamp paper after reviewing it. Alternatively, you can avail e-Stamping facilities available in most cities across India.
Note that in both cases, you need to pay a Stamp Duty in both cases to make this contract legally valid.
Step 3: Sign the Document
A rent agreement should have the signatures of the landowner, all the tenants, and two witnesses. Therefore, get the document signed at the appropriate places by the concerned individuals.
Step 4: Register the Rent Agreement
The final step after getting this document ready is registering it. For this, you can visit your nearest Sub-registrar office. Here, you need to pay the applicable registration fees. These charges depend on the latest Stamp Act of a particular state and, thus, vary across states.
What Is the Format of a Home Rent Agreement?
Here is a visual representation of the same to help you understand what a rent agreement in India looks like.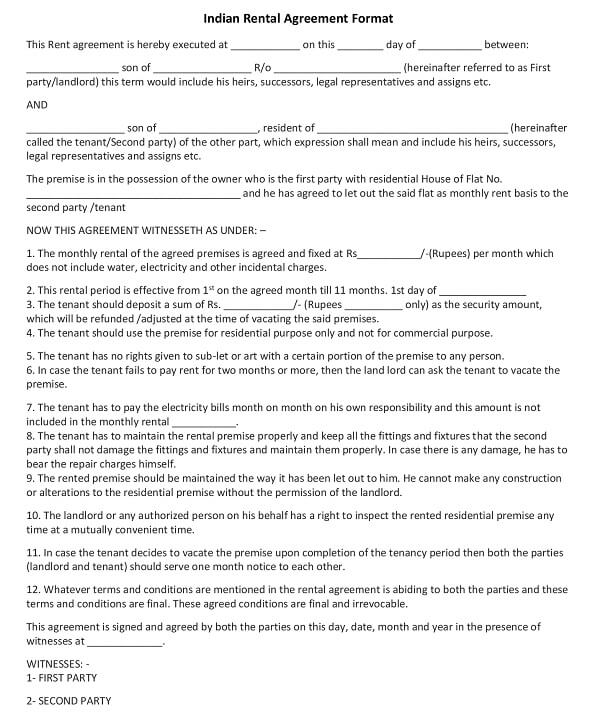 Generally, the landlord has custody of the original version of this document. However, a tenant should keep a copy of this agreement for future reference.
Once you know the rent agreement format, you must understand the important pointers to be included in this document.
What Are the Clauses to be Included in a Rent Agreement?
The terms that a rental agreement is drafted on are crucial and should be revised before final execution to avoid any undesired implications. In this regard, individuals must be aware of the basic clauses that this legal contract should comprise. Here is a list of the most common ones.
1. Names of All Parties and Premises Information
The foremost detail that a rental agreement must include comprises the names of all the parties involved. The contract must clearly state the name of the landowner, all tenants involved, and their contact details. Although this seems like a minor detail, discrepancies in these details may lead to unnecessary complications in the future.
2. Occupancy Limits
Besides clearly mentioning the names of all the tenants occupying a property, a rent agreement must also mention the number of tenants that can reside on the property. For instance, landowners can state in this agreement that up to two people can stay on the rented property.
3. Rent, Security Deposits, and Other Fees
One of the most important clauses in the format of a home rent agreement format concerns the costs each party is liable to pay in the arrangement. This clause should establish the rent a tenant must pay every month. It should also explain the payment process, the due date, and the concerned authority in charge of collecting this amount.
4. Duration of Tenancy and Renewal Clauses
Generally, most rent agreements concern a tenure of 11 months. If you plan to agree for a longer or shorter period, make sure your rent agreement mentions the same. In case a tenant wishes to vacate the property before their tenure ends, they need to provide a notice in advance, the duration which must be present in this contract.
5. Tenancy Rules and Restrictions
If you are a landlord dealing with property rentals for a substantial time, you must have previously come across issues with tenants. Some common instances include excessively loud parties, nuisances caused by pets, etc. Utilise your rent agreement to lay some ground rules to make sure history does not repeat itself.
These can include acceptable noise levels, "quiet hours", types of pets allowed, if applicable, prohibition of illegal activities, if smoking and drinking are permissible, etc.
6. Requirements for Maintenance and Repairs
A rent agreement must include property maintenance standards for a tenant to abide by. Generally, tenants are liable to fix all damages to property other than regular wear and tear. In this regard, the contract must mention the types of servicing of existing appliances whose costs tenants need to bear.
7. Signature of Both Parties and Witnesses
Finally, a house rent agreement must end with the signatures of both the landlord and the tenants, along with the date of agreement to state both parties' consent. Additionally, this document should include the signatures of at least two witnesses.
There are offline processes for registering rent agreements. However, individuals must submit a few documents to complete the procedure without hiccups.
What Are the Necessary Documents for Rent Agreement Registration?
If you wish to register a rental contract and are unsure of the documents you need to produce to complete the process, here is a checklist you can refer to.
Passport-sized photographs of each party and each witness
Proof of residence of both parties and all witnesses, such as ration card, Aadhaar card, driving licence, passport, or bank passbook
Documents proving the ownership of property on rent
Route map of the rented property
Other property-related documents, such as property tax receipts or Index II
Now that you know the documents that you should keep ready for hassle-free rent agreement registration, let's delve into the detailed procedure of preparing this contract.
How Does a Rent Agreement Differ From a Lease Agreement?
A common confusion that most individuals face concerns the difference between a lease agreement and a rent agreement, given how often these terms are used interchangeably.
To put it simply, there is not much of a difference between the two except that in terms of their tenure. Generally, lease agreements concern a longer period compared to rental agreements and are mostly preferred by entrepreneurs looking for commercial spaces.
That being said, here is a table outlining all the key differences between these contract types.
| | | |
| --- | --- | --- |
| Parameters | Rent Agreement | Lease Agreement |
| Definition | A rental agreement allows a party to reside on a property for a specific period in lieu of a fixed periodic fee. | A lease agreement allows a party to purchase a property for a particular period, for which they can utilise the same. |
| Tenure | These are short-term contracts, generally concerning a period of less than a year. | These are long-term agreements, generally concerning a year or more period. |
| Parties | The two parties involved in a rental contract are the landowner and the tenant. | The terms for the parties involved in a lease agreement are lessor and lessee. |
| Charges | Tenants need to pay rent to the landowner every month. | A lessee is liable to pay a one-time lease rental, which comprises a sum of the rent of the leased property for the stated duration. |
| Accounting standard | There is no particular accounting standard for such contracts. | The accounting standard for such contracts is AS - 19. |
| Modification | Landowners can change the clauses of a rent agreement at any time after providing tenants with prior notice. | Lease agreements come with fixed terms and conditions, and a lessor cannot modify the same. |
| Maintenance and repairs | The landowner is responsible for repairs and general maintenance of a property on rent unless otherwise specified. | The lessee must bear the expenses related to a leased property's maintenance and repairs unless otherwise specified. |
| Renewal | Rent agreements undergo automatic renewal unless a landowner decides to modify its clauses. | Lease agreements are not automatically renewed. |
| Options after expiry | Rental contracts can be renewed with similar or modified terms and conditions. | Lessors often offer lessees the option to purchase a leased property by paying its residual cost upon a lease agreement's expiry. |
Now that you have a basic idea of how a rental contract differs from one related to a lease, you can easily choose more suitable for your requirements. If you go for a house rent agreement, consider all the previously discussed pointers related to this contract type to avoid any mishap.
FAQs About House Rent Agreement