Bajaj V Bike Insurance Price & Policy Renewal Online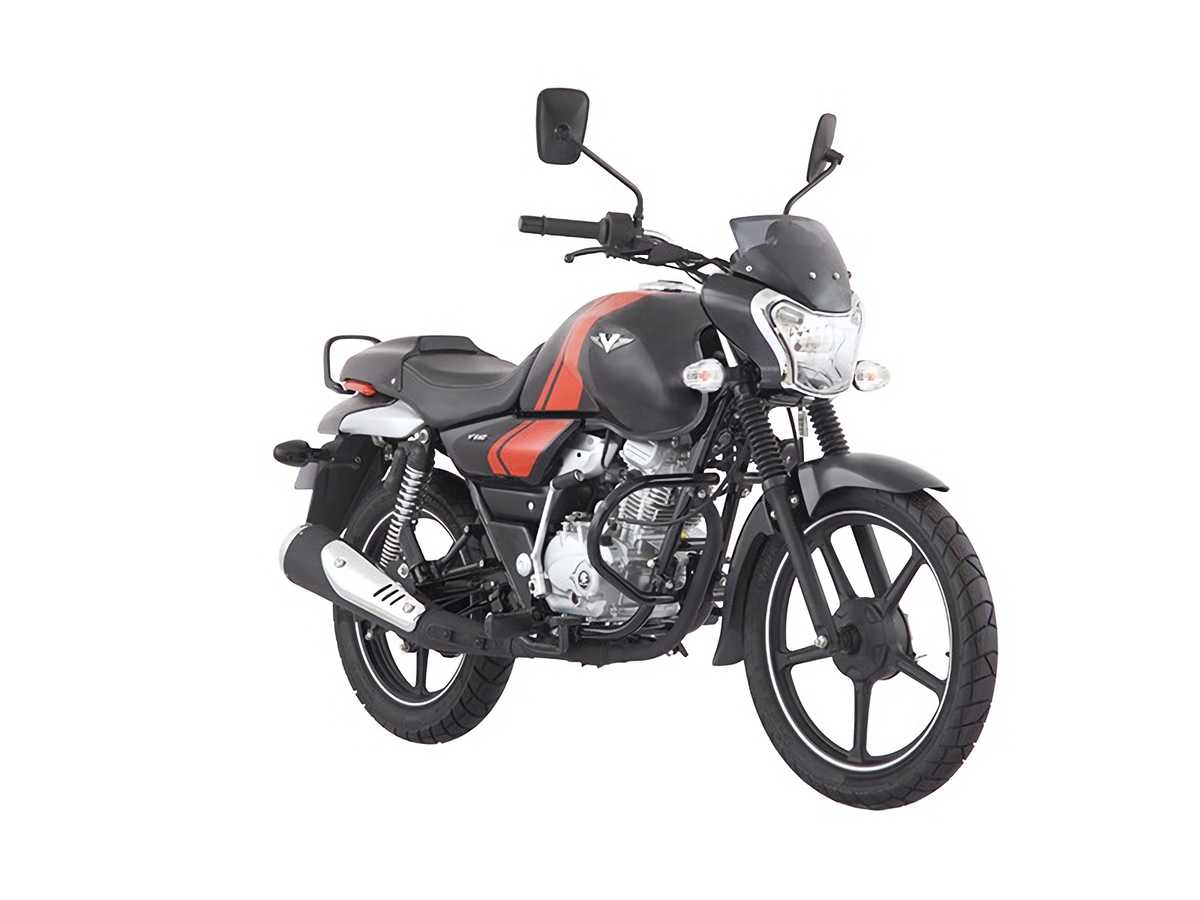 Launched by the Pune-based automaker Bajaj Auto, Bajaj V is one of the latest models in the commuter motorcycle market.  This model is made from the metal parts of INS Vikrant, the first aircraft carrier of the Indian Navy. 
As this commuter equips a host of features, it is vital to obtain Bajaj V insurance to ensure financial security in case of damages. 
In this regard, several reputed insurance providers in India offer two-wheeler insurance policies at competitive premiums. One such insurer is Digit.
What's Covered in Bajaj V Insurance
Why should you buy Digit's Bajaj V Insurance?
Types of Insurance Plans for Bajaj V
Third Party
Comprehensive
| | | |
| --- | --- | --- |
| Damages/Losses to own two-wheeler due to an accident | | |
| Damages/Losses to own two-wheeler in case of fire | | |
| Damages/Losses to own two-wheeler in case of a natural calamity | | |
| Damages to Third-Party Vehicle | | |
| Damages to Third-Party Property | | |
| | | |
| Injuries/Death of a Third-Party Person | | |
| Theft of your scooter or bike | | |
| | | |
| Extra protection with customized add-ons | | |
How to file a Claim?
After you buy or renew our two wheeler insurance plan, you live tension free as we have a 3-step, completely digital claims process!
Step 1
Just call on 1800-258-5956. No forms to be filled.
Step 2
Get a link for Self-Inspection on your registered mobile number. Shoot your vehicle's damages from your smartphone through a guided step by step process.
Step 3
Choose the mode of repair you wish to opt for i.e. Reimbursement or Cashless through our network of garages.
How fast are Digit Insurance Claims Settled?
This is the first question that should come to your mind when switching your insurance company. Good you're doing that!
Read Digit's Claims Report Card
Reasons to Choose Digit for Bajaj V Bike Insurance
Insurance companies like Digit extend several benefits to individuals obtaining bike insurance from them. Before choosing this insurer, you might want to look at some of their offerings from the below section:
Range of Insurance Policies - Digit offers multiple insurance plans as per customer requirements. Therefore, if you are an owner of a Bajaj V bike, you can choose from the following insurance policies:
Third-party Damages Cover - This is a basic two-wheeler insurance plan mandated as per the law. It covers financial losses that may arise from damages caused to a third-party vehicle, person or property by your Bajaj motorcycle.
However, it is vital to note that this scheme does not cover own bike damages in case of accidents or unfortunate situations.
Furthermore, Digit offers a standalone own damage bike insurance cover that includes damages sustained by your Bajaj commuter in case of accidents, collisions, natural disasters and more. Hence, if you possess valid third-party Bajaj V insurance, it is essential you choose this cover for additional protection to your vehicle.
Comprehensive Cover - This scheme provides complete coverage, including own damages and third-party liabilities to bike owners. Additionally, a comprehensive bike insurance policy offers coverage benefits in case of bike accidents due to natural or man-made disasters, fire, theft and more.
IDV Customisation - In events of bike theft or damages beyond repair, your insurance provider offers you an Insured Declared Value (IDV). An insurer finds out this value by subtracting the bike's depreciation from the manufacturer's selling price. Insurance companies like Digit allow their policyholders to customise this value as per convenience. In this manner, you can receive maximum benefits.
Add-on Benefits - By opting for the comprehensive Bajaj V insurance renewal policy, you can choose 5 add-on covers for additional benefits. Some of the add-on policies include:

Return to invoice cover
Engine and gearbox protection cover
Consumable cover
Online Insurance Purchase - You can avail of hassle-free Bajaj V insurance online from Digit. Owing to their technology-driven processes, you need not furnish hard copies while applying for insurance. This speeds up the entire application process.
Easy Claim Process - Digit comes with a claim settlement ratio of 97%, owing to its smartphone-enabled claim process. This process enables quick claim settlement within a few minutes.
Apart from this, Digit has a wide range of over 2900 network garages from where you can avail of quick services concerning your Bajaj V bike. Further, by choosing any Digit network bike garages, you can opt for a cashless facility where you need not pay for the damage repairs.
Why Choose Digit for your Bajaj V Insurance policy?
You need to factor in the unfortunate situations that can lead to serious bike damages. In such a scenario, you might need to bear exorbitant repair costs that can burn a hole in your pockets. Regardless, a well-rounded Bajaj V insurance covers you against such financial losses.
Here is a list of benefits of obtaining a two-wheeler insurance policy:
Avoid Legal Liabilities - The Motor Vehicles Act, 1988, made it mandatory for motorcycle owners in India to possess at least a third-party insurance policy. Without valid insurance, one might need to pay hefty traffic fines of up to ₹2000 for a first-time offence and ₹4000 for repeating the same.
Personal Accident Cover - As per the Insurance Regulatory and Development Authority of India (IRDAI) mandates, every bike owner possessing an insurance policy is liable to receive Personal Accident add-on cover. Under this coverage, a policyholder and his family can claim compensation against the insurance policy in case of accidents that result in permanent total disability or death.
Avoid Third-party Liabilities - For instance, your Bajaj V commuter inflicts damage to a third-party person or property in a collision. In such a scenario, a third-party insurance policy will cover the losses caused to the third party by your bike. Further, it shields you against litigation issues that may result from such an accident.
Own Bike Damage Coverage - A comprehensive insurance plan for Bajaj V covers own bike damages caused due to natural calamities, fire or theft. Additionally, policyholders of this insurance can get Insured Declared Value (IDV) in case of motorcycle theft or irreparable damages.
No Claim Benefits - Insurers offer a discount on two-wheeler insurance premiums if you refrain from raising a claim for a year within your policy term. This discount, also known as No Claim Bonus, ranges from 20% to 50% and is applicable while you opt for Bajaj V insurance renewal online.
In this regard, you can consider bike insurance from Digit.
The Bajaj V bike sports world-class features that make it a desirable choice among motorists in India. Here's a look at some of the key specifications of this model:
It comes with a 150 cc engine that delivers a fuel economy of 45 kmpl. Further, it can accommodate 13 litres of fuel.

The engine comes equipped with a five-speed constant mesh transmission.

This bike's suspensions feature telescopic forks at the front, and gas-spring twin-spring loaded hydraulic at the rear.

A wheelbase of 1315 mm ensures stability while reaching high speeds.

It sports a class and simple design instrument console. The instrument panel consists of one round on the left and an oval on the right. Its round dial features an analogue speedometer and odometer, whereas the oval round equips neutral light and fuel indicator.

The motorcycle weighs 135.5 kg and has an overall length, width and height of 2044 mm, 780 mm, and 1070 mm, respectively.
Although this bike is loaded with attractive features that ensure optimum performance and safety, it is susceptible to various risks. Therefore, it is evident that a Bajaj V insurance policy can help you curtail financial losses and save funds for future expenses.
In this regard, Digit insurance can be your consideration owing to the aforementioned benefits.
Bajaj V - Variants & ex-Showroom Price
Variants

ex-Showroom Price (may change as per the city)

V15

₹66,000

V12

₹59,000
FAQs about Bajaj V Two Wheeler Insurance in India