Honda Amaze Insurance
Buy or Renew Honda Amaze Car Insurance Policy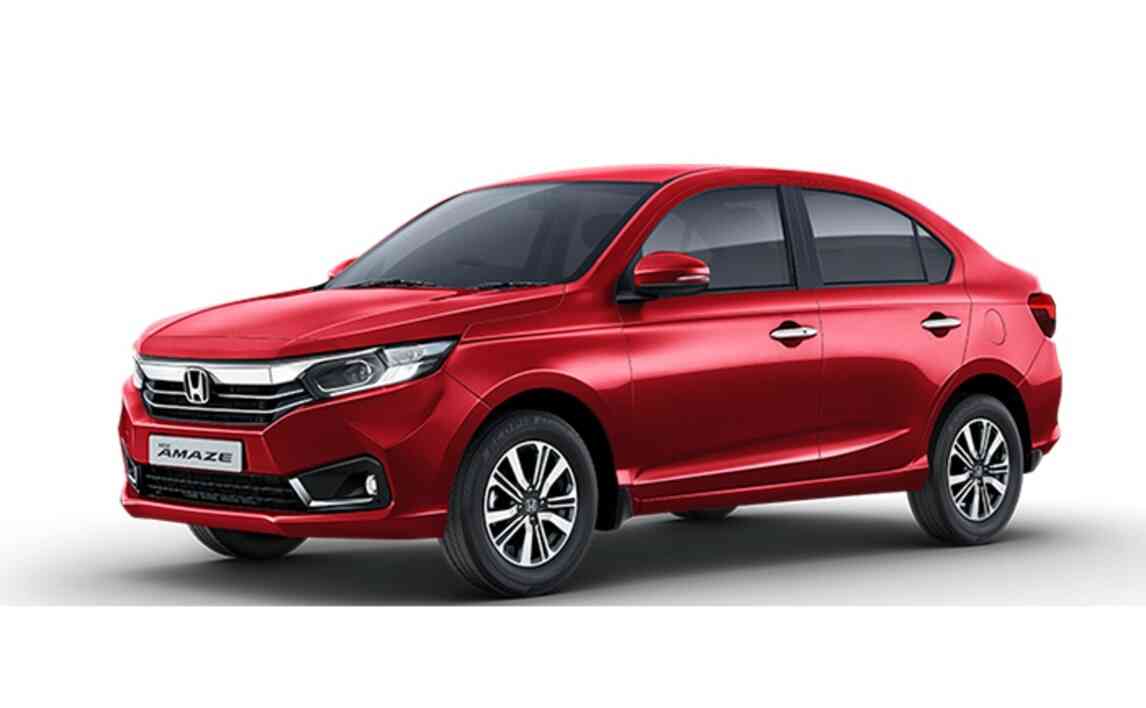 Amaze is the smallest sedan in Honda's lineup and was introduced in 2013. The sub-compact sedan was available in both petrol and diesel engines in 4 trim levels- E, EX, S and VX. Given the success, Honda again launched the second-generation Amaze in 4 trim levels, including E, S, V and VX. All the versions came with a diesel motor coupled with a CVT.
In 2021, Honda launched the face-lifted version of Amaze in 3 versions in the Indian automobile market to compete with the current competitors. The new models highlight distinctive features such as front fascia, additional chrome lines, fog lights and more. In fact, the top-end models exhibit LED projector headlights with DRLs, C-shaped LED taillights and 15-inch diamond-cut alloy wheels to enhance the aesthetics.
Have you purchased any of the latest models? Then, to safeguard your finances from repair/replacement burdens, opt for Honda Amaze car insurance. Further, it is compulsory as per the Motor Vehicles Act of India.
Now, there are a few pointers based on which you should compare different policy plans available online and pick a convenient option. Some of them are Honda Amaze car insurance price, IDV factor, no claim bonus benefits, types of policy, etc.
Digit Insurance is an ideal destination in this connection as it assures complete financial security.
What's Covered in Honda Amaze Car Insurance
Why should you buy Digit's Honda Amaze Car Insurance?
We treat our customers like VIPs, know how…
Car Insurance plans for Honda Amaze
Third-Party
Comprehensive
| | | |
| --- | --- | --- |
| Damages/Losses to own car due to an accident | | |
| Damages/Losses to own car in case of fire | | |
| Damages/Losses to own car in case of a natural calamity | | |
| Damages to Third-Party Vehicle | | |
| Damages to Third-Party Property | | |
| | | |
| Injuries/Death of a Third-Party Person | | |
| | | |
| | | |
| | | |
| Extra protection with customized add-ons | | |
How to file a Claim?
After you buy or renew our car insurance plan, you live tension free as we have a 3-step, completely digital claims process!
Step 1
Just call on 1800-258-5956. No forms to be filled
Step 2
Get a link for Self-Inspection on your registered mobile number. Shoot your vehicle's damages from your smartphone through a guided step by step process.
Step 3
Choose the mode of repair you wish to opt for i.e. Reimbursement or Cashless through our network of garages.
How fast are Digit Insurance Claims Settled?
This is the first question that should come to your mind when switching your insurance company. Good you're doing that!
Read Digit's Claims Report Card
Why Choose Digit for Honda Amaze Car Insurance Policy?
Digit prepares policy plans to attend to the multiple demands of the commuters. Besides, the insurer promises other lucrative benefits against Amaze insurance policies.
Let us check them out.
1. Various Policy Plans
Apart from third-party policy, which is compulsory for every vehicle plying on Indian streets, Digit also provides comprehensive policy.
Remember, without a third-party insurance policy, you will attract hefty penalties of ₹2,000 and ₹4,000.
While a third-party policy covers for the damages your car inflicts on any other vehicle, property or person, a comprehensive plan provides third-party as well as own damage protection. That means if your vehicle gets damaged due to an accident or any sort of natural calamities, fire, theft etc. Digit will cover the loss.
Note: As third-party policy excludes Own Damage Protection, you need to opt for a standalone cover to elevate your base policy.
2. Paperless Services
Why bother yourself with tedious paperwork when you can raise a claim instantly?
Digit brings a simplified claim filing process that includes 3-easy steps.
Dial 1800 258 5956 from your registered mobile number and get the self-inspection link
Submit your damaged car images on the link
Choose between the available modes of repairs- 'Reimbursement' and 'Cashless'
3. IDV Customisation
At Digit, you get the chance to modify the Insured Declared Value based on your requirements. If you opt for higher IDV, you confirm higher compensation in the event of theft or irreparable damages and vice versa.
4. Buy or Renew Policies Online
Digit offers Honda Amaze car insurance online to ensure a seamless experience. You just have to visit the official website and scroll through the options available along with prices. Further, you can opt for Honda Amaze car insurance renewal by signing in to your existing accounts.
5. Policy Elevation With Add-ons
There are some protections that comprehensive car insurance for Honda Amaze does not provide. For that, Digit Insurance extends the following add-ons for complete financial safety.
Return to invoice
Tyre protection
Engine and gearbox protection
Consumables
Breakdown assistance and others
Note: You can continue these benefits after the policy terms expire by increasing your Honda Amaze car insurance renewal price.
6. No Claim Bonus Benefits
If you do not raise any claim for an entire year, you are eligible to earn a No Claim Bonus discount on the succeeding premium. Digit provides 20 to 50% discounts on premiums depending on the number of claim-free years.
7. Wide Network of Garages
You can travel tension-free within India if you obtain a car insurance policy from Digit. The insurance company has tie-ups with hundreds of garages to serve better. In addition, you can avail of cashless repair from any of the Digit network car garages.
8. 24x7 Customer Assistance
Having issues understanding the policy terms and conditions? Address it to Digit's customer care team, providing prompt and reliable solutions.
Besides, you can opt for a doorstep pickup and drop facility against your Honda Amaze car insurance if your vehicle is too damaged to be driven to a nearby garage.
Moreover, Digit allows you to further bring down the premiums payable by providing voluntary deductibles. However, it is wise if you consult with Digit before confirming your approval for the same.
More about Car Insurance for Honda Amaze
Launched in India in April 2013 by Leading car manufacturer Honda Cars India Ltd (HCIL), Honda Amaze, amazed us many times. It with launched with 4- trim levels: E, EX, S and VX, an additional trim level the SX was launched in January 2014. Honda Amaze proved a tough competition to its rivals Tata Tigor, Hyundai Xcent, Volkswagen Ameo, Maruti Baleno, Hyundai Elite i20 and Ford Aspire, with its fresh looks, stunning sharp design and super comfortable ride.
2018: Tech and Auto Awards: Sedan of The Year - Honda Amaze.

Honda Amaze, 2nd-gen, crosses a milestone of one lakh sales, at the OVERDRIVE awards.

2014: With 'Longest Drive through Amazing India', Honda Amaze, entered the Guinness World Records, registering the longest journey by a car in a single country.

Know more about Honda Car Insurance.
Why should you buy Honda Amaze?
Honda Amaze was launched in India with a starting price tag of Rs 5.59 lakh, but it recently got a price hike and now The Amaze starts at Rs. 5.86 lakh (ex-showroom) and goes up to Rs 9.72 lakh (diesel) and is available in five colours - White Orchid Pearl, Modern Steel, Radiant Red, Golden Metallic Brown and Lunar Silver (in 2019), making it amazingly desirable and affordable in the compact sedan segment. 
Let's discuss some of Amaze's top-notch, first in class, amazing features. powerful 1.5L diesel and refined 1.2L petrol engine, available in both Manual and Automatic transmission, Mileage 19.0 to 27.4 kmpl (ARAI, Depending upon the variant and fuel type ), premium interior design, super spacious cabin and boot space( at 420 litres ), Fuel Tank Capacity of 35 litres, best CVT gearbox (now also available in diesel variants), Digipad 2.0, thoughtfully designed temperature control unit, Paddle Shift (segment-first feature),Cruise Control for long relaxing drives, and high ground clearance.
With all these features and more. With Amazingly big cabin space, amazingly large boot space, Honda Amaze truly lives up to its campaign tag line 'Amazingly Indian'. This campaign tagline well define the target audience for which this car is suitable for, all Indians(Old and young generation alike).
Price List of the Variants
| | |
| --- | --- |
| Name of the Variants | Price (in Delhi, May Vary Across Other Cities) |
| E i-VTEC (Petrol) | ₹6.00 lakh |
| E Option i-VTEC (Petrol) | ₹6.12 lakh |
| E Option i-VTEC (Petrol) | ₹6.42 lakh |
| S Option i-VTEC (Petrol) | ₹6.94 lakh |
| i-VTEC Privilege Edition (Petrol) | ₹7.24 lakh |
| E i-DTEC (Diesel) | ₹7.53 lakh |
| E Option i-DTEC (Diesel) | ₹7.67 lakh |
| SX i-VTEC (Petrol) | ₹7.78 lakh |
| VX i-VTEC (Petrol) | ₹8.20 lakh |
| S CVT i-VTEC (Petrol) | ₹8.34 lakh |
| S Option CVT i-VTEC (Petrol) | ₹8.50 lakh |
| S i-DTEC (Diesel) | ₹8.63 lakh |
| S Option i-DTEC (Diesel) | ₹8.75 lakh |
| i-DTEC Privilege Edition (Diesel) | ₹9.07 lakh |
| SX i-DTEC (Diesel) | ₹8.02 lakh |
| VX CVT i-VTEC (Petrol) | ₹9.28 lakh |
| VX i-DTEC (Diesel) | ₹9.49 lakh |
Why is it important to buy Car insurance for Honda Amaze?
Honda cars are known to withstand tough conditions but what about conditions beyond control, you did your best to have your car equipped with all things, now it's time to protect it. Protection of your Honda Amaze is important and compulsory by the Motor Vehicle Act too!
Legally Compliant: Driving your Honda Amaze without proper vehicle insurance can have serious consequences. It is illegal in India to drive without car insurance and can incur heavy fines (up to 2000 INR) and even result in suspension/confiscation of your Driving license.
Protect from Financial Liabilities: Car insurance is a must as it covers your expenses in an ill-omened event of your vehicle's parts damage, body damage, theft, nature acting up, animals, accident or injuries caused to passengers, drivers or a passer-by.
Cover Third-Party Liability: A third party car insurance policy covers the loss of the third party who suffers due to an accident for which you were responsible. Sometimes in such cases, the damages are huge and irreparable and maybe beyond one's current financial capacity, this is where car insurance comes in play. It acts as a protector for the party that suffered losses.
Extra Protection with Comprehensive Cover: ​Car insurance policy can be extended with add-on covers if you own a Comprehensive Package Policy. You can make the cover better by buying add-ons like gearbox protection, engine protection plan, zero depreciation cover, and others.
Check Car Insurance Calculator and get the premium of your car insurance policy with add-ons.
Frequently Asked Questions