Toyota Land Cruiser Insurance
Buy or Renew Toyota Land Cruiser Insurance Policy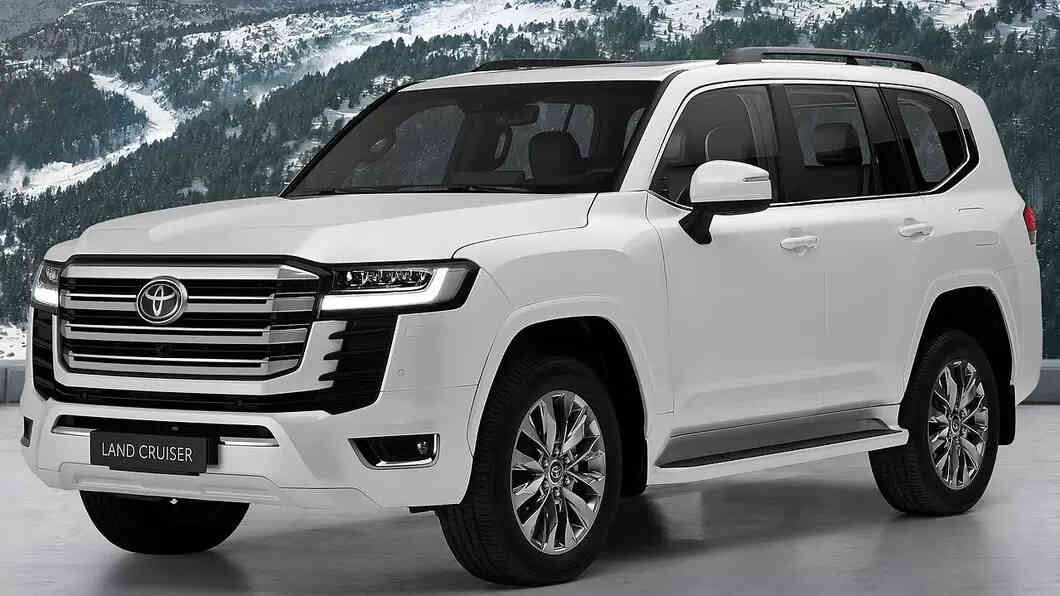 The Japanese automobile manufacturer Toyota introduced a series of four-wheel-drive vehicles, the Toyota Land Cruiser, in 1951. It is the longest-running series of models from the house of Toyota. It sold more than 10 million units around the globe as of 2019.
In addition, the sixth generation of this model is expected to launch in the Indian commuter markets in March 2022. It will feature twin-turbo V6 engines along with a 10-speed AT gearbox.
However, if you plan to purchase this model this year, you should be aware of the damages and risks it is exposed to despite its unmatched specifications. Considering this, you might want to get a valid Toyota Land Cruiser insurance policy from a reputed provider.
A car insurance policy covers financial and legal liabilities arising from an unfortunate car accident. It comes with an expansive list of coverage and other service benefits. These benefits vary across several insurers.
In this regard, Digit insurance company stands out due to their affordable policy premium and other service benefits. Keep reading to know more about the perks of obtaining insurance from Digit.
What's Covered in Toyota Land Cruiser Car Insurance
Why should you buy Digit's Toyota Land Cruiser Car Insurance?
We treat our customers like VIPs, know how…
Car Insurance plans for Toyota Land Cruiser
Third-Party
Comprehensive
| | | |
| --- | --- | --- |
| Damages/Losses to own car due to an accident | | |
| Damages/Losses to own car in case of fire | | |
| Damages/Losses to own car in case of a natural calamity | | |
| Damages to Third-Party Vehicle | | |
| Damages to Third-Party Property | | |
| | | |
| Injuries/Death of a Third-Party Person | | |
| | | |
| | | |
| | | |
| Extra protection with customized add-ons | | |
How to file a Claim?
After you buy or renew our car insurance plan, you live tension free as we have a 3-step, completely digital claims process!
Step 1
Just call on 1800-258-5956. No forms to be filled
Step 2
Get a link for Self-Inspection on your registered mobile number. Shoot your vehicle's damages from your smartphone through a guided step by step process.
Step 3
Choose the mode of repair you wish to opt for i.e. Reimbursement or Cashless through our network of garages.
How fast are Digit Insurance Claims Settled?
This is the first question that should come to your mind when switching your insurance company. Good you're doing that!
Read Digit's Claims Report Card
Why Choose Digit for Toyota Land Cruiser Insurance?
When choosing a suitable Land Cruiser insurance policy, you must consider comparing insurance plans online from different providers. Comparing such plans along the lines of a policy premium, insurance types, bonuses and discounts etc., will help you make an informed decision.
In this context, you can factor in the advantages of Digit insurance and streamline your options-
1. Variety of Insurance Policies
By obtaining car insurance for Toyota Land Cruiser from Digit, you can choose from the following types -
Third-party Insurance Plan: Under this insurance, you can get coverage against third-party damages caused to a property, person or vehicle by your Toyota car. It also takes care of litigation issues arising from such situations. Further, the Motor Vehicles Act, 1988 made it mandatory for every car owner to at least possess a third-party insurance plan. Thus, one can consider third-party insurance for Toyota Land Cruiser from this insurer to avoid penalties.
Comprehensive Insurance Plan: There might be scenarios when your Toyota car sustains substantial damages due to accidents like fire, earthquake and other disasters. In that case, you must obtain an insurance plan that covers the hefty repair costs. To avail of such an insurance policy, you can purchase a comprehensive Toyota Land Cruiser insurance policy from Digit. This insurance plan covers both third-party and own car damages.
2. Add-on Benefits
Although comprehensive insurance provides a range of coverage, it does not offer complete protection to your Toyota car. To that end, you can include add-on covers to your existing insurance plan from Digit against additional expenses. Some of the add-on policies you can benefit from are -
Roadside assistance
Return to invoice cover
Zero depreciation cover
Engine and gearbox protection cover
Consumable cover
Hence, by nominally increasing your Toyota Land Cruiser insurance cost, you can avail of this facility.
3. No Claim Bonuses
During Toyota Land Cruiser insurance renewal, insurers offer discounts, known as No Claim Bonuses, on your policy premium for maintaining claim-free years within your policy term. If you choose Digit insurance, you can get No Claim Bonuses up to 50% depending on your non-claim years.
4. Cashless Claims
While filing claims against your Toyota Land Cruiser insurance, you can choose a cashless mode of repair. Under this mode, you can avail of repair services from an authorised garage without paying anything for it. Your insurer, in this case, Digit, will directly settle payment with the repair centre.
5. Range of Network Garages
There are several Digit network garages across India from where you can obtain professional services for your Toyota car. Further, it is easier for you to go cashless on your Toyota car repairs thanks to these garages.
6. Customisation of IDV
The Toyota Land Cruiser insurance price depends on your car's Insured Declared Value. An insurer calculates this IDV by subtracting your car's depreciation from its manufacturer's selling price. However, Digit allows you to customise this value and maximise your returns in case of car theft or damages beyond repair.
7. Seamless Online Process
You can purchase Toyota Land Cruiser insurance plans online from Digit through your smartphone. This online procedure takes less time compared to the traditional offline method due to less documentation and turnaround time. You can simply upload the necessary documents and pay Toyota Land Cruiser insurance renewal price online to enjoy coverage against damages.
8. 24x7 Customer Service
In case of doubts and queries regarding your insurance policy, you can contact Digit's customer service, who will resolve your doubts in a short span. They are responsive and available 24x7, even on national holidays.
Additionally, you can get Toyota Land Cruiser insurance at a lower premium by selecting a higher deductible plan from Digit. Before choosing such a plan, you should ensure to not lose out on essential benefits.
Why is it important to buy Car insurance for Toyota Land Cruiser?
As the price describes the luxury of the vehicle, the land cruiser insurance is the most important thing after owning this big bulky and expensive SUV. It is very necessary to insure this car to protect it from damage, accidents. The unforeseen incident can be a big deal to empty your pocket completely if the insurance is not done. The coverage under a Toyota land cruiser car insurance policy is to reimburse you in various ways when a loss occurs.
Protect from Financial Liabilities - Toyota Land Cruiser car insurance ensures your ride that could save you money, discounts that help your bottom line, and coverage that gives you peace of mind. The calamities, disasters, theft, fire can be a great threat to your car so in this case, car insurance can be your savior. Know more about Own Damage Car Insurance.
Legal Complaints - Your Toyota land cruiser car insurance policy will fulfill the legal obligation. It also acts as an allowance to drive a vehicle legally on the road without breaking the traffic rules. In the absence of a policy, you may be charged a fine of Rs 2,000 and your license may be disqualified, also it can get you behind the bars for 3 months.
Extra Protection with Comprehensive Insurance Cover - Choosing for a Comprehensive land cruiser car insurance is always a better idea as it not only just protects you from third-party liabilities, but also covers for damages and losses to your own SUV and yourself from life-threatening injuries. In addition to that, you can also customize your policy with covers and add-ons such as breakdown assistance, engine tyre protection cover, zero depreciation and gearbox protection, etc.
Cover Third-party Liabilities - For covering the accident coverage by the third party comes under this category. This part of the insurance covers all the damage done to the third party passenger or the vehicle.
Learn more about Toyota Land Cruiser
Toyota land cruiser introduced itself as the bold and bulky SUV and is known as one of the toughest things around. The Toyota Land Cruiser we have in India is the J200 series which is succeeded by the J100 series in 2007.  The LC200 has updated itself but the overall body is the same as the previous series. From the very past time, Toyota Land Cruiser has always been a dream car for many youngsters. The royalty of the car drives the attention of millions of car lovers who want to enhance their personality with a giant, powerful four-wheeler.
It is powered by a 4.5 litre 32 valve DOHC V8 diesel engine that produces a maximum power of 265 BHP at 3400 RPM and torque 650 Nm between 1600 to 2600 RPM. Land Cruiser provides a mileage of up to 11kmpl with the automatic transmission. The price range starts from 1.46 crore.
Why should you buy Toyota Land Cruiser?
There are certain factors that will definitely attract you to buy this car. The Land Cruiser looks are dashing with the square-ish twin-barrel headlamps with a new front grille and a classy front bumper. There are quite a lot of switches – to select a drive, driving modes, diff locks, ESP, climate control, et al.
The two big dials on the instrument console read speed and revs while the smaller dials read engine temperature, fuel level, and other requisites. When we see the off-road aspects the ground clearance is 8.9 inches having an approach and departure angle of 32 and 24 degrees respectively that makes the SUV ride on the sand dune, or on urban roads. The 8 seater huge Land cruiser makes a large space for every member. Toyota land cruiser is one of the longest-running SUV among its all series. 
Check: Know more about Toyota Car Insurance
Variants of Toyota Land Cruiser
| | |
| --- | --- |
| Name of the Variant | Price of the Variant (Approx.) |
| VX Standard | ₹1.13 crore |
| VX Premium | ₹1.16 crore |
| 200 VX AT | ₹1.47 crore |
Frequently Asked Questions