Mahindra KUV Insurance
Buy or Renew Mahindra KUV Car Insurance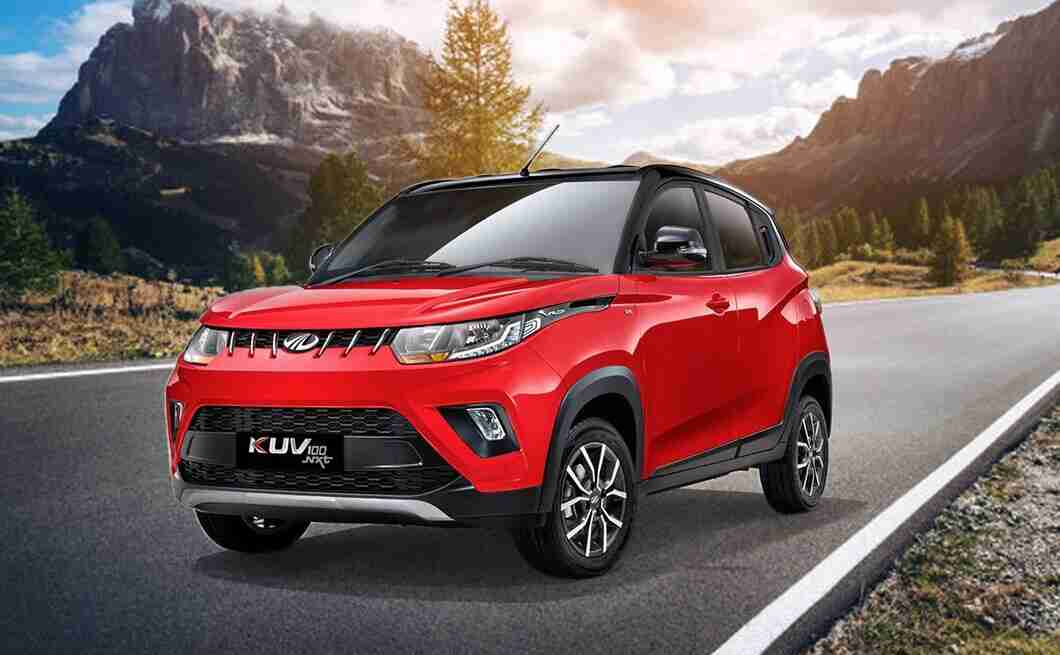 With its new NXT series, Mahindra updated a KUV model for the riders. The six-seater car is mainly known for its affordable pricing and safety features. Mahindra aims to entice the customers with its innovative idea of updating firepower with two engine options, including the mFalcon G80 and the diesel mFalcon D75. Both the engines constitute five-speed transmission.
Mahindra believes in using the right technology to make a car luxurious while balancing it with user-friendly services. In this regard, a Mahindra KUV car comes with a seven-inch touchscreen infotainment system. Moreover, the makers have decided to remove the multi-dial design for the air-con system and incorporate a minimalistic button style setup in exchange. Furthermore, Mahindra enables users to get Bluetooth and USB connectivity with a four-speaker music system in the vehicle.
When it comes to the exteriors of Mahindra KUV, a vertically stacked design is a striking new feature. The front bumpers are given a sporty look for creating a crossover appearance for the model. A new technique for alloy wheels and wheel covers can be another feature. Moreover, the car's tail lamps are now more comprehensive, and they come with silver inserts. A high bonnet and a pronounced shoulder line define the length of the Mahindra KUV.
Despite such features and safety measures, a Mahindra KUV will not avoid every possible road accident. For this, anyone who owns this car or might buy it soon must get Mahindra KUV car insurance. Such insurance will cover the expenses of road accident damages and help you comply with the Motor Vehicles Act of 1988.
What's Covered in Mahindra KUV Car Insurance
Why should you buy Digit's Mahindra KUV Car Insurance?
We treat our customers like VIPs, know how…
Car Insurance plans for Mahindra KUV
Third-Party
Comprehensive
| | | |
| --- | --- | --- |
| Damages/Losses to own car due to an accident | | |
| Damages/Losses to own car in case of fire | | |
| Damages/Losses to own car in case of a natural calamity | | |
| Damages to Third-Party Vehicle | | |
| Damages to Third-Party Property | | |
| | | |
| Injuries/Death of a Third-Party Person | | |
| | | |
| | | |
| | | |
| Extra protection with customized add-ons | | |
How to file a Claim?
After you buy or renew our car insurance plan, you live tension free as we have a 3-step, completely digital claims process!
Step 1
Just call on 1800-258-5956. No forms to be filled
Step 2
Get a link for Self-Inspection on your registered mobile number. Shoot your vehicle's damages from your smartphone through a guided step by step process.
Step 3
Choose the mode of repair you wish to opt for i.e. Reimbursement or Cashless through our network of garages.
How fast are Digit Insurance Claims Settled?
This is the first question that should come to your mind when switching your insurance company. Good you're doing that!
Read Digit's Claims Report Card
Why Should You Opt for Digit Mahindra KUV Car Insurance Policy?
A car purchase is usually a significant investment, and it naturally goes hand-in-hand with several additional considerations. As per the requirements of the Motor Vehicles Act of 1988, every car owner in India must have insurance to cover the expenses of third party damages caused by car accidents. If they fail to do so, they will be accountable to pay regular fines of ₹2000 when caught the first time, and ₹4000 for repeating it. Moreover, there are chances of this issue escalating and leading to a minimum of three months' imprisonment for the car owner or loss of licence.
The owners of a Mahindra KUV car are usually concerned with purchasing a suitable Mahindra KUV car insurance policy. In this regard, Digit can be a mention-worthy name known for its beneficial car insurance coverage. Before purchasing it, policyholders usually wish to learn all about such a policy, including Mahindra KUV car insurance price. You can find the benefits and features of a Digit insurance policy in the following section.
1. Range of Policy Options
Digit offers two types of insurance policies for Mahindra KUV car insurance policyholders. These are described below.
Third-party Insurance Policy
This type of policy is an essential requirement according to the Motor Vehicles Act of 1988. In this, Digit covers the expenses incurred upon repairing damages caused to a third party car or road property during the accident. It also provides the costs for hospitalising any individuals who were hit by your vehicle in the accident.
Comprehensive Insurance Policy
It is a slightly expensive but more preferable plan. It covers the third party damage expenses and the expenses against personal damages caused in an accident. Hence, it enables you to repair your Mahindra KUV car if it undergoes damage during a road accident.
2. Process of Buying and Renewing Policy
Instances are not rare, whereby people avoid insurance policies because they are afraid of the process of purchasing one. This is no more a problem with Digit. It allows you to conduct the entire process of buying a policy online. You can go to the company's official website and follow the step-by-step guide. This process is also applicable if you seek a Mahindra KUV car insurance renewal.
3. Process of Claim Filing
The claim filing process against your Mahindra KUV car insuranceis again user-friendly and straightforward under Digit. You can call its helpline number 1800-258-5956 and thereby receive a self-inspection link. Here, you can upload all the images that prove your accidental damages. Finally, you will be asked to choose between repair modes, including reimbursement or cashless repair from Digit network garages.
4. Additional Benefits
It is always a pleasure to generate additional benefits when purchasing insurance for Mahindra KUV car. Digit offers the following add-ons over its standard policies.
Engine and gearbox protection
Roadside assistance
Consumables coverage
Zero depreciation
Return to invoice
5. No Claim Bonus
Digit believes in motivating its policyholders with regular rewards. It includes a no claim bonus from the company. As a policyholder, you can utilise this benefit if you avoid claiming your insurance for a year. Digit will provide you with discount rates between 20% and 50% on the premium.
6. IDV Benefits
Your IDV determines the current value of your vehicle in the market. When you hold a policy for Mahindra KUV car insurance under Digit, you will be able to customise your IDV. With higher IDV, you will be able to generate higher compensation for your vehicle in cases of theft or irreparable damage. However, keeping it low will enable you to pay a lower premium.
7. Network Garages
With a vast network of garages, Digit enables the policyholders to travel freely without the tension of car repairing against accidental damages. You can easily opt for the cashless repair of your Mahindra KUV car in any of these garages under Digit all across India.
8. Impressive Customer Care Unit
Digit believes in maintaining impressive customer service to meet the policyholders' expectations of car insurance for Mahindra KUV. The customer care executives of Digit are available for the policyholders for 24 hours. They listen to their problems and try to generate solutions against the same.
Now you know that you must have Mahindra KUV car insuranceif you own a Mahindra KUV car. This will allow you to pay for the third party damages and repair your vehicle in any unforeseen road accidents. Moreover, it can also help you abide by the Motor Vehicles Act of 1988.
Why is it important to buy Car Insurance for Mahindra KUV?
Due to its impressive suspension, adjustable steering, and comfortable seating, Mahindra KUV is suitable for both daily commutes and weekend trips. Therefore, it is important to buy insurance for your car to be prepared for any contingencies. Let's have a look at the benefits of having Mahindra KUV insurance.
Protect from Financial liabilities - Your Mahindra KUV can suffer a lot of damages as a result of an accident, natural disasters, theft, terrorist attacks, or strikes. Thus, opting for KUV car insurance can save you from such unexpected losses and also prevent you to pay out the huge sum from your pocket.
Legally compliant - It is legally mandatory for a car owner to have car insurance. Getting caught driving without insurance can lead to suspension of your driving license and you may be charged with a fine of ₹1000. In some cases, it can also result in the imprisonment up to 3 months.
Cover Third-party liability - Third-party car insurance offers cover against any damage caused to the third person in case of an accident. For example, during a car accident, the damage is caused to a third-party and you are held responsible for the same. In such a scenario, a claim will certainly be made against you, which your insurance company will be liable to pay.
Extra Protection with Comprehensive cover - Comprehensive car insurance for your Mahindra KUV is the most suitable choice. A comprehensive cover provides complete protection against damages caused to you and your car in case of natural calamities, thefts, fire, accidents, vandalism, and tornado.
It also includes coverage for any damage caused by animals, falling objects, riots, as well as third party legal liability. This policy can be further extended by opting for various add-ons such as zero depreciation, tyre protection, engine and gearbox protection, breakdown assistance etc.
| | |
| --- | --- |
| Name of the Variant | Price of the Variant (in New Delhi, May Vary Across Cities) |
| KUV 100 G80 K2 Plus 6 Str | ₹6.08 lakhs |
| KUV 100 G80 K4 Plus 6Str | ₹6.57 lakhs |
| KUV 100 G80 K6 Plus 6Str | ₹7.10 lakhs |
| KUV100 NXT G80 K8 6Str | ₹7.74 lakhs |
Frequently Asked Questions