Skoda Rapid Insurance
Buy or Renew Skoda Rapid Insurance Policy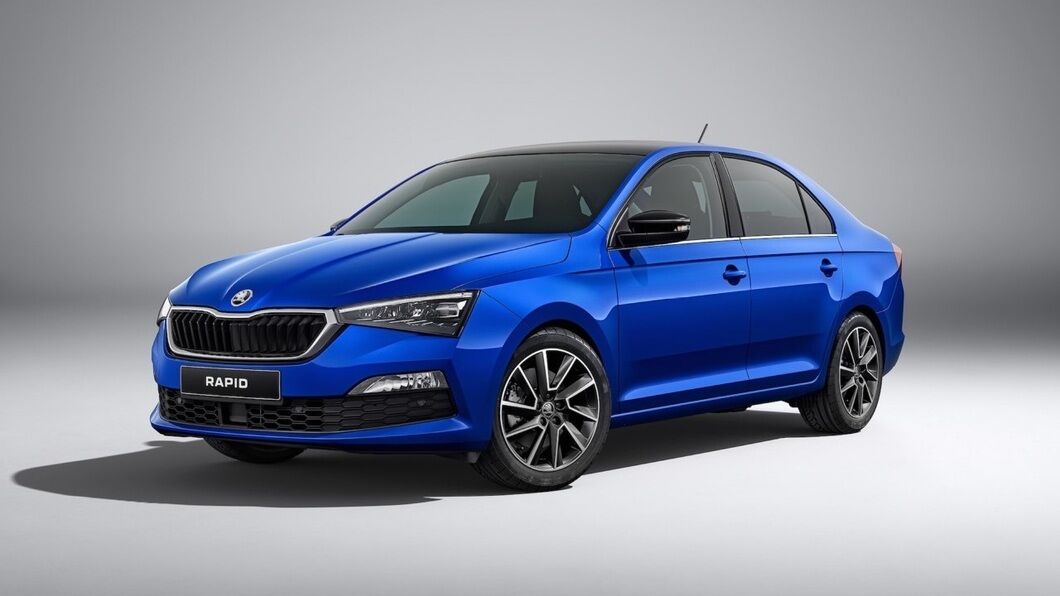 The Indian subsidiary of Skoda Auto introduced a subcompact sedan, Skoda Rapid, exclusively for the Indian market in November 2011. Widely popular as a small family car, Skoda Rapid was voted the Family Car of the Year by the Top Gear Magazine's Indian edition.
Further, in 2017, the facelifted version of this model was launched with some advanced driving features, such as rain-sensing wipers, cooled glovebox, cruise control, reach and rake adjustable steering, and footwell lighting. Owing to these features and more, the company sold around 903 units in March 2021.
If you own this car or plan to purchase it this year, you should possess a well-rounded Skoda Rapid insurance policy. A car insurance plan is effective when you meet with a vehicle accident that damages to your car. Without insurance, bearing the damage repair costs can become an expensive affair.
Considering this, several insurance companies in India offer a range of attractive deals on Rapid insurance policies. One such reputed insurer is Digit.
The following section shows the benefits of obtaining car insurance from Digit.
What's Covered in Skoda Rapid Car Insurance
Why should you buy Digit's Skoda Rapid Car Insurance?
We treat our customers like VIPs, know how…
Car Insurance plans for Skoda Rapid
Third-Party
Comprehensive
| | | |
| --- | --- | --- |
| Damages/Losses to own car due to an accident | | |
| Damages/Losses to own car in case of fire | | |
| Damages/Losses to own car in case of a natural calamity | | |
| Damages to Third-Party Vehicle | | |
| Damages to Third-Party Property | | |
| | | |
| Injuries/Death of a Third-Party Person | | |
| | | |
| | | |
| | | |
| Extra protection with customized add-ons | | |
How to file a Claim?
After you buy or renew our car insurance plan, you live tension free as we have a 3-step, completely digital claims process!
Step 1
Just call on 1800-258-5956. No forms to be filled
Step 2
Get a link for Self-Inspection on your registered mobile number. Shoot your vehicle's damages from your smartphone through a guided step by step process.
Step 3
Choose the mode of repair you wish to opt for i.e. Reimbursement or Cashless through our network of garages.
How fast are Digit Insurance Claims Settled?
This is the first question that should come to your mind when switching your insurance company. Good you're doing that!
Read Digit's Claims Report Card
Why Choose Digit for Skoda Rapid Insurance?
It is crucial to compare insurance policies from several providers online before purchasing the best insurance for your Skoda Rapid car. While comparing plans, you might want to consider Digit Insurance due to its host of benefits as follows:
1. Cashless Repairs
During the claim filing process, Digit insurer gives you the option to choose from a cashless or reimbursement repair mode. Under a cashless mode, one can get professional repair services from Digit-authorised garages without bearing the costs. In this process, the insurer covers them and directly settles the payment with the centre. Thus, while filing a claim against the Skoda Rapid insurance policy from Digit, you can avail of a cashless facility and save funds for future needs.
2. Several Network Garages
Getting professional repair services for your Skoda car is easier owing to the abundance of Digit network car garages across India. Furthermore, you can opt for a cashless facility from one of these garages while availing of repair services.
3. Variety of Insurance Plans
By obtaining car insurance for Skoda Rapid from Digit, you can choose from the following options:
Third-party Insurance Policy: This insurance policy covers third-party damages that your Skoda Rapid car can inflict on a third-party person, property or vehicle during a collision or an accident. It also takes care of litigation issues that may arise from such accidents. Additionally, by purchasing a Skoda Rapid third-party insurance plan, you can avoid penalties as it is mandatory to possess this plan as per the Motor Vehicles Act, 1988.
Comprehensive Insurance Policy: Some accidents can lead to damages to your Skoda car, resulting in hefty repair bills. In that case, you can obtain comprehensive Skoda Rapid insurance policy from Digit and get overall coverage. However, while purchasing this plan, you need to increase the Skoda Rapid insurance price, as it covers both third-party and own car damages.
4. Simple Online Process
Without undergoing a heavy documentation process, one can obtain Skoda Rapid insurance online from Digit via a smartphone. This process is simple and takes less time than traditional offline purchases.
5. Easy Claim Procedure
Digit's smartphone-enabled processes allow you to claim against your Skoda Rapid insurance plan in a hassle-free manner. It has a smartphone-enabled self-inspection feature that enables you to raise a claim and resolve damages of your Skoda car through your smartphone. Consequently, you can complete the online claim process within a few minutes due to Digit's technology-driven processes.
6. IDV Customisation
The Skoda Rapid insurance cost or policy premiums depend on your Skoda car's Insured Declared Value (IDV). Insurers evaluate this value by finding out the difference between a car's depreciation and its manufacturer's selling price. Digit gives you the option to customise your Skoda car's IDV and maximise your benefits.
7. Add-on Benefits
While opting for Skoda Rapid insurance renewal from Digit for a comprehensive plan, you can benefit from several add-on policies against additional charges. These add-on benefits give you an extra layer of protection against damages caused to your Skoda car. Some of the add-on covers include consumable cover, zero depreciation cover, return to invoice cover, roadside assistance and more.
8. Responsive Customer Support
In case of doubts regarding your Skoda Rapid insurance renewal price, you can contact Digit's 24x7 customer service and resolve your queries in no time. They are efficient and at your service whenever you need them.
Further, you can lower your Skoda Rapid insurance premium price by choosing a higher deductible plan from Digit. However, it would help if you made sure no to loose essential features in the process. You can also lower your insurance premium by making fewer claims within your policy term.
Why is it important to buy Car Insurance for Skoda Rapid?
Skoda Rapid is such a nice car and who will not like to protect it. So this is how a car insurance policy can shield your car:
Legally Compliant: The Skoda rapid car insurance will save you from heavy fines, as it is illegal to drive on Indian roads without valid insurance. As per the new amendment in the motor vehicle act effective from September 2019, the penalty amount is ₹.2000 and/or imprisonment of 3 months.
Cover Third-party Liability: Third-party car insurance is mandatory as per the traffic rules. This policy will cover you when you are held responsible for any bodily injury or property damage of any third party.
Protect from Financial Liability: Maintaining a car can be expensive. A car insurance policy gives you peace of mind as your car gets protected from unwanted expenses caused in any man-made or natural catastrophe.
Protect your car with comprehensive cover and add-ons: Comprehensive Insurance Policy is a wise option to have. Because it covers the damages to your car and the third party liability as well. Plenty of add-ons like engine and gearbox protection, return to invoice, etc can be customized into the package to widen the coverage.
Learn more about Skoda Rapid
Skoda Rapid!!! The best-seller from the manufacturer. In fact, it is the cash cow for Skoda in the Indian market. The rapid accounts for nearly 70% of Skoda's Indian Sales. This car won awards like Mid Size Car Of The Year 2012- Car India, No 1 in Initial QualityStudy 2015 - JD Power, No 1 in Vehicle Dependability 2016 - JD Power. After these successes, face lifting this model was a nice move from the manufacturer. 
The ex-showroom price range of Skoda Rapid is ₹.7.99 Laks - ₹.14 Lakhs. There are three models available. named as Active, Ambition and Style. Rapid comes with petrol and diesel engine variants, both with manual and automatic gearbox options. This is available in 6 attractive colours such as Brilliant Silver, Cappuccino Beige, Lapiz Blue, Carbon Steel, Flash Red, Candy White. Being a mid-size sedan. It works well for both city and long drives.
Why should you buy Skoda Rapid?
Price List of Skoda Rapid Variants
| | |
| --- | --- |
| Skoda Rapid Variants | Price (in New Delhi, may vary across cities) |
| New 1.0 TSI Rider | ₹8.68 Lakhs |
| New 1.0 TSI Rider Plus AT | ₹10.78 Lakhs |
| New 1.0 TSI Ambition | ₹11.11 Lakhs |
| New 1.0 TSI Onyx | ₹11.74 Lakhs |
| New 1.0 TSI Ambition AT | ₹13.23 Lakhs |
| New 1.0 TSI Onyx AT | ₹13.46 Lakhs |
| New 1.0 TSI Style | ₹13.46 Lakhs |
| 1.0 TSI Matte Edition | ₹13.80 Lakhs |
| New 1.0 TSI Monte Carlo | ₹13.80 Lakhs |
| New 1.0 TSI Style AT | ₹14.94 Lakhs |
| New 1.0 TSI Monte Carlo AT | ₹15.29 Lakhs |
| 1.0 TSI Matte Edition AT | ₹15.52 Lakhs |
Frequently Asked Questions