Skoda Superb Insurance
Buy or Renew Skoda Superb Insurance Policy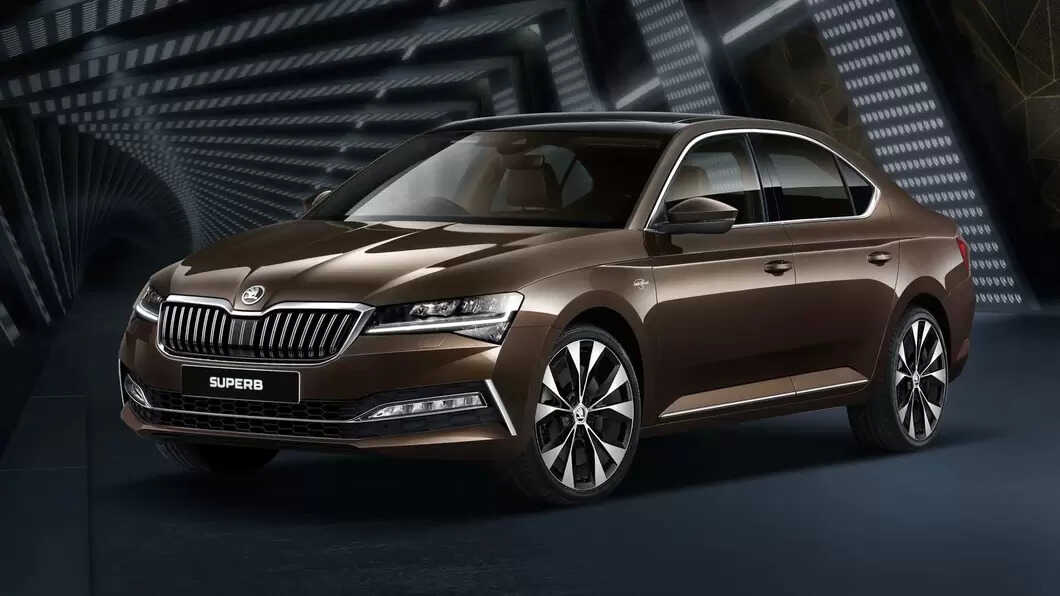 Skoda Superb is a large family car launched by the Czech manufacturer Skoda Auto in 2001. This car's updated version was introduced in the Indian market in 2004 by the Indian subsidiary, Skoda Auto India. After the company unveiled this car's facelifted version at the 2020 Auto Expo, it sold 250 units in March 2021.
Further, the upgraded version received some advanced features like LED headlamps with LED daytime running lights and illuminated eyelashes, cornering or leaving the home function, LED turn signals etc.
Despite equipping such top-notch features, like any other vehicle, Skoda Superb is susceptible to risks and damages. Thus, if you drive this car or plan to purchase it, you must obtain Skoda Superb insurance from a reputed insurance company.
In this regard, Digit insurance company stands out due to its innumerable service benefits and affordable Skoda Superb insurance cost.
Keep reading to know more about Digit's offerings.
What's Covered in Skoda Superb Car Insurance
Why should you buy Digit's Skoda Superb Car Insurance?
We treat our customers like VIPs, know how…
Car Insurance plans for Skoda Superb
Third-Party
Comprehensive
| | | |
| --- | --- | --- |
| Damages/Losses to own car due to an accident | | |
| Damages/Losses to own car in case of fire | | |
| Damages/Losses to own car in case of a natural calamity | | |
| Damages to Third-Party Vehicle | | |
| Damages to Third-Party Property | | |
| | | |
| Injuries/Death of a Third-Party Person | | |
| | | |
| | | |
| | | |
| Extra protection with customized add-ons | | |
How to file a Claim?
After you buy or renew our car insurance plan, you live tension free as we have a 3-step, completely digital claims process!
Step 1
Just call on 1800-258-5956. No forms to be filled
Step 2
Get a link for Self-Inspection on your registered mobile number. Shoot your vehicle's damages from your smartphone through a guided step by step process.
Step 3
Choose the mode of repair you wish to opt for i.e. Reimbursement or Cashless through our network of garages.
How fast are Digit Insurance Claims Settled?
This is the first question that should come to your mind when switching your insurance company. Good you're doing that!
Read Digit's Claims Report Card
Why Choose Digit for Skoda Superb Insurance?
Before choosing the best insurance plan for your Skoda car, you must consider comparing several policies from different insurers online. While doing so, you can consider Digit Insurance owing to its following advantages:
1. Insurance Options
Digit offers the following insurance types to individuals obtaining car insurance for Skoda Superb:
Third-party Insurance Plan
Under third-party Skoda Superb insurance policy, one can get coverage benefits against third-party damages caused to a person, property or vehicle by a Skoda car. During third-party accidents, there might be liabilities that can increase your financial burden. In such a case, if you obtain third-party insurance from Digit, your insurer will bear the costs of damages caused to a third party. Additionally, this insurance covers litigation issues.
Comprehensive Insurance Plan
A third-party insurance policy does not cover damages caused to your Skoda car during a collision or an accident. There, to cover such damages and secure your finances, you must purchase a comprehensive Superb insurance policy from Digit. Besides covering own car damages, it also extends coverage against third-party damages.
2. 3-step Claim Filing Process
You can enjoy a hassle-free claim filing process by opting for Skoda Superb insurance renewal from Digit. All you need to do is follow the steps as mentioned below:
This process does not require you to fill out any form. Thus, you can simply dial 1800-258-5956 to receive a self-inspection link on your registered mobile number. 
Follow a step-by-step procedure and shoot your car damages through your smartphone. 
Select an appropriate repair mode- reimbursement or cashless and get repair services from an authorised garage.
3. Several Add-on Policies
As comprehensive insurance for Skoda Superb does not provide overall coverage, you might require an additional layer of protection for your Skoda car. To that end, Digit gives you the option to include add-on covers over and above your insurance plan against additional expenses. Some of the add-on policies are:
Engine and Gearbox Protection Cover
Zero Depreciation Cover
Roadside Assistance
Return to Invoice Cover
Consumable Cover
Hence, by increasing Skoda Superb insurance price by a nominal amount, you can benefit from the above covers.
4. Range of Network Garages
There are several Digit network garages across India from where you can avail of professional services and a cashless facility. Under a cashless repair mode, you need not pay any cash for your car damage repair costs as your insurer will bear the costs on your behalf.
5. Minimal Documentation
As you can obtain Skoda Superb insurance online from Digit, you can eliminate the long documentation procedure. An online procedure allows you to purchase an insurance plan from your smartphone and upload the necessary documents.
6. IDV Customisation
Your Skoda Superb insurance renewal price depends on the car's IDV or Insured Declared Value. Based on this value, insurers offer a return amount in case of car theft or damages beyond repair. Generally, they find out this value by subtracting the car's depreciation from its manufacturer's selling price. However, Digit allows you to customise this value and obtain maximum returns.
7. Doorstep Pick-up and Drop Facilities
If you opt for a comprehensive Skoda Superb insurance plan from Digit, you can opt for a doorstep pick-up and drop facility. Under this facility, technicians from a Digit network garage will pick up your Skoda car's damaged parts, repair and drop them at your doorstep, offering 6 months repair warranty.
8. 24x7 Customer Service
If you have queries regarding your insurance plan or have any other question, you can get in touch with Digit's customer support any time you prefer. They are available 24x7 and are responsive. Additionally, they provide easy solutions for your doubts instantly.
Apart from this, you can get Skoda Superb insurance policy at a lower premium if you choose a higher deductible plan from this insurer. However, you should go for such plans only if you can manage to make free claims on your insurance policy.
Now that you know everything about this insurer and its benefits, you can shortlist it while comparing plans online.
Why is it important to buy insurance for your Skoda Superb?
Skoda Superb is an expensive and luxurious car. So, it is your implicit responsibility to take good care of this car. So, opting for car insurance is the only way as the insurer will take care of the bills to repair your car any time. Thanks to the technological advantages, now you can buy car insurance online, right at the comfort of your luxurious car seat. Let's discuss in brief how Skoda Superb Car Insurance can help you in different situations.
Protect from Financial Liability: Financial Liability emerges when your vehicle gets harmed after a mishap. The harm may emerge from man-made mistakes, common disasters, and theft. The Insurance policy will cover your risk to get the vehicle fixed.
Cover Third-Party Liability: Third-Party Liability arrangement can either be selected as a Standalone or Comprehensive Cover. It will cover you against the lawful liabilities you may confront when in a mishap your vehicle harms others. This harm incorporates Third-Party substantial damage or property harm.
Legally Compliant: Driving without protection approach draw in legitimate activities on the grounds that the Third-Party Liability strategy has been made required. Else, you should pay a fine of Rs.2000/ - or/and detainment of 3 months. For the second time offence, the fine will be Rs.4,000/ - and additionally detainment of 3 months.
Extra Protection with Add-Ons: To augment the essential inclusion of your vehicle, you can get some extra covers like zero-deterioration, come back to-receipt, gearbox insurance, and others.
Learn more about Skoda Superb
As the name suggests Skoda Superb is an impressively splendid car. It has won many awards in 2017 when it was launched. Such as:
Car of the year 2017- NDTV

Executive sedan of the year- Flywheel Auto Awards 2017 - Car India

Car of the year 2017- TopGear

Limousine of the Year 2017 - TopGear India

This an absolute luxury car. This car comes at a price range of 23.99-33.49 Lakhs. It is available in both diesel and petrol engines that are configured with manual and automatic transmission. The claimed average mileage of this car is 18.19 kmpl. Skoda Superb is available in 5 versions and two basic trim levels, "Style" is the lower one and "Laurin & Klement" is the more luxurious one. Let's see in details how much of a luxury car it is.
Why should you buy Skoda Superb?
Sharp & Confident Detailing: You will fall in love with this car at the first glance of its headlight. The cut at the bottom of the headlight is pretty unique. The signature butterfly grille flaunts the Skoda standards. The bold creases and shadow lines scream executive. The fantastic proportion of the long-wheelbase with a coupe-like roof makes it a head-turner. And the eyelash detailing in the LED Matrix headlights, the perfect blend of chrome lines are wow, barely anyone can ignore these!
Interior: Superb is always appreciated amongst the car enthusiasts for its seat comfort both in the front and the rear row. The seats are big enough for greater comfort during those long journeys. Plenty of legroom, ample headroom, a big sunroof, roomy cabin, what else do you need? A dashboard designed that suits the executive taste makes the interior perfect.
Powerful Engine: There is a verity of engines and gearboxes that you can choose from. The 1.8 petrol engine puts out a strong 177bhp and transmitted to either manual 6-speed gearbox or a 7-speed twin-clutch DSG. The 2.0-litre diesel engine comes with only a 6-speed twin-clutch automatic transmission. It has 1968 cc and develops 175bhp.  
Driving Quality: This car is refined at lower speed and when you are cruising you put it in a higher gear, it just goes quiet, silent and smooth. On highways, it is a smooth beast that throws you forward, the virtue of the best in class 4 cylinder engine.
Price List of Skoda Superb Variants
| | |
| --- | --- |
| Skoda Superb Variants | Price (in New Delhi, may vary across cities) |
| Sportline | ₹38.01 Lakhs |
| Laurin & Klement | ₹41.45 Lakhs |
Frequently Asked Questions