Skoda Octavia Insurance
Buy or Renew Skoda Octavia Car Insurance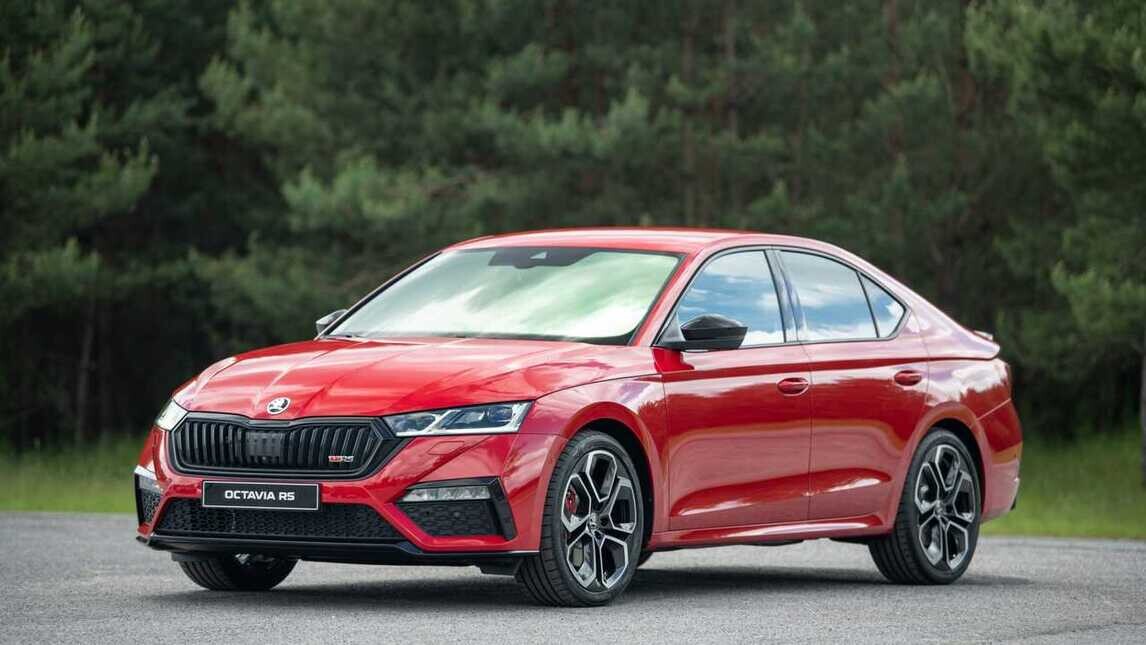 The Skoda Octavia, one of the most practical and family-friendly vehicles, has created significant popularity among Indian car lovers. It comes with a 2.0-litre TSI petrol engine, producing 187bhp and 320Nm of torque. Its boot space and clever practical features have helped this model boost its sales in the market. A seven-speed DSG automatic unit handles the transmissions of the vehicle.
Skoda has been improving its model ranges with new and advanced specifications. The high-quality exteriors of the car include a butterfly grille with vertical slats, 17-inch alloy wheels, and the Skoda lettering on the boot lid. The quad LED headlights in the front add to its aesthetics, making it more stylish than ever. Moreover, it comes with Hydraulic Brake Assist (HBA) with ABS and EBD as standard driving safety measures.
When it comes to the interiors of the model, the Skoda Octavia car is again unique and impressive with its features. It comes with a 10-inch touchscreen infotainment system and a 10.25-inch fully digital instrument console. Moreover, features such as a two-spoke steering wheel, a shift-by-wire gearstick, and dual-zone climate control also validates its robust popularity.
However, purchasing a car comes with a set of risks. Even a vehicle like Skoda Octavia, equipped with driving safety measures can face accidental damages anytime, anywhere. Thus, if you own this car or plan on holding to it in future, purchasing a Skoda Octavia car insurance policy will add to your advantage. It will help you comply with the Motor Vehicles Act of 1988 and cover all the expenses incurred in repairing the damages.
What's Covered in Skoda Octavia Car Insurance
Why should you buy Digit's Skoda Octavia Car Insurance?
We treat our customers like VIPs, know how…
Car Insurance plans for Skoda Octavia
Third-Party
Comprehensive
| | | |
| --- | --- | --- |
| Damages/Losses to own car due to an accident | | |
| Damages/Losses to own car in case of fire | | |
| Damages/Losses to own car in case of a natural calamity | | |
| Damages to Third-Party Vehicle | | |
| Damages to Third-Party Property | | |
| | | |
| Injuries/Death of a Third-Party Person | | |
| | | |
| | | |
| | | |
| Extra protection with customized add-ons | | |
How to file a Claim?
After you buy or renew our car insurance plan, you live tension free as we have a 3-step, completely digital claims process!
Step 1
Just call on 1800-258-5956. No forms to be filled
Step 2
Get a link for Self-Inspection on your registered mobile number. Shoot your vehicle's damages from your smartphone through a guided step by step process.
Step 3
Choose the mode of repair you wish to opt for i.e. Reimbursement or Cashless through our network of garages.
How fast are Digit Insurance Claims Settled?
This is the first question that should come to your mind when switching your insurance company. Good you're doing that!
Read Digit's Claims Report Card
How Can Digit Be an Ideal Insurer for Your Skoda Octavia Car Insurance?
Purchasing a car insurance policy can be long since you usually analyse various factors, such as Skoda Octavia car insurance cost. In this regard, you should know that the Motor Vehicles Act of 1988 makes it compulsory for all Indian car owners to purchase insurance that covers the repair expenses for third parties after an accident. A car driver might be charged with legal fines if the car does not have third party insurance. These fines range from ₹2000-₹4000. In the worst case scenario, the penalty can also escalate to imprisonment or licence cancellation.
Digit can be an ideal insurer choice if you are looking for an affordable and reliable Skoda Octavia car insurance policy. From IDV customisation to multiple add-ons, policies from Digit have been recognised for their coverage and impromptu services.
You can check out the following features and benefits of Digit car insurance policies:
1. Range of Policy Options
Digit offers two insurance policies to people looking to purchase Skoda Octavia car insurance. These differ in terms of features and premium amounts:
Cover Against Third-Party Damages
Digit offers a standard range for Skoda Octavia car insurance policyholders. As the name suggests, this policy mainly pays for repairing any third party cars or properties that faced damages because of your vehicle. Furthermore, any person hit by the vehicle will also receive treatment charges from this policy.
Comprehensive Damage Coverage
This policy covers both third party and personal damages following a car accident. You can choose to get a cashless repair for your Skoda Octavia car from one of the network garages of Digit. Moreover, you will get all the features of the third party policy. Digit also allows you to customise this plan with additional benefits.
2. Multiple Add-ons
A comprehensive policy for Skoda Octavia car insurance enables you to utilise some additional benefits against nominal charges. These are as follows:
Return to Invoice Cover
Zero Depreciation Cover
Consumable Cover
Roadside Assistance
Engine and Gearbox Protection Cover and more
3. No Claim Bonus
Digit's efforts to motivate the policyholders of insurance for Skoda Octavia car come with a no claim bonus. You can be eligible for it if you avoid claiming your insurance for at least a year. Digit will offer you a discount rate of 20%-50% on your premium as a reward.
4. IDV Benefits
The IDV determines the current value of your vehicle in the market. With a Digit Skoda Octavia car insurance policy, you will be able to customise your IDV. You can set a high IDV for higher compensation in cases of theft or irreparable damage to your car, or you can set it low and pay a reduced premium for your insurance policy.
5. Online Procedure
Insurance providers might complicate the process of purchasing an insurance policy for some people. For addressing this issue, Digit has developed a user-friendly method, which is entirely online. Once you visit the official website of Digit, and you will find detailed instructions with step-by-step guides regarding these. You can follow the same method for Skoda Octavia car insurance renewal.
6. Claim Settlement Ratio
Digit has recorded a high claim settlement ratio for Skoda Octavia car insurance, with 94.7% of the claims settled within 15 days. It goes to show the simple method of claim filing followed here. You are required to call 1800-258-5956 from your registered number, following which you will receive a self-inspection link. Next, you just need to submit the images of your vehicle showing the damages incurred from the accident. Digit will then give you the option of reimbursing the amount or getting a cashless repair.
7. Customer Services
People holding car insurance for Skoda Octavia policies usually look for swift customer services from the insurer. Digit realises this concern and has taken time to develop its customer care department. The customer care officials aim to provide 24x7 support to the policyholders against their queries and grievances.
8. Network Garages
People holding Skoda Octavia car insurance policy with Digit can benefit from its multiple network garages, located all across India. Thus, you can opt for cashless repair in any of these garages from any part of the country.
Having a Skoda Octavia car insurance policy is a compulsory requirement for people owning a Skoda Octavia car. It will help you sustain yourself as a law-abiding citizen of India. Moreover, you will no longer have to worry about compensating the third party people or properties affected by your vehicle.
Why is it important to buy Car Insurance for Skoda Octavia?
You can not deny the fact that Skoda Octavia is a pretty expensive car. So it is your prime responsibility to protect this property of yours. Will you be called wise if you spend a lot of money on the car in which already you have invested lakhs? Let's see how a Skoda Octavia car insurance can make your life easy:
Protect from Financial Liability: No matter how careful are you on the roads, the car always stands vulnerable against accidents and damages. The repair costs of such an expensive car can make you regret buying such a car. So, get your car insured and let the insurer pay for any kind of vehicle damage arising out of an accident or any natural calamity or theft.

Protect yourself from heavy fines: It is illegal to drive without car insurance on Indian roads. For this offence, you will be charged ₹.2000 for the first time and ₹. 4000 for the subsequent offence. Also, you might attract imprisonment of 3months. So follow the rules and get car insurance.

Cover Third-party liability: Unfortunately if you caused an accident in which a third party got injured or lost some property, then you will have to pay for his/her loss. Sometimes these losses can be huge, so car insurance will safeguard you in such situations.

Extra Protection with Add-ons: You can choose multiple add-ons anytime in order to widen the coverage under a comprehensive plan. Add-ons like engine protection, return to invoice, break down assistance, etc can save a lot of your hard-earned money.
Learn more about Skoda Octavia
Skoda Octavia, possibly the best executive sedan in India today. This car has been on Indian roads for nearly a decade. It is a premium hit sedan known for its build quality and powerful sporty engines. 
This car is offered in multiple engine options. Under the umbrella of petrol engines, it has two options, one is a 1.6 litre 6-speed manual, and the other is 1.8 litre 7-speed DSG. For a diesel engine, it flaunts a 2-litre engine that is available both in manual and automatic. These engines are punchy in cities and feel like cheese on the highways. Young or old, this car appeals to everyone. The price range of Skoda Octavia with petrol engine option is 16-23.6 lakhs, and the price range for a diesel engine is 18-26 Lakhs.
Why should you buy Skoda Octavia?
Style: Yes, sophistication is what you will sense from this car in the first encounter. The quad LED headlights in the front add an edge to its character. 
Ride & Handling Balance: Driving an Octavia can make you addicted to this car, as no other car provides a similar power-packed performance engine in the segment. It is compliant on the bad roads and can thrill you at high speeds for its handling. If you are an enthusiastic driver and like to spend most of the time behind the wheels then this is the one for you. 
Space: Premium standards: You will definitely be convinced with the price once you feel it from the inside. Easy to use steering controls, virtual cockpit, the quality of the upholstery, all combine to give it a premium feel. 
Safety: It has 8 bags, first-in-segment feature. It has Hydraulic Brake Assist (HBA) to control the car at high speeds and prevent rollovers, ABS and EBD come as standard.
Sporty Version: Skoda Octavia vRS!!! IT'S NOT YOUR EVERYDAY FAMILY CAR. Yes, it roars like a puma. The interior is definitely sporty wi RS badging everywhere. You can feel the Alcantara leather with an all-black interior. Over the standard Octavia, this one gets a different engine, different transmission, different brakes, and all are sports-inspired. The turbocharged 2 litres 4 cylinder petrol engine churns out 226 horsepower. So if you like to spend most of the time behind the steering wheel in a car then your research end here! 
| | |
| --- | --- |
| Car variants | Price |
| Octavia Style 1984 cc, Automatic, Petrol, 15.81 kmpl | ₹26.29 Lakhs |
| Octavia Laurin and Klement 1984 cc, Automatic, Petrol, 15.81 kmpl | ₹29.29 Lakhs |
Frequently Asked Questions