Tata Nano Insurance
Buy or Renew Tata Nano Insurance Policy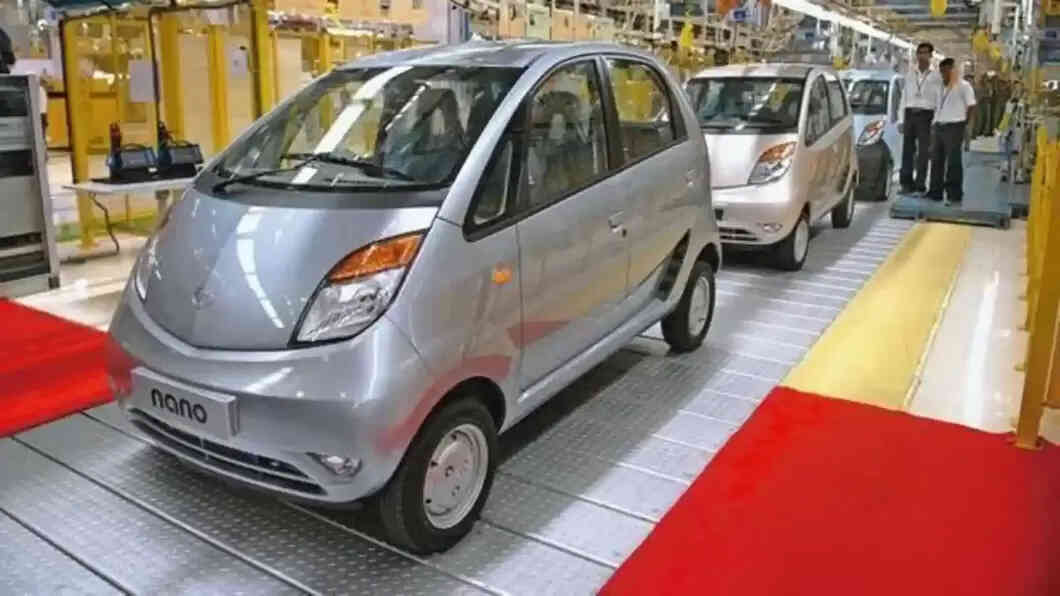 Tata Nano is a compact city car launched by Tata Motors on January 2008. This inexpensive rear-engined hatchback was introduced in the Indian commuter segment, especially to attract owners of motorcycles and scooters.
The company sold over 7,500 units of Tata Nano in 2016-17. Eventually, the production of this car halted in 2018.
Nevertheless, a number of individuals across India still drive this car. If you are one among them, you should factor in the incidents of accidents that can cause substantial damages to your car. Considering this, you must purchase a valid Tata Nano insurance plan and cover your car's damage repair costs.
In this regard, you can consider insurers, such as Digit due to its endless list of service benefits and a competitive Tata Nano insurance price.
Check out the reasons for considering this insurance provider from the below-mentioned section.
What's Covered in Tata Nano Car Insurance
Why should you buy Digit's Tata Nano Car Insurance?
We treat our customers like VIPs, know how…
Car Insurance plans for Tata Nano
Third-Party
Comprehensive
| | | |
| --- | --- | --- |
| Damages/Losses to own car due to an accident | | |
| Damages/Losses to own car in case of fire | | |
| Damages/Losses to own car in case of a natural calamity | | |
| Damages to Third-Party Vehicle | | |
| Damages to Third-Party Property | | |
| | | |
| Injuries/Death of a Third-Party Person | | |
| | | |
| | | |
| | | |
| Extra protection with customized add-ons | | |
How to file a Claim?
After you buy or renew our car insurance plan, you live tension free as we have a 3-step, completely digital claims process!
Step 1
Just call on 1800-258-5956. No forms to be filled
Step 2
Get a link for Self-Inspection on your registered mobile number. Shoot your vehicle's damages from your smartphone through a guided step by step process.
Step 3
Choose the mode of repair you wish to opt for i.e. Reimbursement or Cashless through our network of garages.
How fast are Digit Insurance Claims Settled?
This is the first question that should come to your mind when switching your insurance company. Good you're doing that!
Read Digit's Claims Report Card
Why Choose Digit for Tata Nano Insurance?
Besides the Tata Nano insurance cost, you must factor in several other aspects, while choosing the best insurance plan for your car. Comparing various insurance policies with regard to these aspects will help you select a plan with maximum benefits. Here are some advantages of obtaining a Nano insurance policy from Digit you might want to consider to make an informed decision:
1. Cashless Claims
Digit allows its users to opt for a cashless claim against their Tata Nano insurance plan. Under this facility, one can avail of repair services for Tata Nano cars without paying out of pocket. Insurers like Digit directly settle payments with the repair centre, thereby enabling customers to save funds for the future.
2. Vast Network of Cashless Garages
You can easily repair your Tata car from authorised network garages as there are several workshops present across India. Apart from getting professional repair services, one can also go for cashless repairs from these centres.
3. High Claim Settlement Ratio
Owing to Digit's technology-driven services, you can expect instant claims against your car insurance plan for Tata Nano. This insurer has a history of settling 96% claims for private cars.
4. Smartphone-enabled Processes
You can enjoy a hassle-free claim procedure and renewal of insurance for Tata Nano from Digit, thanks to its smartphone-enabled self-inspection feature. This feature allows you to select the applicable Tata car's damages, for which you will file a claim from your mobile phone. Thus, you can complete the entire claim filing process in no time.
5. Variety of Insurance Plans
By choosing Digit for Tata Nano insurance renewal, you have the flexibility in selecting any of the following plans:
Third-party Insurance: You can get coverage against third-party damages under this Tata Nano insurance plan. Such damages can incur if your Tata car collides with a third-party person, property or vehicle. In addition, by obtaining this insurance plan from Digit, you can avoid hefty traffic fines as it is mandatory to possess this basic policy as per the Motor Vehicles Act, 1988.
Comprehensive Insurance: There might be instances when your Tata car has sustained substantial damages in the event of a collision or an accident. To cover self car damages, purchasing a third-party insurance plan might not be enough. In this regard, you need to obtain comprehensive Tata Nano insurance online from Digit. Such a plan covers both third-party and own car damages along with additional benefits.
6. Add-on Benefits
If you opt for a comprehensive Tata Nano insurance policy from Digit, you have the option to avail of add-on benefits against additional expenses. These benefits come in the form of add-on covers that help you extend your coverage on the base plan. Some of the add-on policies you can benefit from are:
Consumable cover
Zero depreciation cover
Engine and gearbox protection cover
Return to invoice cover
Roadside assistance
7. Claims and Discounts
Digit offers a discount on your Tata Nano insurance renewal price if you make no claims for a year within your policy term. These discounts, also known as a No Claim Bonus, can range up to 50%.
8. IDV Customisation
Your Tata car's insurance premium depends on its Insured Declared Value (IDV). Insurance providers offer returns based on this value in case your car is stolen or damaged beyond repair. They find out this value by subtracting the car's depreciation from its manufacturer's selling price. However, Digit makes it possible for you to choose an IDV per your choice. Thus, you can maximise your returns owing to this customisation option.
Besides, one can lower Tata Nano insurance premium by settling for a higher deductible plan from Digit. It is practical to opt for such a plan only if you tend to raise fewer claims and include all the essential benefits to your car insurance plan.
Why is it important to buy Car insurance for Tata Nano?
With all that's packed in this Compact mini hatch, would you not like to protect it? And we know your answer is Yes! Car insurance is a must as it covers your expenses in an unlikely event of your car's damage, accident, theft or injuries caused to passengers, drivers.
Protect from Financial Liabilities: ​If you get your Nano insured, it will protect you from financial liabilities in case of both third-party and own damages. While third-party liabilities are covered in a Third-Party Car Insurance Policy, own damages would be covered too if you opt for a comprehensive car insurance policy.
Legally Compliant: Driving your Tata Nano without proper insurance can have serious consequences. It is illegal to drive without car insurance and such an offence can incur heavy penalties (up to 2000 INR) and even result in suspension/confiscation of your Driving license and/or prison time.
Cover Third-Party Liability: This type of Insurance provides protection coverage to you if you were accountable for damage/injury to someone else's car or property, in an unfortunate incident of an accident or the likes of it. Such expenses are mostly sudden and unexpected, and you may not be financially sound to handle the situation at that given time, this insurance comes in handy and saves you and your pocket.
Comprehensive Cover with extended coverage: ​This can be modified as per your requirements; it is also deemed sensible to opt for such insurance as an additional insurance cover for your Nano. Comprehensive cover, as the name suggests broadly covers all the damages caused by factors beyond your control such as fires, theft, natural/ manmade disasters, vandalism, acts of nature/weather etc. Take this cover with multiple add-ons such as breakdown assistance, engine and gearbox protection, tyre protection cover, zero depreciation, etc. and give your car 100% coverage. This kind of coverage is your friend in need, indeed.
Learn more about Tata Nano
The compact hatch, mini yet powerful and steady, can you guess the name of this car? 
It is the one and only micro hatch produced by Tata Motors, Nano. Ever since its launch in 2009, this micro-city car has gained a lot of popularity among all generations. The new Nano is based on the automaker's Design next platform.
Why should you buy Tata Nano?
The Tata Nano's prices fall in the range of Rs 2.26 lakh - Rs 3.20 lakh (ex-showroom Delhi). The most affordable car in India is available in five variants - XE, XM, XMA, XT and XTA. Powering all the variants is a 624cc petrol engine generating a modest power of 38PS and 51Nm of peak torque. This engine comes paired with either a 5-speed manual or a 5-speed automated manual (AMT) gearbox. The Nano has a powerful AC, front wiper & washer, front fog lamps, dual gloveboxes, central locking, booster assisted brakes, power steering (except the XE), remote keyless entry, foldable rear seats, front power windows and music system with Bluetooth, CD, MP3, Aux-in connectivity.
Though it looks small from the outside, it is quite spacious from the inside. In fact, it can trump a lot of premium hatchbacks in the Indian market for rear-seat space and comfort. It comes with a generous knee and headroom, which is very surprising for such a small car to deliver. The big glass area on this car makes the cabin feel spacious.
Nano is a car suitable for all generations, right from students to any professional person can use Nano which puts a lot of people in the category that is why it is rightly called 'A people's car'. 
Price List of Tata Nano Variants
| | |
| --- | --- |
| Tata Nano Variants | Price (Approx.) |
| Diesel | ₹2.00 Lakhs |
| XE | ₹2.36 Lakhs |
| Hybrid | ₹2.50 Lakhs |
| XM | ₹2.72 Lakhs |
| XT | ₹2.92 Lakhs |
| CNG XM | ₹2.96 Lakhs |
| XMA | ₹3.14 Lakhs |
| XTA | ₹3.34 Lakhs |
Frequently Asked Questions