Aadhaar Card for Non Resident Indians (NRIs)
To help NRIs get their KYC processes completed faster upon arrival in India, the government has eased the NRI Aadhaar card application procedure. 
Keep reading our guide to know why having this document is so important for non-resident Indians and how to enroll under the same. 
Let's get started!
How is the Aadhaar card significant for non-resident Indians?
An Aadhaar card holds immense significance as a document if you plan to return to India and even more so if you plan to stay here for some time. Here are some of the instances where an NRI Aadhaar card will come to your aid.
Having an Aadhaar or e-Aadhaar can speed up the KYC procedures for all transactions within the country.
It is one of the most widely accepted documents for identity proof for various operations like property-related paperwork or opening a bank account. An Aadhaar card for non-resident Indians is also important in getting a job in the country, especially in the government sector.
If you wish to file your Income Tax Returns, it is necessary to enroll under Aadhaar according to Section 139AA of the Income Tax Act, 1961. This will make the entire process of filing ITR a lot more convenient.
Now, you might be gearing up to apply for an Aadhaar card for NRI after knowing about the importance it holds. But, before you proceed, you must see if you are eligible for the process.
What are the eligibility criterias for NRIs to apply for Aadhaar?
Here is a list of parameters you must meet to avail an NRI Aadhaar card successfully.
Age: Applicant must be aged over 3 years.
Valid passport: Applicants must have a valid Indian passport. Earlier, the law mandated at least 182 consecutive days' stay in the country leading up to the date of application for Aadhaar card enrollment for foreigners and NRIs alike. However, it does not apply to NRIs anymore after the Union Budget 2019.
Once you have made sure you meet these requirements, it is time to know how to apply for an Aadhaar card for NRI. If you aren't acquainted with the process, keep reading.
Process of Aadhaar card application for NRIs
The process of the Aadhaar card application for NRI involves 3 primary steps. These are as follows.
1. Book your Aadhaar appointment
The first thing you need to do is book an appointment for the enrollment. You can stay ahead by applying for an Aadhaar card online for NRI before arriving in India.
All you need to do is:
Step 1: Go to the official portal of the UIDAI.
Step 2: Click on "My Aadhaar" and select "Book an Appointment" from the drop-down menu.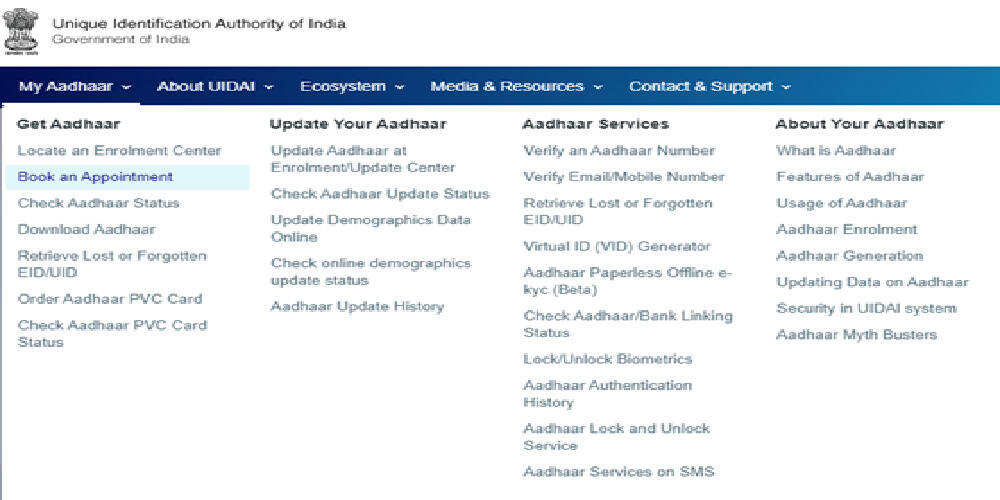 Step 3: Choose your location in India and click on "Proceed to Book an Appointment."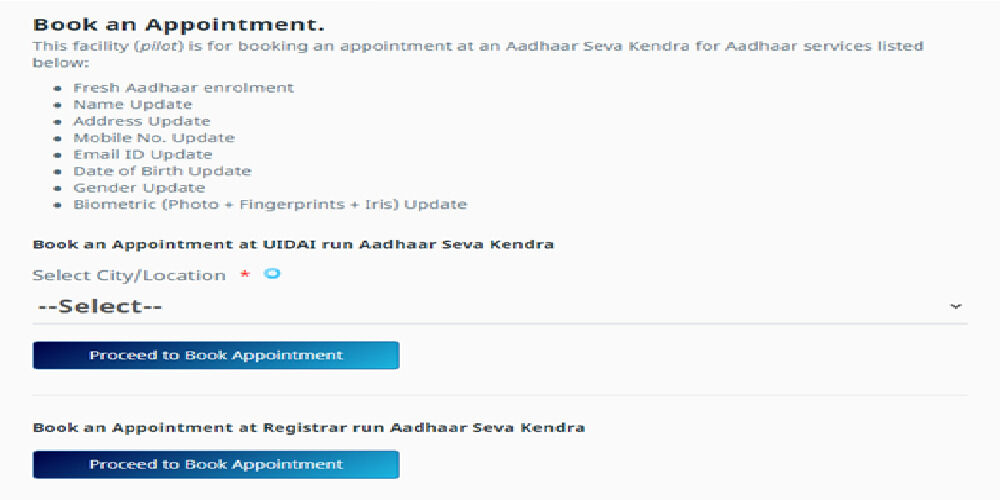 Step 4: Enter your Indian mobile number and the security code and click on "Generate OTP."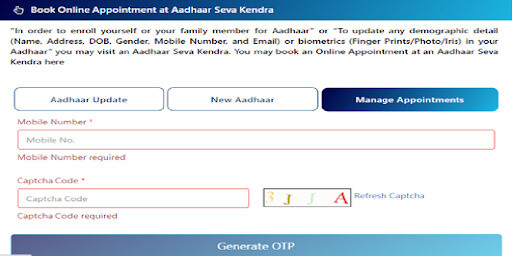 You can also enter your email ID if the security code is unavailable, and hit "Send OTP".
Step 5: On the next page, select an appointment slot to complete the procedure.
2. Provide all mandatory documents
You need to submit specific documents approved by the UIDAI to enroll under Aadhaar. Therefore, you should carry copies and the originals of all these documents when you visit the enrollment centre for authentication.
If you aren't sure which documents to carry, worry not! We will be discussing those details right after the application procedure.
3. Visit the enrollment centre for biometric identification
Once you reach the enrollment centre, UIDAI officials will verify your documents, and this process will be followed by a collection of biometric details for your NRI Aadhaar card. It involves the following steps –
Step 1: All 10 of your fingers will be scanned, and the fingerprint data will be stored in the government's database.
Step 2: Next, the official will take a scan of the irises of both your eyes.
Step 3: Finally, they will click a passport-sized photo of yours through a webcam. The picture will be printed on your Aadhaar card, unlike that in other ID documents where you provide a picture.
All of these data together help generate a unique ID, which is why no two Aadhaar can be identical. This makes this document such a reliable and widely accepted ID proof.
After completing this process, authorities will link your demographic and biometric information to generate your Aadhaar and deliver the hard copy to your address.
Mandatory documents required for NRI Aadhaar card
As you might have understood by now, NRI applicants need to produce specific documents during the enrollment procedure. The UIDAI-approved documents required for Aadhaar card for NRI are as follows:
Any valid photo ID proof: Passport, voter ID, PAN card, driving license, or ration card
Documents proving your non-resident Indian status: All necessary proof establishing your connection with another country
Address proof: Passport or any utility bill or photo ID with details of your address
Birth certificate: This can be any valid certificate proving your date of birth, like the actual birth certificate or 10th standard marksheet
These are some of the mandatory documents for an Aadhaar card for NRI, which you should keep handy.
Although we have covered most of the details that can help you apply for an Aadhaar card online for NRI, we understand if you have additional queries. This is why we have listed a few crucial pieces of information on the topic.
Things to know about Aadhaar card for non-resident Indians
Here are some facts to check if you are thinking of applying for an NRI Aadhaar card.
Although having an Aadhaar card can simplify and speed up many procedures in the country, it is not a mandatory document for non-resident Indians.
It is not proof of Indian citizenship and does not grant any foreigner the right to stay in the country if they are non-compliant with other requirements.
No mandate compels NRIs to link their bank accounts with Aadhaar if they do not wish to benefit under section 7 of the Aadhaar Act.
If you do not have your original Aadhaar card with you during any transaction or procedure, you can use your Aadhaar letter, e-Aadhaar, or mAadhaar profile for ID proof. All of them are equally valid and serve the same purpose.
Although the Aadhaar card is a comprehensive document, you cannot depend solely on this document to enjoy services. Authorities carry out additional verifications, as well, to prevent the slightest discrepancy.
Hope these few details have addressed most of your dilemmas regarding the NRI Aadhaar card. If you wish to avail the benefits of this document upon arriving in India, you know what to do. If not, go through our guide on the application procedure once again for a thorough understanding.
Frequently asked questions