Aadhaar e-KYC: How to Verify Aadhaar Online?
Aadhaar is one of the most vital documents today. However, the manual KYC verification can be a hectic method, given the numerous photocopies you need to provide along with self-attestation. 
Aadhaar e-KYC helps minimise such hassle! This voluntary method of digital identification is much easier and faster, hence saving your crucial time. 
Still new to the concept? Please go through our comprehensive guide.
Just as you need to provide your KYC documents to verify identity, e-KYC is no different except for being a digital process. Aadhaar based e-KYC is a paperless authentication process of an individual's identity, carried out with his/her consent. This involves ID verification via biometric and demographic details available in the UIDAI database, collected during the Aadhaar registration process.
Such data is already verified by the UIDAI and, hence, it saves the time spent in extensive paperwork and attestations. Using Aadhaar for this purpose solves the hassle of producing multiple documents for ID proof, address proof, age proof, etc., since it is a comprehensive document that stands valid for all such information.
Difference between Aadhaar e-KYC and Aadhaar authentication
Many customers can confuse Aadhaar e-KYC with Aadhaar authentication since both the processes seem similar from the customer's end. The actual functioning of these processes, however, is different.
Aadhaar authentication: This is a verification procedure that involves all biometric and demographic information on your Aadhaar card to be stored in the Central Identities Data Repository (CIDR). This vault, in turn, verifies the correctness of submitted data by cross-checking it with information available within it. Simply put, service providers do not get access to your demographic details, which often poses problems for them to complete the authentication process.
Aadhaar e-KYC: In this process, the service provider can directly access all your private information like name, address, gender, date of birth, etc., from the UIDAI database and verify it themselves to help you establish your identity.
The e-KYC via the Aadhaar card is a faster and simpler process with enhanced effectiveness. If you aren't aware of this hassle-free procedure as of yet, here are the details.
How to complete Aadhaar e-KYC verification?
You can complete the verification process for Aadhaar e-KYC online or offline, both of which are paperless means to get the work done.
Online procedure for Aadhaar e-KYC
If you are wondering how to verify KYC online, there are a couple of methods to do that.
1). Via biometrics authentication
Customers need to go through the following procedure when opting for Aadhaar e-KYC verification via biometrics.
Step 1: Provide your Aadhaar card to your service provider. They will note your Aadhaar number or Unique Identification number (UID).
Step 2: Next, they will use a biometric scanner to capture and read your fingerprint or retinal image.
Step 3: This value is then communicated to the UIDAI, which matches this input value with the already existing value present against your Aadhaar in its database.
Step 4: Your identity will be successfully established once both the values match.
Once this verification procedure is completed, the UIDAI will give the service provider access to all your details like date of birth, address, photograph, etc.
The UIDAI also lets the agent keep a soft copy of such details in their servers, thus, allowing them to access such data as and when required.
That concludes how to do KYC online!
2). Via mobile OTP authentication
You can also opt for the OTP-based authentication method, which can be carried out in the following manner.
Step 1: Produce your Aadhaar card before the service provider.
Step 2: UIDAI will send an OTP on your registered mobile number.
Step 3: Now, enter this OTP in the device provided by your service provider. 
After this, the UIDAI will provide your details to the agent that is similar to the biometric authentication procedure.
Offline procedure for Aadhaar e-KYC
If none of the online methods is feasible, service providers can use your Aadhaar for offline KYC verification via any of the following methods.
1) By scanning QR code:
Service providers can use a mobile scanner to scan the QR code present on the Aadhaar card to extract all demographic information and complete the offline UIDAI KYC verification. Extracting information via this method does not require agents to access the UIDAI's database.
2) Paperless method of offline e-KYC :
You can also opt for the following method to get your Aadhaar e-KYC done offline.
Step 1: Go to the official portal of the UIDAI.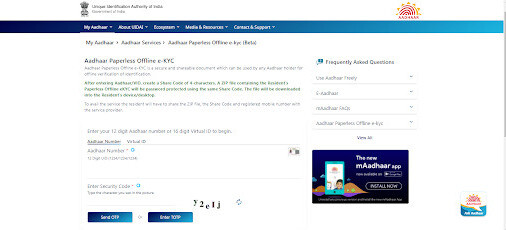 Step 2: Enter your UID or VID, the security code, and click on "Send OTP."
Step 3: Enter the OTP received on your registered mobile number and download the Aadhaar XML. It contains your details like name, gender, date of birth, address, and hashed email and mobile number, among other information. It is also digitally signed by UIDAI and is protected with a 4-character Share Code.
Step 4: You can then provide this XML file to your service provider, who will then verify your identity using the machine-readable details in the file.
What are the benefits of Aadhaar e-KYC?
Besides being paperless and time-effective, Aadhaar e-KYC offers the following advantages.
Information extracted from the UIDAI's database is already verified and needs no further authentication.
This authentication process does not involve any cost.
It is a consent-based process, i.e., the UIDAI will share your details with the requesting party only after you provide your acknowledgement of the same via biometrics or OTP.
You do not need to worry about your personal details being compromised since UIDAI only allows registered institutions and agents to access the Aadhaar KYC online verification facility. Additionally, it also verifies the biometric scanners used by service providers.
Digital documents that are provided are shared via a secure channel, which cuts out the possibility of illegal document replication.
If you want to know your eligibility status to avail of this convenient facility, there is provision for that as well.
How to check your Aadhaar KYC status?
If you want to avail yourself of any financial services, you will need to comply with the KYC guidelines first. However, if you aren't sure if you are KYC compliant or not, you can check the same in the following steps.
Step 1: Go to the official website of any KYC Registration Agency (KRA).
Step 2: Enter the details of your Permanent Account Number (PAN).
You will immediately get to know if you are KYC compliant. In case you are not, you can complete the procedure for the same via Aadhaar-based biometric.
Given the numerous Aadhaar e-KYC advantages, we understand why you might be too eager to find the steps to become KYC compliant. However, that is a topic we would like to leave for some other day!
Frequently asked questions