E-Aadhaar Card: Benefits & How to Download?
Launched in 2009, Aadhaar is probably the largest biometric ID system that has gained immense significance in the past years. With the rapid shift towards digitisation, an e-Aadhaar card is here to make things even more convenient. 
Want to know what all the fuss is about?
Take a glance through our brief overview.
What is an e-Aadhaar card?
In simple terms, an e-Aadhaar is your Aadhaar card in a digitised format. It contains all the information available on a physical Aadhaar card like biometric and demographic details, including your name, UIN number, gender, date of birth, photograph, etc. This makes an e-Aadhaar card equally valid according to the UIDAI.
What are the benefits of an e-Aadhaar card?
Here are some of the advantages of an e-Aadhaar card that can be a boon in several situations.
The e-Aadhaar is available online and you can access it anytime from anywhere, instead of carrying a physical card every time, which runs the risk of getting lost.
This digital document comes with a password protection feature to prevent any misuse of your information present in it.
It acts as a valid ID and residence proof for most activities across India. These activities include opening a new bank account, filing IT returns, procuring and renewing a passport, getting a loan, and enrolling under an insurance policy, among others.
To avail of the various schemes and benefits provided by the government, like LPG subsidy, you will need to provide your Aadhaar or e-Aadhaar card.
Even if your Aadhaar card is lost or gets misplaced due to some reason, you can easily download and print your e-Aadhaar card, which will serve the same purpose.
If you are not aware of the procedure to download your duplicate or e-Aadhaar card online, keep reading!
How to download an e-Aadhaar card?
To initiate an e-Aadhaar card download, you need to have your Aadhaar number (UID), Enrollment ID (EID), or your Virtual ID (VID).  You can then use this information to download your duplicate Aadhaar card in the following steps.
Step 1: Go to the official portal of UIDAI.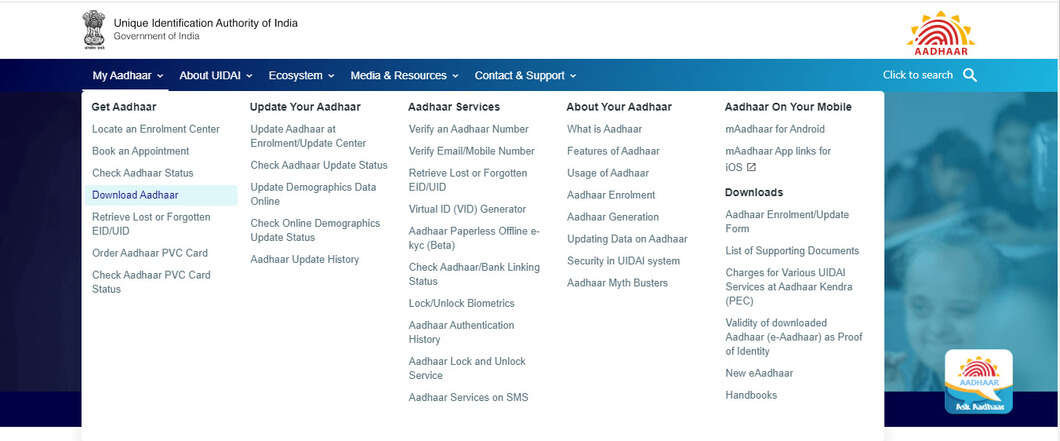 Step 2: Click on "My  Aadhaar." Then, from the drop-down menu,  select "Download Aadhaar" under the "Get Aadhaar" sub-section.
Step 3: On the next screen, select "Aadhaar Number," "Enrollment ID (EID)," or "Virtual ID (VID)" under "I have," depending on the information you have.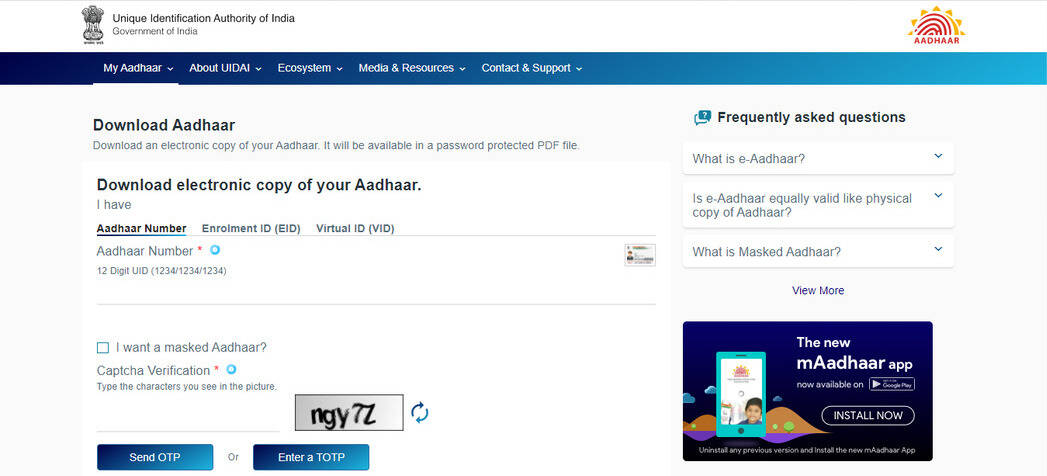 Step 4: Enter your 12-digit UID, 16-digit VID, or 14-digit EID, and the 14-digit date and time values given on your enrollment slip. 
Step 5: Check the box for "I want a masked Aadhaar" if you do not want your new card to display your Aadhaar number's full digits.
Step 6: Enter the security code and click on "Send OTP."
Step 7: Now, enter the OTP received on your registered mobile number and click on "Download Aadhaar."
Now, you might be left without a clue as to how to get an e-Aadhaar card online if you don't have any of the 3 numbers (UID, EID, or VID). However, there is a solution.
You can still download your electronic Aadhaar card using your name and date of birth in the following manner.
Step 1: Visit the UIDAI portal to retrieve UID and EID.
Step 2: Depending on which information you want to retrieve, select "Aadhaar No. (UID)" or "Enrollment ID (EID)"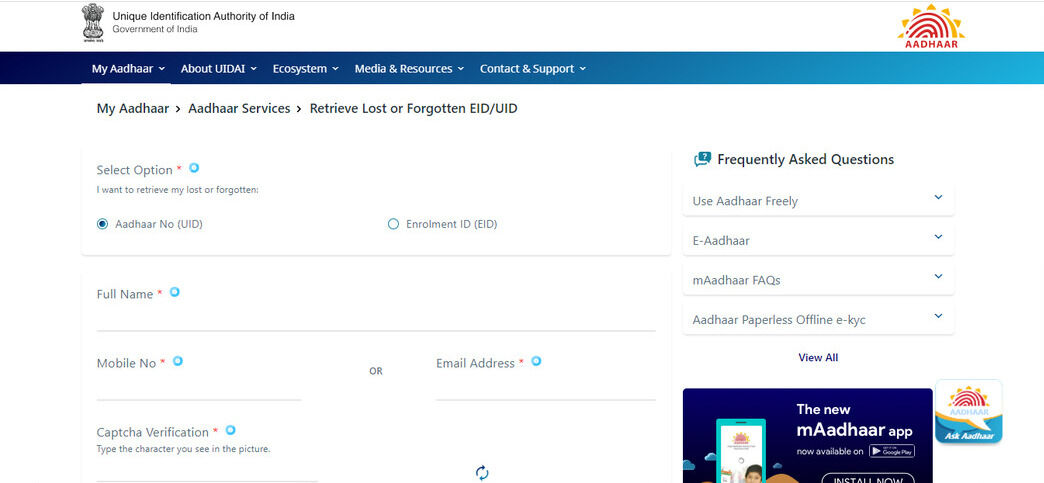 Step 3: Enter your name and your registered mobile number or email ID.
Step 4: Enter the Captcha code and click on "Send OTP."
Step 5: Enter the OTP received on your email ID or mobile number and click on "Verify OTP."
What is the password to open your e-Aadhaar?
By now, you must have realised that the process of acquiring an e-Aadhaar card online is an extremely easy one. However, every time you choose to download your electronic Aadhaar card, you will need to enter a unique e-Aadhaar card password. This password comprises 8 characters. The first 4 characters are the first 4 letters of your name in capital letters, followed by the 4 characters indicating your birth year.
Here is a quick example to clarify things for you.
Say your name is "Sandeep Verma," and your birth year is 1979. Therefore, your e-Aadhaar password will be "SAND1979".
This password protection is provided to ensure that the document is accessible only to the cardholder. This is because an Aadhaar card contains many private details, and locking it with a password prevents the misuse of such data by anyone else in any manner.
Steps to open a downloaded e-Aadhaar card?
Once you have downloaded your e-Aadhaar card, you can proceed as follows to open the PDF file.
Step 1: Enter the PIN code of your registered postal address.
Step 2: Type in the e-Aadhaar password as explained previously.
There, you have access to your duplicate Aadhaar card. Now, you can print an e-Aadhaar card to get a hard copy of the same. This will serve the same purpose as that of your original Aadhaar card.
You can also choose to laminate this document, although that does not increase or decrease its validity in any manner. So, colour-printed or black and white, laminated or not, you now have an ID proof that can ease many processes!
Frequently asked questions