How to Link Aadhaar to LIC Policy?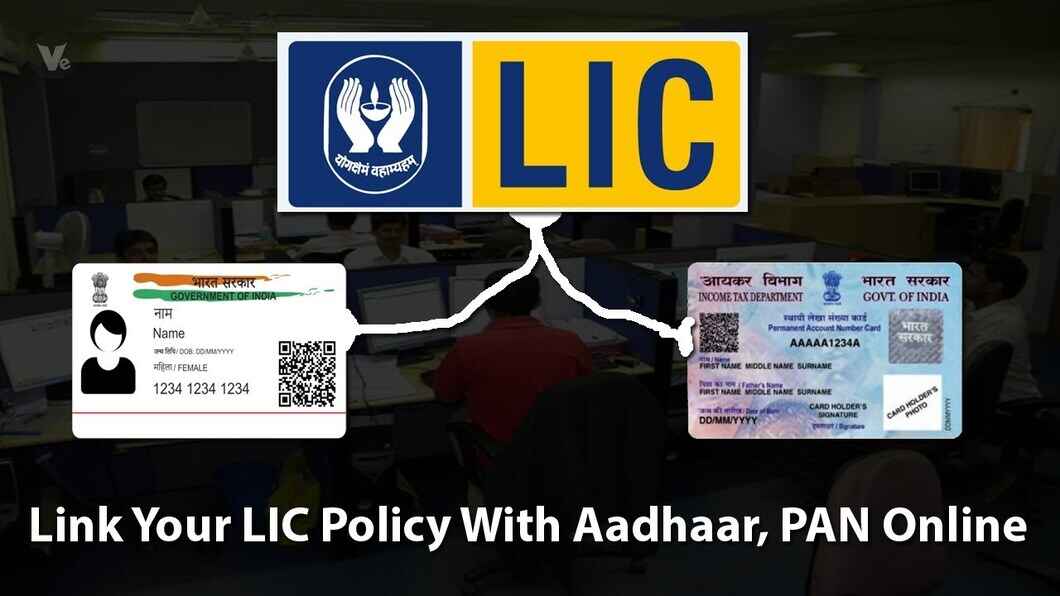 Members of the Life Insurance Corporation of India can avail of services to enjoy long-term benefits. LIC is the largest insurer in India, offering many facilities like term insurance plans, endowment plans, pension plans, etc. Now you can link Aadhaar to LIC policy to accrue additional benefits.
Therefore, in this article, we have discussed the various benefits of linking Aadhaar with LIC and the procedure of doing so in a detailed format.
Hence, keep reading to know more about linking the Aadhaar card to LIC!
Link Aadhaar to LIC Policies
The biggest advantage of linking Aadhaar to LIC policies is accumulating all the policy details in one place that enables easy access. Further, the organisation will be able to identify the policyholders with their unique Aadhaar numbers.
As per the government's rules, one should possess an Aadhaar card as it is a valid way of identifying an individual during financial transactions. Similarly, with the help of Aadhaar, one can buy policies as well.
Owing to that, it is vital to know everything about the procedure of linking Aadhaar with LIC policy online and offline.
The Procedure of Linking LIC and Aadhaar Online
Before learning about the online linking procedure, one should be aware of certain points. These points are as follows:
You should be a registered user of LIC.
Keep your PAN, Aadhaar and LIC policy details handy.
It is vital to keep your mobile number linked to Aadhaar, as you are required to present a number registered with UIDAI. In this number, you will receive a confirmation message stating that your linking is successful.
Now that you have considered the above factors, let us delve deeper into the linking procedure. Here is a step-by-step guide that will help you to accrue the benefits of linking Aadhaar with LIC:
Visit the official website of LIC and find the 'LIC Aadhaar Link' option.
Upon finding the option, click on it and read the instructions carefully.
Click on the 'Proceed' option once you are done.
You will land on a page wherein you need to fill out certain details like name (as printed on the Aadhaar card), date of birth, PAN card details, gender, Aadhaar number, LIC policy numbers and more.
A disclaimer will appear on the screen once you submit the form. Check it out.
Input the Captcha code and click on 'Get OTP.'
You will receive an OTP on your registered mobile number. Submit it to complete the linking process.
After submission, your data will be sent to UIDAI's CIDR (Central Identities Data Repository) for verification.
Upon verifying the details, your Aadhaar LIC link will be successful.
Once the linking is complete, you will receive a confirmation text on your number.
Another way of updating Aadhaar details in your LIC account is by logging into your account and clicking on 'Registered User' to update Aadhaar card details.
In case you are not registered to avail of online services from your LIC account, you may follow the steps given below:
Visit the online portal of the Life Insurance Corporation of India.
Click on 'New User' to register yourself.
You need to create a user ID and password in the next step and provide the necessary information.
To complete the registration process, you have to upload the scanned images of your Aadhaar and PAN card.
Upon doing so, you will become a registered user of LIC online services, and now you can directly update Aadhaar details from your account.
Other than this, you can also link your LIC policy with your Aadhaar card in offline mode.
Linking Aadhaar to LIC Policy Offline
If you do not possess a PAN and are wondering how to get the benefits of linking Aadhaar with LIC, you can visit your nearest LIC branches and follow these steps:
Visit your nearest LIC office and collect the Aadhaar linking mandate form. Alternatively, you can download this form from LIC's online website.
Carry your Aadhaar card, PAN or Form-60 and other policy details before you collect the mandate form.
You need to fill up the forms properly and self-attest the copies of essential proofs.
During submission, you will be asked to present the original documents for verification.
After successful verification, the LIC executive will accept your form.
The data will be directed to UIDAI for further verification.
Upon verifying, you will receive a confirmation message on your registered mobile number about the successful linking of Aadhaar with LIC.
In addition to this, you can link your Aadhaar with lapsed policies in case of defaults in payments. In case you opt for an offline linking procedure, mention your policy number in the Aadhaar mandate form.
Further, if you wish to link multiple policies with your Aadhaar, you can do so by applying for the link all at once. This is convenient for both online and offline linking procedures as you need not fill out multiple forms and save time in the process.
Now let us know about the advantages of linking LIC with your Aadhaar.
Benefits of Linking Aadhaar with LIC
Although linking Aadhaar with LIC is not mandatory, it offers a range of benefits as follows:
The organisation will be able to avoid fraudulent activities as they will be able to authenticate a registered user by their Aadhaar number. Therefore, the linking of Aadhaar with LIC is beneficial.
A registered user can authenticate his policies by linking Aadhaar, which proves to be convenient.
When you link your Aadhaar card with LIC policies, the chances of money laundering decrease, and the company can track your transactions efficiently.
Therefore, it is evident that the benefits of linking Aadhaar with LIC can enhance a policyholder's financial condition by reducing the chances of unethical activities.
Frequently asked questions