Health Insurance with OPD Cover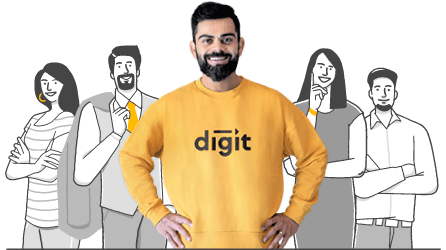 Zero Paperwork.
Quick Process.
Buy Health Insurance with OPD Cover Online in India
What is an OPD benefit?
Not every illness or injury needs hospitalization. Consultations, diagnosis and treatments can be done expediently and conveniently without a hospital stay. In the world of healthcare, this is termed as OPD- 'Out-Patient Department'.
So, what an OPD cover does is, it takes care of the medical bills arising out of the OPD treatment you may need, as per your health condition.
All your doctor consultations for any health condition or injury, or that root canal your dentist suggested you just have to get done! All of these ups and downs in your personal health journey come under OPD.
What is OPD Treatment?
OPD or Outpatient Department treatment refers treatments and diagnosis done on advice of a medical practitioner or doctor, by simply visiting their clinic or even a doctor's consultation room at a multispecialty hospital.
The important thing to note here is that OPD treatments DO NOT require hospitalization. Hence, this includes treatments for fractures, various necessary dental treatments, and minor surgeries. 
Read more: Why you should go for Coronavirus Health Insurance?
Why should I get a Health Insurance with an OPD cover?
Still wondering why? Read on...
What's great about Digit Health Insurance with OPD cover?
Easy Online Processes - From the process of buying a health insurance with OPD cover to making claims is paperless, easy, quick and hassle-free! No hard copies, even for claims! 
Covers Pandemics - If there's anything that 2020 has taught us, it is that everything is uncertain! Whether it's the COVID-19 or any other virus, pandemics are covered!

No Age Based Copayment - Our Health Insurance comes with no age based Copayment. This means, during your claims- you need not pay anything from your pocket.
No Room Rent Restriction - Everyone has different preferences and we understand that. That's why, we have no room rent restrictions. Choose any hospital room you prefer.

Cumulative Bonus - A reward for staying healthy! Get Yearly Cumulative Bonus.
Get Treated at any Hospital - Choose from 16400+ of our network hospitals in India for cashless claims or opt for a reimbursement.
What's covered in Digit Health Insurance with OPD cover?
Fees for medically necessary consultations and examinations by medical practitioners to assess your health for any illness.

Medically necessary out-patient diagnostic procedures such as x-rays, pathology, brain and body scans (MRI, CT scans) etc... used to make a diagnosis for treatment from a diagnostic center.

Minor Surgical procedure such as POP, suturing, dressings for accidents and animal bite related outpatient procedures etc. carried out by a Medical Practitioner.

Medication drugs and medicines as prescribed by your medical practitioner.

If your doctor recommends that you really need to get a specific dental treatment done, it will be covered under OPD.

Hearing aids required for serious hearing conditions are covered.

All Hospitalization, including for Coronavirus

This covers for hospitalization expenses due to an Illness, Accident or even a Critical Illness. It can be used to cover for multiple hospitalizations, as long as the total expenses are up to your sum insured.

Health insurances generally cover medical expenses only for hospitalizations exceeding 24 hours. This covers for medical treatments undertaken in a hospital, requiring less than 24 hours due to technological advancement.

A Copayment refers to the amount of money you need to pay from your pocket, during a health insurance claim. In our plans, there is no age based copayment involved!

Different categories of rooms have different rents. Just like how hotel rooms have tarrifs. With Digit, some plans give you the benefit of having no room rent cap, as long as it is below your Sum Insured.

ICU (Intensive Care Units) are meant for serious patients. The level of care is higher in ICUs, which is why the rent is higher too. Digit does not put any limit to the rent as long as it is below the your Sum Insured.

Get rewarded for every claim free year. If you do not make any claim in a year, some plans reward you with a discount in the next year. This extra discount is called Cumulative Bonus

10% CB for each claim free year (Up to 50%)

Complimentary Health Checkups

Annual health checkups are important to ensure you are aware of your overall health and well-being. This is a renewal benefit that allows you to reimburse your expenses towards any annual medical tests and checkups, at any hospital of your choice.

Post Hospitalization Lumpsum

This is a benefit you can use to cover all your medical expenses post hospitalization, at the time of discharge. No bills required. You can choose to either use this benefit or use the standard post-hospitalization benefit, through the process of reimbursement.

Psychiatric Illness Cover

If due to a trauma, one has to be hospitalized for a psychiatric treatment, it will be covered under this benefit. However, OPD consultations are not covered under this.

This coverage is for those facing organ issues due to their obesity (BMI > 35). However, in case the obesity is due to eating disorders, hormones or any other treatable conditions, this surgery cost will not be covered.

Maternity Benefit with Newborn Baby Cover

If you plan on having a baby in the next two years or so, you can opt for this. It covers for child-delivery (including medically necessary terminations), infertility expenses and coverage for the newborn baby up to its first 90 days.

Every city falls either in Zone A, B or C. Zone A has Delhi and Mumbai. Zone B has cities like Bangalore, Hyderabad, Kolkatta. The zones are divided as per medical costs. Zone A cities have highest medical costs therefore the premium to get a treatment under health insurance in these cities is a bit higher. If you wish to get treated in a bigger city than where you live, you can upgrade your plan for the same.
The OPD cover excludes expenses incurred towards Spectacles, Contact Lenses and Physiotherapy, Cosmetic Procedures, Ambulatory Devices like Walkers, BP Monitors, Glucometers, Thermometers, Dietician Fees, Vitamins and Supplements.
Reimbursement Claims - Let us know in case of a hospitalization within two days of admission at 1800-258-4242 or email us at healthclaims@godigit.com and we'll send you a link where you can upload your hospital bills and all relevant documents to process the reimbursement. 
Cashless Claims - Choose the network hospital. You can find the complete list of network hospitals here. Display e-health card to the hospital helpdesk and ask for the cashless request form. If all is good, your claim will be processed then and there.
If you have claimed for Coronavirus, make sure you have a positive test report from an authorized centre of ICMR – National Institute of Virology, Pune.
Who should buy a Health insurance with OPD cover?
FAQs about Health Insurance with OPD Cover