Personal Accident Insurance Policy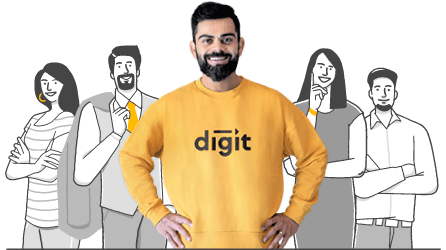 Zero Paperwork.
Quick Process.
What is a Personal Accident Insurance Policy?
A Personal Accident Policy is a type of additional health insurance that is there to protect you financially in unfortunate situations where you, or even your family members, might face an accident that results in an injury, or in the very worst-case death.
Accidents can occur at any time and turn your life upside down – not only will you be affected physically and of course emotionally, it can also end up being a financial burden. If you have the good fortune to be covered by a regular health insurance policy, it might just cover standard medical expenses like hospitalization charges.
For example, if you fall on the stairs and get a slipped disk or a fracture, you might end up facing a lot of other costs. With a Personal Accident Insurance Cover, you will be able to get a specific lump sum amount to cover any other medical and related expenses, as well as any lost income while you are recovering from this injury so that you can be sure of your financial stability. 
Why do you need a Personal Accident Insurance Cover?
A personal accident cover will keep you and your loved ones secure in case of any unforeseen accidents. So, why do you really need it?
What's great about a Personal Accident Insurance by Digit?
Fixed Benefits - Accidents happen without any warning, at any time and anywhere, and with a Personal Accident Plan, you'll get a fixed benefit in case of such an eventuality.
No medical tests needed - With our Personal accident insurance, you don't need to get any medical tests done, just go online and get protected in a few simple steps.
Get a wide range of coverage - This plan will cover you for all kinds of unfortunate events minor and major injuries to loss of income and more!
We cover Home hospitalization - in case you're not able to go to a hospital and get your medical treatment at home, we'll cover that too.
Great Value - Digit's Personal Accident Cover comes with low-cost premiums that won't put a strain on your budget.
A Cumulative Bonus - If you haven't made a claim during the policy year, we'll offer you a sort of reward - an increase in your Sum Insured, starting with 10% for every claim-free year.
A Digital Friendly process - From buying your insurance policy to making claims, there's no paperwork or any running around needed with us, everything can be done online! 
What is Covered in Personal Accident Insurance by Digit?
When you get a Personal Accident Cover, you and your family will be protected in case of... (*Based on the option selected by you)
What is Not Covered?
There are some situations where a Personal Accident insurance won't cover you, such as
How much does a Personal Accident Insurance cost?
There are a lot of relevant factors that go into calculating Personal Accident premiums, such as:
Your age
The nature of your occupation
Your income
The number and ages of any additional members (like parents, spouses, or children)
Your geographical location
What Sum Insured you have opted for
Types of Personal Accident Insurance Plans
Permanent Total Disablement
Permanent Partial Disablement
Funeral and Transportation Expenses
Transportation of Imported Medicines
Who should get a Personal Accident Insurance?
Since with this cover you will get a fixed benefit in case of an accident, anyone who feels like their livelihood or work might put them at risk of an accident might want to consider getting a Personal Accident insurance. This might include:
People With Low Risk Occupations
Office workers (like consultants, accountants, and engineers)
Health care workers
Legal professionals
Artists, writers, and designers
Teachers and School Students
Civil servants and Bureaucrats
Bankers
Shopkeepers
Homemakers
People With High Risk Occupations
Industrial Workers (non-hazard)
Veterinarians
Security officers
Photographers and Chefs
College / University Students
Builders, contractors & construction workers
Hospitality and Tourism Sector Workers
Airline Crew and Airport Staff
Delivery Personnel
People With Very High Risk Occupations
Industrial Workers (hazard workers)
Professional Athletes
Police and Military armed personnel
Mountaineers
Journalists
Politicians
How to Choose the Right Policy?
Look at different policies - Saving money is great, but sometimes the personal accident policy that has the lowest premium might not have the best plans; so, compare the features and premiums of different policies to find one at an affordable price that works for you.
Get the right coverage - The insurance policy should give you the best coverage.
Pick the right sum insured - You can look for a policy that lets you customize your sum insured based on the nature of your work and the risk you face.
Claims Process - This is one of the most important parts of any insurance policy, look for an insurance company where claims are not only easy to make but easy to settle too as it can save you a lot of hassle. 
Service Benefits - Choose an insurer who will even be able to offer you a lot of extras benefits, like 24X7 customer assistance or an easy-to-use mobile app.    
Common Personal Accident Terms Simplified for you
Frequently Asked Questions