Maruti Suzuki 1000 Insurance
Buy or Renew Maruti Suzuki 1000 Car Insurance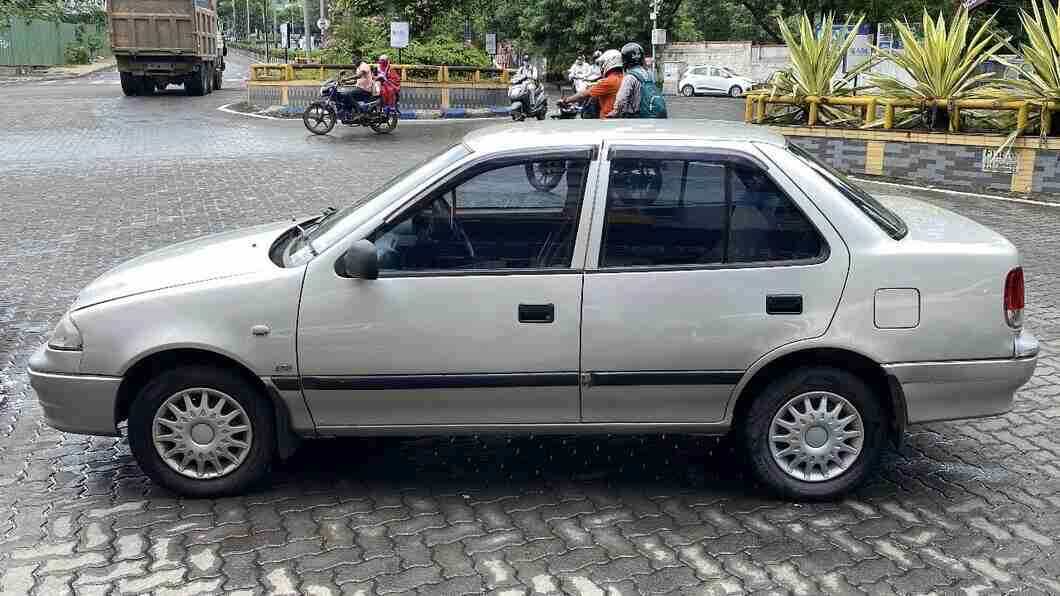 Launched in 1989, Maruti Suzuki 1000 was the first contemporary sedan in the Indian market. The car gained popularity among rally drivers due to its power-to-weight ratios under the two-litre category.
Maruti Suzuki 1000 has a seating space of five people, including the driver. The car is available with manual transmission. The heart of this car consists of a three-cylinder petrol engine and offers an average mileage of 15 kmpl. The fuel tank of this car can store 28 litres of petrol, and it has an engine displacement of 970 cc.
Maruti Suzuki 1000 insurance providers like Digit offer their customers many exciting features and benefits. Moreover, every vehicle owner in India must opt for a third-party insurance policy.
Keep reading to know what Digit has to offer!
What's Covered in Maruti 1000 Car Insurance
Why should you buy Digit's Maruti 1000 Car Insurance?
We treat our customers like VIPs, know how…
Car Insurance plans for Maruti Suzuki 1000
Third-Party
Comprehensive
| | | |
| --- | --- | --- |
| Damages/Losses to own car due to an accident | | |
| Damages/Losses to own car in case of fire | | |
| Damages/Losses to own car in case of a natural calamity | | |
| Damages to Third-Party Vehicle | | |
| Damages to Third-Party Property | | |
| | | |
| Injuries/Death of a Third-Party Person | | |
| | | |
| | | |
| | | |
| Extra protection with customized add-ons | | |
How to file a Claim?
After you buy or renew our car insurance plan, you live tension free as we have a 3-step, completely digital claims process!
Step 1
Just call on 1800-258-5956. No forms to be filled
Step 2
Get a link for Self-Inspection on your registered mobile number. Shoot your vehicle's damages from your smartphone through a guided step by step process.
Step 3
Choose the mode of repair you wish to opt for i.e. Reimbursement or Cashless through our network of garages.
How fast are Digit Insurance Claims Settled?
This is the first question that should come to your mind when switching your insurance company. Good you're doing that!
Read Digit's Claims Report Card
Why Choose Digit for Maruti Suzuki 1000 Car Insurance?
You can opt for a Maruti Suzuki 1000 renewal if you still own this car. This will help you stay protected from several financial liabilities arising from on-road discrepancies.
Apart from the affordable Maruti Suzuki 1000 price, Digit offers several additional benefits to its customers. The features of Digit's Maruti Suzuki 1000 car insurance policy are –
1. Several Policy Options
At Digit, you can choose from insurance policy options like
Third-Party Insurance Policy – Under this policy, Digit will cover for the damage and loss caused to any other person, property or vehicle, by your car. It will also resolve the litigation issues if any.
Note: The Motor Vehicles Act of 1988 mandates every automobile owner in India to opt for third-party insurance.
Comprehensive Insurance Policy – This policy not only covers all the third-party damages but also protects you and your vehicle from own damages. This means that if the vehicle owner faces death or permanent disability, the insurer will provide financial aid to the victim's family.
2. Several Add-Ons
Individuals with Digit's comprehensive Maruti Suzuki 1000 car insurance can opt for various additional facilities at nominal charges. Some add-ons are Consumables Cover, Roadside Assistance, Engine and Gearbox Protection, Tyre Protection, Return-to-invoice Cover and more.
3. Network of Garages
If you are stuck on the road with any vehicle issue, you will always find a network garage in your vicinity. Digit has tie-ups with numerous network garages across India. Visit these garages and workshops and avail cashless repair and servicing.
4. Online Services
If you are looking for the Maruti Suzuki 1000 renewal price online, visit Digit's official website. The website has all the insurance products and services, and choose the option that best fits your needs.
5. Insured Declared Value Modification
Individuals with the comprehensive Maruti Suzuki 1000 insurance plan can customise IDV. With this facility, you can increase or decrease the Insured Declared Value at your convenience. A higher IDV means a higher compensation amount if your car gets stolen or is in an irreparable condition.
6. 24x7 Customer Support
Digit's customer support team is available 24x7, even on national holidays, to assist you with any policy-related issue you face. Reach out to them and get your queries resolved in no time.
7. Discounts and Bonuses
With Digit's Maruti Suzuki 1000 insurance, you can get discounts on policy premiums if you have claim-free years within your policy period. The discount amount ranges between 20% to 50%, depending on the claim-free years you have.
8. Simple Claim Filing Process
With Digit, you can file your insurance claim from the comfort of your home. Dial 1800 258 5956 from your registered contact number and follow the self-inspection procedure. This process helps to avoid the time-consuming traditional claim filing process.
Therefore, keep these points in mind before choosing your Maruti Suzuki 1000 insurance provider. This is important as it helps you save money and stay protected from possible on-road liabilities.
Why is it important to buy insurance for your Maruti Suzuki 1000?
Congratulations! Because what you have is a priceless possession. You have the most iconic and reliable car, Maruti 1000. We know you have been taking good care of this car for a while now, but there must be times when it must have given a big jolt to your pocket, right? That is if you don't already insure it with a car insurance, of course!
Learn more about Maruti Suzuki 1000
India's first contemporary Sedan, Maruti Suzuki 1000 won millions of hearts. Those who still have one, definitely have a precious possession.  It is the most iconic and classic car of its time, with the best interior and bold exterior. Maruti 1000 was a head turner and is a legend of the past. 
What made Maruti Suzuki 1000 a head turner?
The Maruti 1000 was launched in 1990 and provided customers with a car that was spacious, comfortable and reliable. With the credit of being the first contemporary Sedan, Maruti 1000 grabbed a lot of attention among all generations. Japanese style interiors and exteriors, which were relatively new for the Indian audience, made this car a head turner in the Indian market. 
Well known for its sufficient glove box and trunk storage space inside the cabin, the Maruti 1000 was designed with ample leg and knee space. This classic sedan was good on fuel consumption and provided a smooth and steady ride on roads. The sturdy Maruti Suzuki 1000 was low on maintenance and high on performance, which thereby, made it one of the most reliable cars of its time. 
Check: Know more about Maruti Car Insurance
| | |
| --- | --- |
| Name of the Variants | Approx. Price of the Variants in New Delhi |
| 1000 Std | ₹ 3.83 Lakhs |
| 1000 AC | ₹ 4.17 Lakhs |
Frequently Asked Questions