Maruti S-Cross Insurance
Buy or Renew Maruti S-Cross Insurance Policy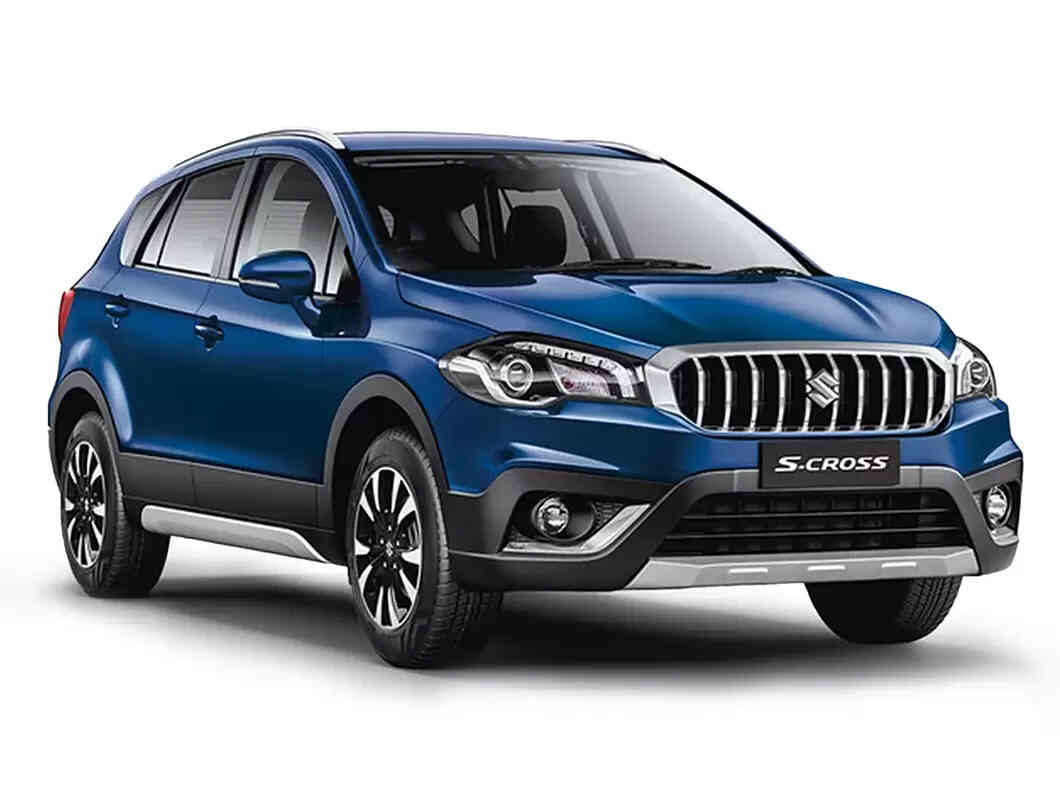 The Japanese automaker Suzuki launched the S-Cross, a subcompact car and crossover, in 2006. This model's second generation was introduced in India in September 2015. Since then, the company has been selling units via Maruti Suzuki's NEXA outlets.
This car quickly witnessed a rise in demand owing to its unmatched features, such as 18.43 kmpl mileage, 1462 cc engine displacement, manual, automatic transmission etc. Consequently, the manufacturer sold around 1.47 lakh units of this model across India.
However, like other vehicles, this Maruti car can incur damages in case of accidents or collisions, resulting in exorbitant repair costs. Considering this, insurance companies in India provide Maruti S-Cross insurance to reduce a buyer's liabilities.
In this regard, individuals can consider insurance policies from reputed insurers, such as Digit and secure their finances. The following segment throws some light on the advantages of getting insurance from this provider. Read to know more.
What's Covered in Maruti S-Cross Car Insurance
Why should you buy Digit's Maruti S-Cross Car Insurance?
We treat our customers like VIPs, know how…
Car Insurance plans for Maruti Suzuki S-Cross
Third-Party
Comprehensive
| | | |
| --- | --- | --- |
| Damages/Losses to own car due to an accident | | |
| Damages/Losses to own car in case of fire | | |
| Damages/Losses to own car in case of a natural calamity | | |
| Damages to Third-Party Vehicle | | |
| Damages to Third-Party Property | | |
| | | |
| Injuries/Death of a Third-Party Person | | |
| | | |
| | | |
| | | |
| Extra protection with customized add-ons | | |
How to file a Claim?
After you buy or renew our car insurance plan, you live tension free as we have a 3-step, completely digital claims process!
Step 1
Just call on 1800-258-5956. No forms to be filled
Step 2
Get a link for Self-Inspection on your registered mobile number. Shoot your vehicle's damages from your smartphone through a guided step by step process.
Step 3
Choose the mode of repair you wish to opt for i.e. Reimbursement or Cashless through our network of garages.
How fast are Digit Insurance Claims Settled?
This is the first question that should come to your mind when switching your insurance company. Good you're doing that!
Read Digit's Claims Report Card
Why Choose Digit for Maruti S-Cross Insurance?
To choose the best insurance plan for a Maruti car, one must consider comparing insurers and their respective insurance policies online. While doing so, you might want to look into the offerings by Digit and make an informed decision regarding your car insurance for Maruti S-Cross.
1. Various Insurance Plans
If you opt for Digit, you can choose from the following insurance options:
Third-party Insurance Policy
A third-party insurance plan for your Maruti car is essential to obtain as it covers third-party liabilities arising from accidents. In case of an accident or collision between your car and a third-party person, property or vehicle, you will need to bear the costs of repairing damages caused to a third party. However, third-party insurance for Maruti S-Cross covers these costs and also takes care of litigation issues. Further, as per the Motor Vehicles Act, 1988, you can avoid penalties by obtaining this basic insurance.
Comprehensive Insurance Policy
There might be accidents causing substantial damages to your Maruti car, and repairing them can cost you a fortune. In order to avoid this, you can purchase a comprehensive S-Cross insurance plan from Digit. This insurance plan offers coverage benefits against both own car and third-party damages. However, as these plans provide overall protection, they are available at a higher price.
2. Cashless Claims
Digit gives you the option to choose a cashless repair mode while raising a claim against your Maruti S-Cross insurance. Under this repair mode, you can get professional repair services from an authorised garage without paying any cash. The insurer settles the payment directly with the repair centre. Thus, you can save your finances for future needs by opting for this facility.
3. A Large Number of Network Garages
You can get your Maruti car repaired from one of the many Digit network garages across India and avail of a cashless facility. Due to the vast network of Digit garages, it is convenient to locate a repair centre in case of accidents and emergencies.
4. Easy Online Process
Obtaining Maruti S-Cross insurance online from Digit is convenient owing to its smartphone-enabled processes. You can purchase an insurance plan in a few minutes from your mobile phone without the hassle of heavy paperwork.
5. Doorstep Pick-up and Drop Facility
On paying the Maruti S-Cross insurance renewal price for a comprehensive plan, you can avail of a doorstep pick-up and drop facility and repair your Maruti car's damaged parts from the convenience of your home.
6. Add-on Benefits
Digit gives you add-on benefits on purchasing their comprehensive insurance plan against additional charges. You can include add-on policies over and above your base plan for additional coverage. Some of the add-on covers you can benefit from are:
Roadside Assistance
Engine and Gearbox Protection Cover
Consumable Cover
Return to Invoice Cover
Zero Depreciation Cover
Thus, by increasing your Maruti S-Cross insurance price, you can include these covers and get an additional layer of protection.
7. IDV Customisation
Insurers offer a return amount depending on your Maruti car's Insured Declared Value (IDV) in case of theft or damages beyond repair. Additionally, the Maruti S-Cross insurance cost varies with your car's IDV. Digit allows you to customise this value per your requirements and maximise your benefits.
8. Bonuses and Discounts
During Maruti S-Cross insurance renewal, insurance providers like Digit offer a No Claim Bonus of up to 50% in case you do not raise claims within your policy term. Owing to this discount and bonus, you can enjoy car insurance for Maruti S-Cross at a lower premium.
Besides, in case of doubts and queries regarding your Maruti S-Cross insurance, you can reach out to Digit's efficient customer service and get quick solutions. Therefore, choosing Digit for your car insurance can be a desirable option if you consider the aforementioned benefits.
Why is it important to buy insurance for your Maruti Suzuki S-Cross?
Any car like Maruti Suzuki Wagon R which is used on the road needs to have a car insurance policy. The car insurance will cover the owner for:
Protect from Unforeseen Financial Liabilities: The Own Damage cover under Comprehensive Car Insurance pays you for financial liabilities incurred due to damage to the vehicle. It saves your pocket from unforeseen expenses. It protects your car against any damage from an accident, natural calamities, theft or vandalism, strikes, and riots.

Legally Compliant to drive on Indian roads: Insurance Policy is one of the mandatory documents which permits you to drive a vehicle legally on the road. Without an insurance policy, the owner will be penalized with heavy fines and may end up cancelling his license.
Cover Third-Party Liability: The Third-Party Liability cover protects you from the liability incurred due to property damage and bodily injury to any third party, caused by you. It is a mandatory to buy third-party liability policy under car insurance.
Extra protection with Add-ons: Third-Party Insurance is mandatory but if you look for enhanced coverage, then buying Comprehensive Car Insurance is the wisest option. You can extend this basic cover with some add-ons to increase the limit of protection. Some of these car insurance add-ons include breakdown assistance, engine and gearbox protection, tyre protective cover, and zero-dep cover.

Learn more about Maruti Suzuki S-Cross
Maruti Suzuki S Cross was manufactured to take a lease as an SUV. But the long hatchback look did not make it possible for the model to take over the market. It has been recently redefined by the manufacturers. After creating the small city ride car like Maruti Suzuki 800, which discontinued in the year 2014, Maruti uplifted their face with many other cars like S Cross.

Similar to what other cars do, Maruti Suzuki S Cross with its elementary design served a purpose. It was bought by the upper-middle segment of the society. The price range of the car falls between Rs.8.86 lakhs to Rs.11.49 lakhs. Looks sophisticated, the car picked up in the market because of its quality interiors.
Why should you buy Maruti Suzuki S-Cross?
Maruti Suzuki S Cross is a five-seater car which is spacious and has a diesel engine. The riders will find their rides smooth at higher speeds with a 5-speed gearbox. Maruti Suzuki has recently thought of to enhance the car for its features.
The car has a manual transmission and delivers a mileage of 25.1 km per litre. With leather upholstery, cruise control, rear-seat split in 60:40 ratio, and a 7-inch infotainment system the interior feels premium. It connects well with the Android systems. All-new Maruti Suzuki S-cross facelift is available in four variants of Sigma, Delta, Zeta, and Alpha. 
Another noticeable update in Maruti Suzuki S-Cross is a well-finished cabin with door armrest wrapped in leather.
The rear seat offers plenty of thigh support, superior shoulder room, and sufficient legroom. 
It has a big toothy chrome grille that makes the car look aggressive. The headlamps are LED Projector lamps for better visibility. The bonnet is made very muscular and the strong creases provide a bold look.
Check: Know more about Maruti Car Insurance
Maruti Suzuki S-Cross - Variants and ex-Showroom Price
| | |
| --- | --- |
| Maruti S-Cross Variants | Price (in New Delhi, may vary across cities) |
| Sigma | ₹9.65 Lakhs |
| Delta | ₹10.98 Lakhs |
| Zeta | ₹11.19 Lakhs |
| Delta AT | ₹12.73 Lakhs |
| Zeta AT | ₹12.93 Lakhs |
| Alpha | ₹13.14 Lakhs |
| Alpha AT | ₹14.51 Lakhs |
Frequently Asked Questions