How to Link Driving Licence with Digilocker?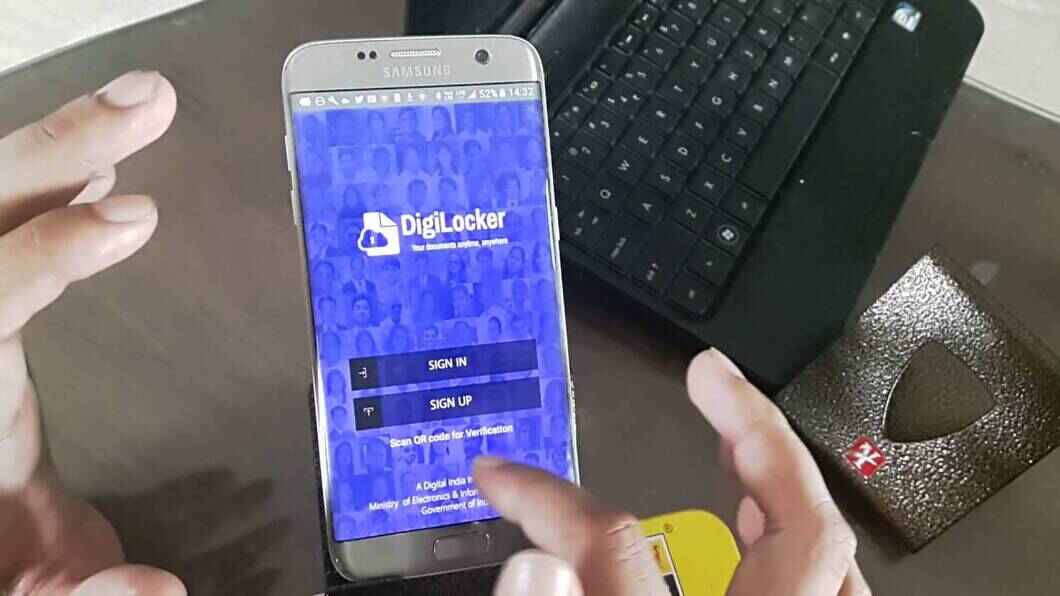 DigiLocker is a cloud-based platform where any Aadhaar cardholder can store and share soft copies of their identification documents. This includes your driving licence.
Upon registering yourself on DigiLocker, you get 1GB of storage to save all your certificates.
Want to know how to upload a driving licence in DigiLocker or other relevant documents?
Keep reading!
Steps to Link Driving Licence with Digilocker
Follow these easy steps to upload your driving licence in DigiLocker -
Step 1: Visit the DigiLocker website or app and select "Sign Up" if you are not a registered member. Existing account holders can log in with their credentials.
Step 2: After signing in, select "Get more Issued Documents" from the "Issued Documents" section. Click on "Pull documents" here.
Step 3: Next, select "Ministry of Road Transport and Highways" under "Central Government".
Step 4: Click on "Driving Licence" under "Document type". Enter relevant details such as name, date of birth, and driving licence number. Select "Get Document".
The system will automatically upload your document. You can access this saved document whenever required.
How to Download a Driving Licence from Digilocker?
Steps to Upload DL Documents to DigiLocker
Here are the following steps to upload your additional documents, with using your Aadhaar card as identification -
Step 1: Visit the official website of DigiLocker. Log in with your username and password and select "Uploaded Documents".
Step 2: Enter the OTP to create username and password. Next, enter a four-digit MPIN, and remember it for future purposes.
Step 3: Now, link your Aadhaar card with the DigiLocker account. Scan and upload your driving license and RC in this process.
Step 4: Next, go to "Pull Partner's Document" section. Fill in the details including your current driving license number.
Step 5: Once the link is over, choose either "Documents" or "My Certificates" as per your requirement. Click on "Upload" and select the document you want to upload.
Step 6: Choose a document format and save it.
Top 5 Benefits of Having a Driving Licence in Digilocker
Individuals may find it sceptical about uploading essential documents to an online platform.
However, there is no need to fret about it. The government offers a 256-bit secure socket layer. Accordingly, the system safely encrypts your documents to ensure peace of mind.
Take a look at the other 5 benefits that DigiLocker offer to its users:
Paperless Facility
You do not have to carry your documents like a driving licence, Aadhaar card etc., every time. You can log in to your DigiLocker account to access these documents whenever required. Additionally, you can download the same for your convenience.
Easy Online Access
Remembering a driving licence number can be cumbersome. Through this platform, you can retrieve information from your driving licence online.
QR Code Verification
Officers can scan the QR code available on the mobile application to verify the driving licence details.
Safe and Secure
The system automatically ends the activity after a specific time of inactivity. Also, linking an Aadhaar card to open an account is an added security benefit.
Quick Processing of Services
If you are applying for any government services, the department can access your DigiLocker account to get the required document. It eliminates your effort to visit government offices to submit a driving licence or any other document. This streamlines the entire application process by reducing time and energy.
Approximately 79.28 million users are connected to the portal. Besides uploading a driving licence in DigiLocker, EPFO members can download a UAN card and Pension Payment Order. Keep the above procedures in mind to enjoy such online facilities.
Frequently Asked Questions